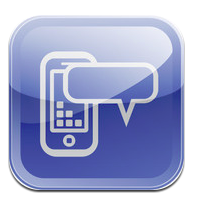 Best Apps for the Hard of Hearing and Deaf People
Post contributed by Gaynor Cooper on behalf of National Hearing Care
Advancements in technology has helped the deaf and hard of hearing in a number of ways. From hearing aid technology, medical procedures, all the way down to the fact that deaf and hard of hearing certification programs are available through online schooling now, it is becoming more convenient to help and reach out to the hard of hearing. Although it may seem absurd, iPhones have a tremendous ability to make life easier for the hearing impaired. There are now a number of apps available for deaf people and those who are hard of hearing. These apps do everything from amplifying sound to transcribing phone calls and saving them for you. There are even apps for learning sign language. As they say, they'll soon be an app for everything. Here are some of the best apps for the hard of hearing and deaf people.
Best Apps for the Hard of Hearing and Deaf People
This useful app transcribes phone calls in real time. Using it, you can read what's being said in real time from your iPhone or iPad. Plus, you can save up to 20 calls to refer back to. Use it with your iPhone or iPad so you'll never miss what someone's saying when they talk to you by phone. Best of all, it's free.
Turn your iPhone into a hearing aid with this convenient app. As the name suggests, SoundAMP amplifies sounds and speech using your iPhone's microphone. You can adjust the settings to amplify only high frequency sounds or to apply it to only one ear. You can even record and play back speech and other sounds using this handy app.
Are you a frustrated movie buff who can't always hear what your favorite actors are saying? An app called Subtitles ensures you never miss a beat. It gives you access to real-time subtitles while you're watching movies at the theater or from another device. With this application you'll always know what the actors are saying. Enjoy foreign movies? Subtitles supports 20 languages. It's the next best thing to movie popcorn.
There are certain sounds you don't want to miss – a fire alarm, thunder, a gunshot or the sound of someone screaming to warn you of impending danger. That's where Tap Tap comes in. This app alerts you when there's a loud noise. It does this by sending an alert message to your screen and by vibrating. If you're in a busy place, you can adjust the sensitivity so it responds only to loud noises or increase the sensitivity so it picks up even minor sounds when you're in a quiet room. This app keeps you safer.
Want to test your hearing? This app measures your hearing by testing how accurately you can distinguish words against background noise. There are nine tests available for each ear. Once you complete the tests, compare your score against the average to estimate your degree of hearing impairment. It's not a substitute for audiology testing by a professional, but it helps you see if your hearing is changing over time, and you can do it anytime.
Want to learn sign language? Sign 4 Me can help. Type in a word or short sentence, and a virtual signer signs it for you. You can even slow down the speed and view signing in three dimensions to make it easier to learn the movements. This comprehensive sign language app includes more than 11,500 words. It makes learning to sign easy and convenient.
The Bottom Line?
Use these six apps for the hearing impaired to make your life a little easier wherever you go. They're inexpensive, and they work.
Short Summary:
Life is a little more convenient these days if you have a hearing impairment. Using your iPhone, you can access a variety of apps designed to make your life easier. Discover six apps for the hearing impaired.