Hotmail users now have three more efficient ways to organize Hotmail messages that flow into the Inbox. For users who don't have a Hotmail account, you'd do well to know that Hotmail has been named the Best Web Application of 2011 by PC Magazine, which should speak volumes about the capabilities of Hotmail. The Hotmail team has been constantly striving to put together new features and enhancements to create a better user experience and have recently introduced three new features that is sure to help you organize Hotmail messages more efficiently.
3 Better Ways to Organize Hotmail Messages
1. Sweep Away Subscriptions and Other Unwanted Email
If you have subscribed to receive daily emails such as daily deals or feeds from specific sites, your Inbox will be filled up a ton of messages. If you're certain you no longer need such messages, you can automatically delete all of them except the latest one using the Sweep feature.
To get rid of unwanted email from a specific sender in Hotmail:
1. Login to your Hotmail account.
2. Check any one specific message from a sender you don't want to receive messages from.
3. From the Sweep menu, click Delete all from.

4. In the Delete all of them message box, click Delete all. If you want to block all future messages from the recipient, check the Also block future messages check box.
You can also move email messages from a particular sender to a folder designated for the purpose:
1. Check any one specific message you want to move to a folder.
2. From the Sweep menu, click Move all from.
3. In the Move all of them message box, select a folder to move all messages to, and click Move all. If you want to move all future messages from the recipient, check the Also move future messages check box.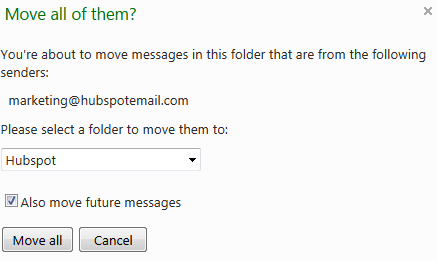 2. Use Instant Actions
Hotmail lets you perform tasks such as marking as read, deleting, or flagging quicker on your Hotmail messages using a one click action. To use instant actions, hover over a message. The instant action icons will appear to the left of the message. Simply click to mark the message as read, to delete it, or to flag it. By default, you'll only see 3 icons, but you can customize it to add more actions.
To add more Instant Action icons:
1. Click Options (at the top-right corner of the screen) and choose More options.
2. In the Customizing Hotmail section, click Instant actions.
3. From the menu, click Instant actions and select the action icon you want to add. Customize it further as required and then click Save.
3. Categorize Messages
When a new message comes into the Inbox, categorize it with a single click action so that you can view and filter messages by categories. By default, Hotmail creates automatic quick view categories such as Flagged, Photos, and Office docs but you can also create your own categories for quick reference.
To place your messages in a quick category, in the Inbox, check the box next to the message, click Categories and then select the category you want to add the messages to and then click Apply. These messages will always appear in your Quick Views category so you can always find them quickly.
Enjoy these awesome new features in Hotmail and make your emailing experience a happy one.
Follow us on Twitter or join our Facebook fan page to get more awesome tutorials, updates and how-to articles on Microsoft, Google and Apple products.