Amazon recently unveiled its latest addition to their tablet line-up, the Amazon Fire Max 11. This new device is the company's biggest and most powerful tablet to date, featuring an 11-inch display. Although lacking access to the Google Play Store, the tablet still boasts improved performance, along with a host of other enhancements. If you use your tablet mostly to stream Netflix, Prime Video, watch YouTube or just browse the web, this relatively cheap tablet might be a good option. In this article, we will take a deep dive into the features and specifications of the Amazon Fire Max 11 and discuss its price and availability.
Amazon Fire Max 11 Features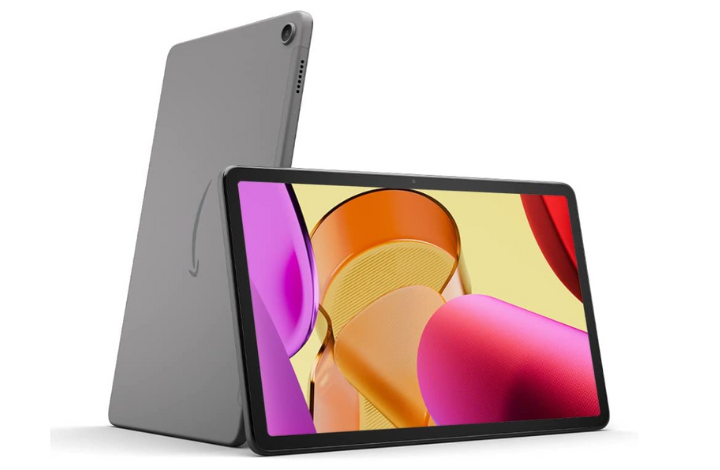 Display and Design: Bigger and Better
The most noticeable upgrade in the Amazon Fire Max 11 is its display. As the name suggests, this new tablet comes with an 11-inch display, making it the largest tablet in Amazon's Fire line-up. The display features a resolution of 2000 x 1200 pixels, offering the highest resolution of any Amazon tablet to date. This makes it perfect for consuming media, browsing the web, and even working on documents.
As far as the design goes, the Fire Max 11 is sleek and modern, with an aluminum exterior and strengthened alumino-silicate glass. The power button doubles as a fingerprint sensor, a first for any Fire tablet. This addition provides added security and convenience when unlocking the device.
Performance: Most Powerful Fire Tablet Yet
Under the hood, the Amazon Fire Max 11 comes equipped with a 2.2GHz octa-core processor, likely a MediaTek model. This means it can easily handle demanding tasks such as gaming, multitasking, and streaming high-quality content. The tablet also boasts 4GB of RAM, ensuring smooth performance even when running multiple applications simultaneously.
Additionally, the Amazon Fire Max 11 is available in a 64GB storage configuration, a 50% increase from the previous Fire HD 10, which started at 32GB. This means you can store more apps, games, and media on your device without the need for external storage.
Cameras: A Significant Upgrade
The cameras on the Amazon Fire Max 11 are getting a significant upgrade as well. There's an 8MP camera on both the front and the back, capable of 1080p video recording. This is a significant improvement over the 2MP front and 5MP rear sensors found on Amazon's previous tablets. The upgraded cameras allow you to capture better quality photos and videos, as well as enjoy high-definition video calls.
Alexa and Smart Home Integration
No Amazon device is complete without Alexa. In the Fire Max 11, you can access Alexa's vast array of features and skills, including controlling smart home devices, setting reminders, playing music, and more. The integration of Alexa into the Fire Max 11 makes it an excellent choice for those who are already invested in Amazon's ecosystem or those looking for a tablet with smart home capabilities.
Battery Life: Built for Extended Use
The Amazon Fire Max 11 boasts a large battery, designed to let you enjoy using the tablet for longer hours without needing to recharge. On average, you can get up to 14 hours of reading, browsing the web, watching videos, and listening to music.
Connectivity: Staying Connected on the Go
When it comes to connectivity options, you get Wi-Fi, Bluetooth, and USB-C for charging and data transfer. While it does not come with built-in cellular capabilities, the tablet's robust Wi-Fi support ensures you can stay connected to the Internet wherever you have access to a Wi-Fi network.
Software: Amazon's Customized Version of Android
The Amazon Fire Max 11 runs on Amazon's customized version of Android, known as Fire OS. While this means that the tablet does not have access to the Google Play Store, it does come with Amazon's Appstore, which offers a wide selection of apps and games for users to choose from.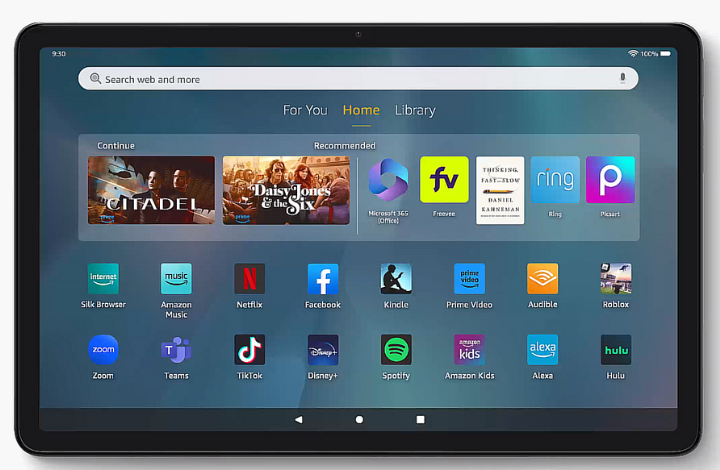 You also get to access Amazon's suite of apps and services, such as the Kindle, Prime Video, Audible, Amazon Kids + and Amazon Music, providing a seamless experience for those already familiar with Amazon's ecosystem.
Accessories: Enhancing the Tablet Experience
You can enhance your tablet experience with Amazon's range of accessories for the Fire Max 11. There's a Keyboard Case, Stylus Pen, Magnetic Cover and Screen protector to choose from, but you'll have to buy them separately.
Tech Specs of the Amazon Fire 11 Tablet
| | |
| --- | --- |
| Tech Specs | Details |
| Display | 11-inch Full HD (2000 x 1200) display |
| Processor | Octa-core 2.2 GHz processor |
| RAM | 4 GB |
| Storage | 64 or 128 GB (expandable by up to 1 TB) |
| Battery Life | Up to 14 hours of mixed use |
| Cameras | 8 MP front and rear-facing cameras |
| Charging Time | Full charge in under 4.2 hours with USB-C cable and 9W power adapter. Full charge in under 3.5 hours with 15W adapter and USB type C to C cable |
| Connectivity | Wi-Fi, Bluetooth 5.0, USB-C |
| Audio | USB-C audio, integrated speakers; external volume controls |
| Weight | 17.28oz (490 grams) |
| Dimensions | 259.1mm x 163.7mm x 7.50mm |
Pricing and Availability
The Amazon Fire Max 11 is priced at $229 for the 64GB model, making it an affordable option for those looking for a powerful 11-inch tablet.
Check it out!
Conclusion
The Amazon Fire Max 11 is a significant step forward in Amazon's tablet lineup, offering a larger display, improved performance, and better camera capabilities than its predecessors.
Its integration with Alexa and Amazon's ecosystem makes it an excellent choice for those already invested in Amazon's services, while its competitive price point makes it an attractive option for those seeking a powerful 11-inch tablet without breaking the bank.
Check it out if you're interested. – Amazon