The handheld gaming PC market has been steadily growing, with various manufacturers vying for the attention of gamers on the go. One notable player in this space is AYA, a company known for its innovative handheld gaming devices. AYA recently announced its upcoming release, the AYANEO Slide. This is a handheld gaming PC that boasts an impressive set of features and specifications. In this article, we take a look at the hardware, design, and unique selling points of the the AYANEO Slide.
AYANEO Slide: Specs and Features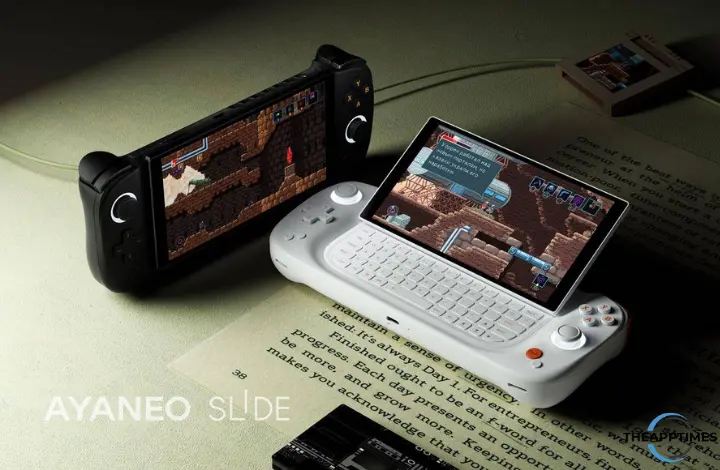 The AYANEO Slide is set to make a splash in the handheld gaming market with its powerful hardware and innovative design. Let's take a closer look at what this device has to offer.
Processor and Display
Under the hood, the AYANEO Slide is powered by an AMD Ryzen 7 7840U processor. This will ensure smooth performance and efficient multitasking capabilities. Paired with a 6-inch, 1080p display, the AYANEO Slide provides gamers with a vibrant and immersive visual experience.
Sliding Keyboard
One of the standout features of the AYANEO Slide is its sliding keyboard. With a simple upward slide, the display reveals a QWERTY keyboard with RGB backlit keys.
This design allows gamers to easily access in-game chat and perform other tasks that require a keyboard input.
Additionally, the AYANEO Slide is the first device in its class to offer an adjustable screen angle. This gives users enhanced comfort during extended gaming sessions.
Connectivity and Expandability
The AYANEO Slide offers a range of connectivity options to cater to gamers' diverse needs. It features two "full-feature" USB4 ports, allowing users to connect external devices such as controllers or peripherals.
Additionally, the device comes equipped with a microSD card reader and an M.2 2280 slot for PCIe 4.0 storage. This should provide ample space for game installations and data storage.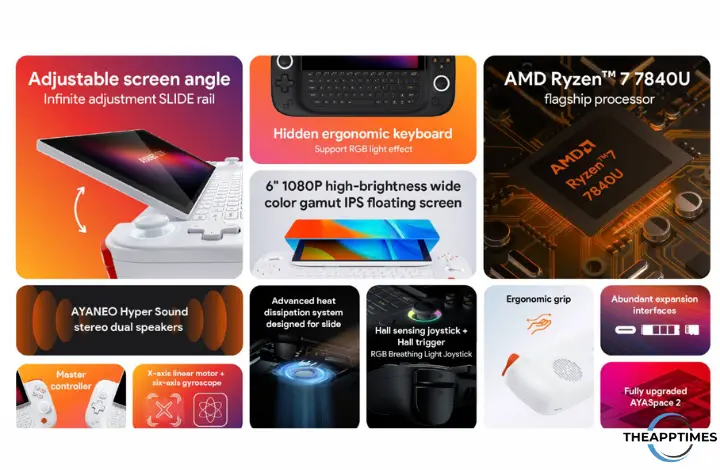 Battery Life and Cooling System
To keep gamers in the action for longer, the Slide is equipped with a 46.2 Wh battery. This should provide sufficient power for extended gaming sessions.
The device also incorporates a robust cooling system, featuring three copper heat tubes and a "PC-grade" fan. This ensures efficient heat dissipation, preventing thermal throttling and maintaining optimal performance during intense gaming sessions.
Gaming Controls and Effects
The AYANEO Slide comes with a range of gaming controls to enhance the gaming experience. It features hall effect joysticks and trigger buttons, providing precise control and responsiveness.
Additionally, the device includes an x-axis linear motor for rumble effects, further immersing gamers in their gameplay. The Slide also supports RGB lighting effects beneath the joysticks, allowing users to customize the look and feel of their device.
Design Inspiration and Uniqueness
While the concept of a handheld gaming PC with a sliding keyboard is not entirely new, the AYANEO Slide brings several unique elements to the table.
The design of the Slide draws inspiration from previous handheld devices such as the Sony Vaio UX and OQO ultra-mobile PCs.
However, it sets itself apart by offering an adjustable screen angle and RGB backlighting, allowing users to personalize their gaming experience.
Versatility Beyond Gaming
The AYANEO Slide's sliding keyboard opens up a world of possibilities beyond gaming. Users can leverage the keyboard for tasks such as typing out emails, editing documents, and performing various activities without the need for external input devices. This versatility makes the AYANEO Slide a practical choice for productivity on the go.
Pricing and Availability
While AYA has yet to reveal the pricing details for the AYANEO Slide, it is expected to be a premium device, considering its advanced hardware and unique features.
The company plans to launch the device through a crowdfunding campaign, giving eager gamers the opportunity to be among the first to own this innovative handheld gaming PC.
As for the official release date, AYA has teased that preparations for a surprise pre-order campaign and an official launch event are well underway.
Conclusion
The AYANEO Slide is poised to make a significant impact in the handheld gaming PC market with its powerful hardware, sliding keyboard, and unique design features.
From its AMD Ryzen processor to its adjustable screen angle and RGB backlighting, the handheld offers a compelling package for both gamers and productivity enthusiasts. With its imminent crowdfunding campaign and official launch event on the horizon, keep watching this space for more info on the launch of the AYANEO Slide.