Electric scooters are one of the best options for kids and adults to enjoy the love of riding a scooter. It offers a great way to commute from one place to another economically, helping you save money on fuel. The best part is that you can charge them anywhere with an electrical source. Many electric scooters are foldable, which increases its portability and reduces the need for extra storage space. Let's have a look at some of the best electric scooters of 2019 that has met the expectations of customers and changed the way of commuting in cities.
Best Electric Scooters of 2019
Razor E200 Electric Scooter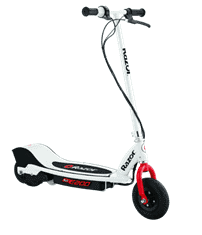 Razor has been a popular brand in the market for electric scooters and has multiple offerings at various price ranges. The Razor E200 electric scooter is no exception to the quality they produce. This scooter provides high torque and a quiet motor function.
With a handy twist-grip throttle, it is easier for a person to control the speed. This scooter is designed for everyone aged 13 and above. It can support riders up to a weight of 154 pounds. This makes the Razor E200 durable and strong enough to handle the weight easily.
This scooter's battery can give a life of 40 minutes on a single charge with a maximum speed of 12 mph. It has a rear operated brake and a rear-wheel-drive for increased traction. It also sports a spring-loaded kickstand and 8-inch pneumatic wheels.
This scooter is recommended for kids rather than adults because of the reserved speed limit of 12 mph. It comes in a beautiful teal or white-red combination.
Pros
Rear-wheel drive and 8-inch wheels provide better grip and traction.
The ultra-quiet and chain-driven motors provide silent operation
Cons
Battery time is less at 40 minutes on a full charge.
Gotrax GXL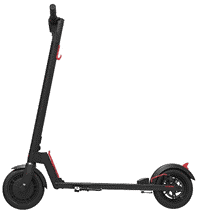 Gotrax GXL electrical scooters series is a known and popular electrical scooter from Gotrax. This scooter is great for adults who want a compact way of commuting to office or college.
The scooter has a strong 250-watt motor that gives a top speed of 15.5 mph and can support a weight of up to 220lbs. The strong motor provides consistent power while driving.
The 8.5-inch pneumatic wheels are great for city streets and provide a great grip on the road to avoid any slips.
The scooter runs on a 36V battery, which takes around 4 hours to recharge. However, because of the increased motor power, the scooter can only cover a maximum distance of 12.5 miles in a single charge.
The frame of the scooter can easily fold down, making the scooter compact and easy to store and carry when needed.
It's a great scooter for kids above the age of 13 and adults for short distance commuting. If you want to buy an affordable electric scooter, then this is a perfect choice.
Pros
Great build quality
Compact form factor
Strong and powerful motor
Cons
Battery time is less
Charging takes a lot of time
Megawheel S5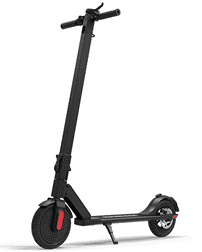 Megawheel S5 is a powerful scooter great for commuting on city streets and provides a good combination of power and battery. The scooter has a strong 250W motor that can give a maximum speed of 15.5 mph.
The build quality is great as it is made from an aircraft-grade aluminum alloy, giving it strength and increasing the maximum weight holding capacity to 264 lbs.
This scooter is foldable, which gives it a compact form factor when not in use. As far as the battery goes, the high capacity 5800 MH battery can last up to a range of 13.5 miles while commuting.
The 8.5-inch pneumatic tires are anti-slip and shock-absorbing, including mechanical disc braking on the rear wheel and electronic braking on the front wheel. The braking system on the 8.5-inch pneumatic wheels ensures that the bike can stop immediately when required.
This scooter has two-speed modes. The first mode gives a speed of 11 mph, and the second gives a speed of up to 15.5 mph.
There is also a convenient LED light in front and a 5 LED battery indicator on the dashboard.
Pros
Strong aluminum alloy body
The high weight handling capacity of 264 lbs.
High quality breaking system
Xiaomi Electric Scooter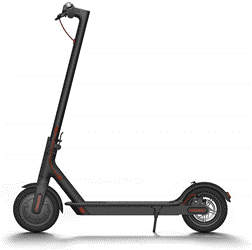 Xiaomi does not need an introduction as a brand in electric scooters; neither does the Xiaomi Electric scooter. The scooter is a combination of power, built, and battery life. It houses a powerful 300W motor that can get the scooter up to a speed of 25 km/h.
The scooter can travel up to 28 miles in a single charge, which is the best in the industry. Made from an aviation-grade aluminum alloy, it has great thermal conductivity and corrosion resistance. It has an 8.5-inch front and rear shock absorption tires with E-ABS anti-lock system for the front wheel and mechanical disk brakes for the rear wheel.
With a higher battery life and a powerful motor, this electric scooter from Xiaomi is one of the best in the market. It is ideal for small to medium distance commutes. The scooter can be connected to the Xiaomi mobile app for monitoring various functions.
Pros
Great build quality
Strong and powerful motor
Great battery life
Safe and powerful braking system
Cons
Multiple customers faced an issue of loose screws
Razor E300S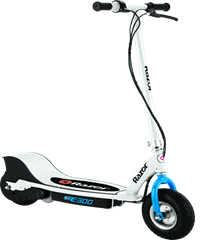 If you don't like standing while riding an electric scooter, then the Razor E300S is a top option you can consider. That's because this scooter has a seat that lets you sit and ride in comfort.
It sports the same quiet and chain-driven motor with max weight support of 220lbs.
It is powered by a 24V battery that takes at least 12 hours to charge. To use it to full capacity, you'll need to charge it for at least 24 hours.
The rear-wheel-drive offers increased traction and a run time of 40 minutes. The twist throttle action can speed it to a maximum of 15 mph.
Pros
Comfortable seating option
Torque driven rear-wheel drive
Cons
Very long battery recharge time
Our Verdict
If you are looking for something that can help with your nearby travels, electric scooters are a great option. They are also a fun toy for kids that can offer hours of entertainment value.
No matter what your needs are, there is an electric scooter available for you in the market. We hope you find one in this list that meets your needs.