We've been expressing our thoughts and emotions via text messages long enough. Thanks to cool emoticons that are available with most messaging apps and keyboards, you can express yourself more creatively now thanks to emojis. Here is a cool collection of the best emoji apps for Android and iOS devices worth checking out.
Best Emoji Apps For Your Smartphone
Emojis – New Emoji Keyboard for iPhone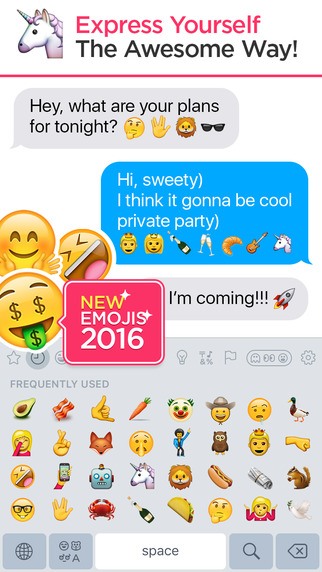 This iOS app is packed with designer Pandas, Penguins, Bears, Rabbits and what not; fancy looking font styles,a style creator to create your own emoji art, a word maker tool that lets you spell out a word using emojis and a fun collection of stylish japanese text emoticons. There's plenty to unlock at $0.99 and a promise for regular content updates!
Download Emojis – New Emoji Keyboard for iPhone
Emojidom: Chat Smileys & Emoji
Emojidom has more than enough emojis to keeping you smiling for a lifetime. There are over 4000 emojis to choose from, many of which are in HD as well. You can insert them in chat messages irrespective of the app you use. One cool feature of Emojidom is the ability to assign an emoticon to a contact. The smiley collection in the app also offers Black and Asian emoticons and the popular middle finger emoji, should you be partial to them.
Download Emojidom: Chat Smileys & Emoji for Android
Download Emojidom: Chat Smileys & Emoji for iOS
Emoji Keyboard Pro Smiley Kika
This free emoji app has a cool collection of emojis, stickers, GIFs and themes to use on all your messaging platforms. The collection is not as large as emojidom, but there are plenty of customizations that can make typing out stuff on your phone a lot of fun. Apart from the 1200 odd emoji icons, you have over 100 themes, sounds, and fonts to use. And with Halloween around the corner, there's all the more reason to download this app and send a few creepy smileys to your pals.
Download Emoji Keyboard Pro Smiley Kika for Android
Emoji Crack – Make New Emoji!
With Emoji Crack, you can custom design your own emojis so that you'll never have to reuse another emoji again. You have over hundreds of shapes, eyes, mouths, hats, props, and hand stickers to choose from when creating your custom emoji.
Download Emoji Crack for Android
5000+ Emoji New – 3D Animated Emoticons
This app offers emojis in 3D animation, emoji stickers, smiley icons, text art, emoji art and stylish fonts and emojis with skin tone variations that you can use on various messaging platforms. Its definitely a handy collection to have when you're fresh out of ideas.
Download 5000+ Emoji New – 3D Animated Emoticons for iOS
Emoji>
This amazing emoji app for iOS devices is used by over 45 million users, so there must be something special in it after all. Animated and regular stickers, regular and huge emojis, different emoji categories, colorful keyboard themes and even fun emoji games are part of the collection. Download and enjoy!
Emoji Free – My Emoticons Art & Cool Fonts Keyboard
This app offers plenty of cool animated emojis, creative cartoon images, amusing beauty pets, and emojis for every holiday season. More can be unlocked via IAPs.
Emoji Keyboard 2
Another app that has a good collection of emojis, emoji art, emoji text, emoji puzzle games and cool font styles is the Emoji Keyboard 2.
Emoji Keypad Free
The interesting features of the colorful emoji keypad app are the word maker tool that lets you spell words with emoticons, the fancy fonts and the cute stickers. If you love to switch between colorful keyboards this is an app you might enjoy using.

Download Emoji Keypad Free for iOS
Emojiyo – Emoji Search and Theme Keyboard
Emojiyo offers a cool collection of colorful emoji keyboards, lets you search for emojis by name, mark emojis as favorites and save emoji combos that you use regularly in your chats. You can browse and find emojis with ease and organize them just the way you want in a user friendly drag and drop interface. If you are an emoji power user, this app is a must download.
Keymoji : Emoji Keyboard
Why search and tap emojis in your message when you can automate the task? Keymoji is an emoji keyboard that translates your text into emojis in real time. As you start typing, you will be able to see autocomplete suggestions in real time. You can also find special emoji designs by hitting the emoji art button on the keyboard. There's plenty of good stuff on this one, so do check it out.

Download Keymoji : Emoji Keyboard for iOS
Imoji
Unlike the usual collection of emoji apps, this one works as an instant messaging platform as well where you can create and share emojis with your contacts. The app lets you convert your selfies as well as animals, and celebrities into stickers that you can text to your contacts.

Do you use a lot of emojis in your communications? Which, in your opinion is the best emoji app in the App Stores?