When a newly launched tablet claims to be a powerful competitor to the Microsoft Surface Pro or Surface Book, its hard not to draw comparisons with an equally powerful tablet the iPad Pro. Just like the 2 variants of the iPad Pro, Samsung Galaxy Book also comes in two flavors – 10.6-inch and 12-inch. We take a closer comparative look at the higher end versions of the Samsung Galaxy Book vs iPad Pro.
Samsung Galaxy Book Vs iPad Pro – Price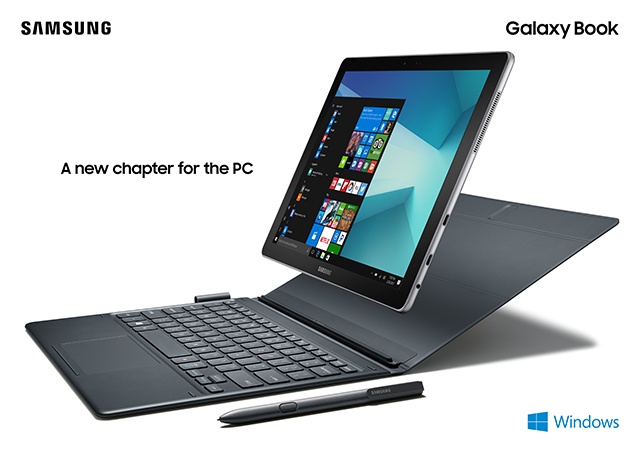 The Galaxy book comes in 10.6-inch and 12-inch variant. The iPad Pro comes in a 9.7-inch and a 12.9-inch variant. There are rumors, however, that Apple will soon launch a 10.5-inch iPad Pro and an updated version of the 12.9-inch iPad Pro, but that's just a rumor for now.
Samsung has not yet revealed the price of the Galaxy Book so we cannot make any reasonable comparisons for now. However, take note of the fact that the 12 inch variant of the Galaxy Book comes with a free keyboard case and an S Pen stylus. The iPad Pro comes with neither the Smart keyboard nor the Apple Pen and they are both super expensive.
Samsung Galaxy Book Vs iPad Pro – Software
The 12-inch Galaxy Book runs on Windows 10. That means you can run most of the full blown productivity applications like Photoshop and Office on it. The iPad Pro does have productivity apps but it doesn't match up to what Windows offers.
Also Read: Comparing iPad Pro, New iPad Pro and Air 2
Samsung Galaxy Book Vs iPad Pro – Connectivity
The 12-inch Galaxy Book has two USB-C ports for connectivity while the iPad Pro has a Smart connector. Both ports do not offer ease of connectivity at the moment as they require converters to be compatible with standard USB devices. Both tablets offer Wi-Fi and Bluetooth connectivity for connecting printers and other peripherals so the good news is that you can do without more wires.
The iPad Pro has one advantage over the Galaxy Book and that's AirPlay. It allows easy wirelessly transfer of videos to an Apple TV and audio to an AirPlay speaker.
Which Is Better? Samsung Galaxy Book vs iPad Pro
Now the iPad Pro has yet to come some ways as a powerful productivity tablet. I find it more convenient to us it for my entertainment purposes and syncing to my Mac and iPhone. However, I feel that Windows 10 has always been a powerful tool for productivity and if you intend to do a lot of work on the go, the Galaxy Book will be the better choice.
Price-wise, the iPad Pro will definitely be the more expensive of the two considering that it comes without useful accessories.
Whatever device you choose to buy will depend on the purpose for which you want to buy it, the cost and how convenient it is for you to sync your data with your phone and other peripherals.
See the Samsung Galaxy Book on Amazon
Note: When you purchase something on our website after clicking links in our articles, we may earn a small commission. Read our affiliate link policy for more details.