The Lock Screen in Windows Phone isn't just a pretty screen that hides what's happening behind the scenes of your phone. It can actually be a painful extra step you have to take to get to the real time updates and notifications that you are receiving constantly. That's why the lock screens of today allow you to see certain information such as the time, date, missed calls or some such information at a glance. Thankfully, in Windows Phone and Windows 8 PCs you can customize Lock Screen notifications so that you see exactly what you want and not a whole load of information you don't care about. In this tutorial, I'll show you how you can quickly customize lock screen notifications on a Windows phone or Windows 8 device.
Currently Windows 8 allows you to set up up to 7 app notifications on the Lock Screen, but this is limited to just 5 apps in Windows Phone. Some apps are automatically set to show up on the Lock Screen by default but you have the freedom to choose which ones you want to display. Let's see how.
How to Customize Lock Screen Notifications on Windows Phone 8
To customize the Windows Phone Lock Screen:
1. Navigate to Settings and tap Lock Screen.
2. In the notifications section, you will notice that Calendar is selected by default. This is particularly useful to have as you can get a detailed update on any event that is happening in your calendar, not just a notification that there's an event lined up for the day. Tap calendar and you'll see a long list of apps in the next screen. If you don't have a very active calendar, you can go for Facebook, Skype or any other option.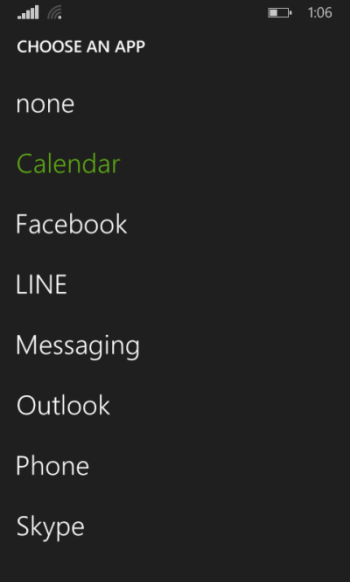 3. Back in the lock screen page, tap on the + button to select another app. You can tap on any of the 5 buttons available on the screen and select your own choice of apps. Currently, your phone, messaging, and Outlook is most likely to be displaying, while the last two slots are free. Setting options here will only indicate that there is a notification from that app. You will have to open up the app to learn more about the notification.
The apps displaying on the lock screen will appear in the same order in which they are set up here. If you are particular about which notification to want to appear first on the Lock Screen, take care to set the apps in that order. Another point to remember is that the app notifications will show up only if the developer has allowed that option in his or her app/product.
That is all there is to customizing the Windows Phone Lock Screen notifications.
How to Customize Lock Screen Notifications on Windows 8
To customize the lock screen settings on your Windows 8 PC:
1. Open the Charms bar (Win key+C) and select Settings.
2. At the bottom of the Charms pane, select Change PC Settings.
3. On the Personalize screen, click Lock screen.
4. Scroll down the Lock Screen page to the Lock-screen applications section.
5. Just like in the Windows Phone screen, you'll see options to select an app that will provide detailed notifications as well as other apps that will show quick updates. However, unlike Windows Phone, you can select up to 7 apps to show quick updates. Additionally, you can even choose an app to display alarms. The advantage of this is that you can snooze the alarm right from the lock screen without having to unlock your PC.  This app will be included in one of the 7 apps mentioned above.
That's it! You have just learned how to setup and customize lock screen notifications in Windows Phone 8 and Windows 8 PC and now you can get all the key updates right on the lock screen itself.