Twitter buffs looking to get statistical information on their Twitter interactions can now use Excel to analyze all the details. Microsoft has released a free add-in  called Analytics for Twitter, which enables users to query Twitter from within Microsoft Excel. Excel presents all the results of the queries in a pretty good looking dashboard. Read on to learn how you can analyze your Twitter trends in Excel using the cool add-in called Download Analytics for Twitter.
Analyze Your Twitter Trends in Excel Using Download Analytics for Twitter
You can analyze data such as the top Tweeters, #hashtags being used, tweets by day, hour, mentions, and more. The limitation with this add-in is that the search results are limited to up to 5 parallel Twitter searches, to the past 4 – 7 days and to a maximum of 1500 tweets per day.
System Requirements
Windows 7 Professional and Enterprise
Microsoft® Office Excel 2010
Microsoft® PowerPivot for Excel 2010
Minimum of 2 GB of RAM
5MB of available hard disk space
How to Analyze Twitter Trends Using Analytics for Twitter
1. Download Analytics for Twitter from Microsoft.com. When you install the add-in, it will be added to your desktop with the name Analytics for Twitter.xlsx .
2. Download the PowerPivot add-in from the PowerPivot.com. This add-in is powered by the PowerPivot add-in.
2. Install the Analytics for Twitter EXE file and set it up by following the instructions in the Analytics for Twitter Setup Wizard.
3. Open the Analytics for Twitter.xlsx file that's on your desktop.
4. In the search pane, enter a maximum of 5 comma delimited search queries and click the Search icon.
5. In the Twitter Search Complete message box, click OK. If a Twitter Search Query Clipped message box is displayed, note the message and try to refine the search query.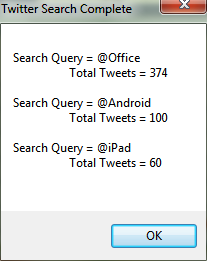 6. In the Next Steps message box, click OK.
7. In the Excel application, select the PowerPivot tab and click Update All. A new window with additional details opens. Close or minimize the PowerPivot Window.

8. In the Excel application, select the Data tab and click Refresh All.
There are several sheets in the Analytics for Twitter worksheet, each with its own category of results, such as Top tweeters, positive or negative tones, and other analysis. This dashboard is well presented, easy-to-use and a must try for users who love analyzing their stuff on Excel.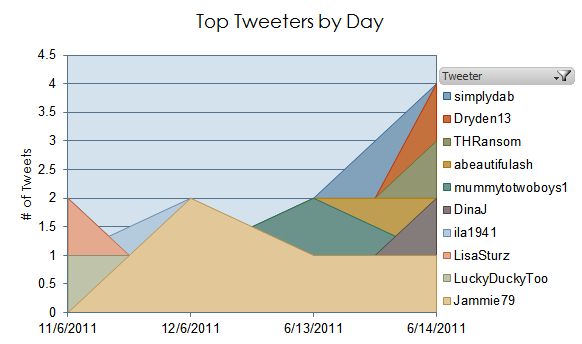 Remember, this will work only if you have the latest versions of Microsoft® Excel 2010 and of Microsoft® PowerPivot for Excel 2010.
Do give this a try and share your comments with us.
Download Analytics for Twitter