The Internet is a wonderful place for kids. They can instantly communicate with their friends, watch movies, listen to songs, play interactive games, learn new things and do school research activities among other things.
But the Internet is also a totally uncensored place where kids can easily be exposed to inappropriate content such as violent graphics and sexually explicit materials. Even harmless stuff like gaming can expose them to bad influences such as violence and crude language. Worse still, children can be easily tricked into befriending sexual predators. These statistics are ample proof that the dangers to our kids is far more real and closer than you think.
Need for Awareness
If you are a parent with young children, you know that it is impossible to restrict access to the Internet. The best way to keep kids aware of the dangers of the Internet is to talk to them about it. Warning your kids against the dangers of divulging personal information to strangers, keeping strict rules against sharing private photos or chatting with strangers greatly helps.
But kids will be kids. And the lure of the Internet can sometimes just be too tempting to resist. So apart from having an open dialog with kids, it helps to monitor their online activities. And one of the best tools to help you achieve this is a good parental control software. Better yet, install a good keylogger software and you can track every text your kids type, making monitoring easier.
What is a Keylogger and Is it Legal to Use It?
A keylogger or keystroke recorder is a computer program that captures and records every keystroke made by a computer user. The recordings are usually saved in an encrypted file log. A keylogger can record instant messages, email, and any information typed on the keyboard, including usernames and passwords.
Using a keylogger is not always legal. For instance, installing it on a computer not owned by you is totally illegal. Similarly, installing it on a computer to steal credit cards, passwords and private information of unknown individuals is illegal.
It is however perfectly okay to install it on a computer owned by you to:
track programs your children might be using
monitor sites your kids are visiting on the Internet.
track activities happening in an office environment as a system administrator
monitor employee activities on company's computers to determine actual hours of work put in by employees
Today, we take a look at one of the best free keyloggers in 2018, Elite Keylogger for Mac and how its features serve to monitor your child's activities online.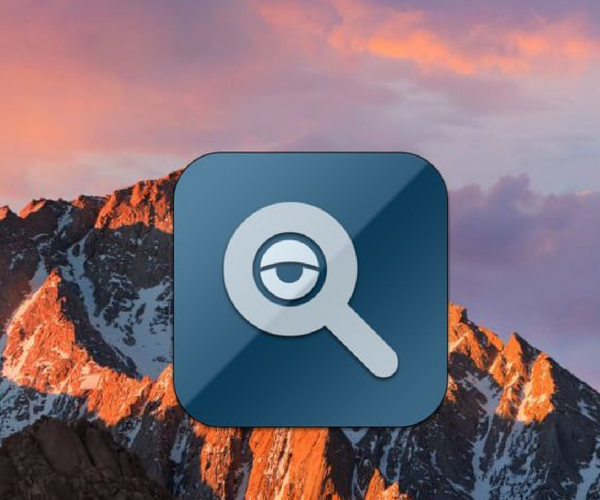 Features of Elite Keylogger
Can be installed in hidden and visible modes
Records keystrokes
Records both sides of chats in various messaging tools.
Captures screenshots
Captures clipboard contents
Tracks visited websites
Allows access to All Activity Report remotely via Mail
Installing Elite Keylogger
Since Elite Keylogger is designed to remain invisible, it appears to have many of the characteristics of spyware or malware programs. So, even though it is completely legitimate, most anti-virus programs will mark it as a threat.
To ensure that your antivirus software does not mark it as such, you need to include it in its Exclusion list. Elite Keylogger has a simple Survival Guide to help you set it up as an Exclusion Item.
Then, simply run the EXE file and complete the setup. I recommend you create a System Restore Point and set a date for automatic un-installation of the software to remove all traces of it. After installing the program, you can customize its settings.
You can install the keylogger in visible or invisible mode. In Visible mode, users will get a prompt that their activity is being monitored. In Invisible mode, the user has no idea that his or her online activity is being monitored.
Monitoring Activities
As mentioned before, Elite Keylogger can track plenty of information. Keyboard strokes, conversations between two parties in an Instant Messenger, email recordings, URLs visited, printed archives, clipboard content, logon passwords and plenty more. It can also track applications opened and system logon times.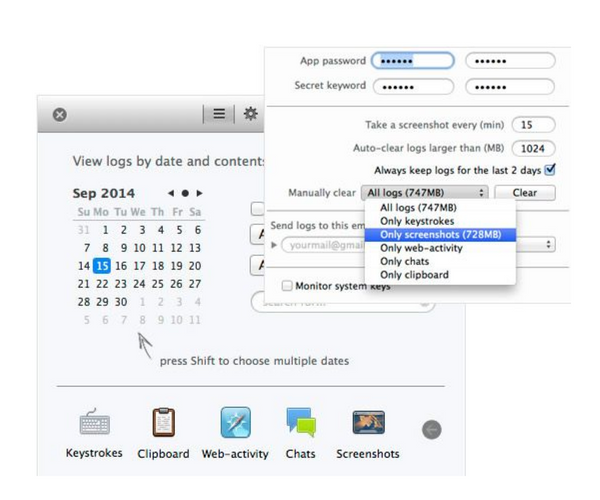 All the activities of every user is timestamped and identified by user name in the All Activity log. You can also view the recordings by activities such as Keystrokes, Clipboard, Chats and Web-Activity.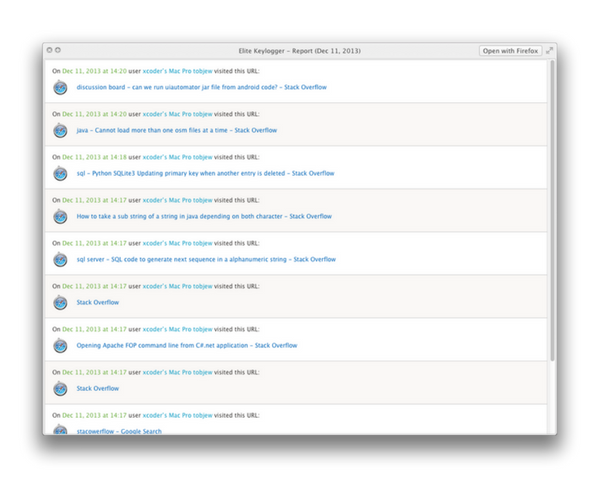 The tool generates a daily report, which you can access remotely via emails, FTP, pen drives, and LAN.
Monitoring these reports regularly will help you understand your child's online activities. If your child is accessing objectionable content or communicating with strangers, you can immediately discuss the situation with your child and remedy it.
Final Thoughts
Sneaking up on your child's online activities may not be illegal and can lead to trust issues. Letting your child know their activities is being monitored is a better way to build trust and encourage good online habits.
If you are looking for one of the best keylogger for Mac or best keylogger for Windows OS, you can find a worthy solution in Elite Keylogger. It has a friendly, easy to understand UI, tracks almost every conceivable online activity and provides a daily report so you always know what's going on.
Elite Keylogger does not allow blocking and filtering of websites like most parental control software, but it offers more than enough features to achieve your objectives.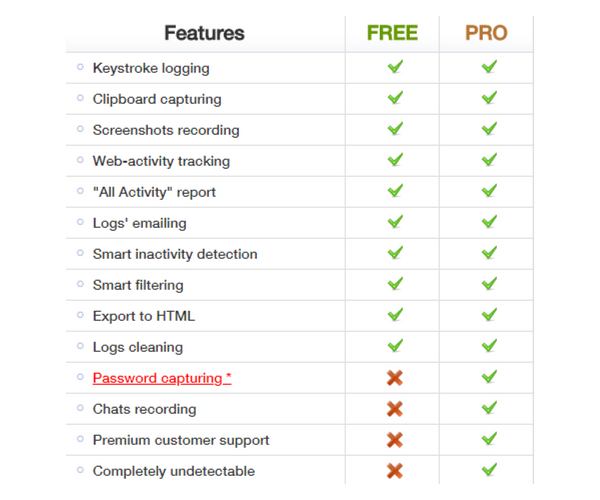 You can download the free keylogger software version to see if the tool works for you. And if you find it to be an effective monitoring tool, you can consider buying the professional version.
Link to download the trial version of Elite Keylogger for Mac
If you have purchased Elite Keylogger, we'd love to hear your experience with it. Do sound off in the comments!