The couch is often the most comfortable hangout for gaming. But poor gaming peripherals can often play spoilsport and be the reason for losing points in the most crucial moments. Razer is now changing all that with its latest launch, the Razer Turret which is an ergonomic gaming keyboard with a mouse (also called lapboard) that can help you execute your commands with ease from the comfort of your couch. That's not all. The keyboard is ideal even if you are just browsing the Internet and want to type out commands from the comfort of your couch.
Ergonomic Gaming Keyboard Razer Turret

The Razer Turret however is designed with the main objective of bringing the best gaming experience for users. The Razer Turret offers dual wireless connectivity enabling you to connect to nearby devices like a gaming console or your PC and play lag free without any hitches.
This ergonomic gaming keyboard comprises a full-fledged gaming keyboard with full anti-ghosting and a highly precise gaming mouse with a 3500 DPI sensor. An integrated magnetic mouse mat ensures that your mouse never slips or slides away when you're in the middle of an intense brawl or fight. It's ultra-thin design should fit perfectly on your lap and the foldable hinge makes it easy to dock it to any part of the living room when not in use.
Games can run for hours and that's why the Razer Turret is built with high capacity lithium polymer batteries that can support up to 4 months of usage on the keyboard or 40 continuous hours of play on the mouse before you need to charge it up again.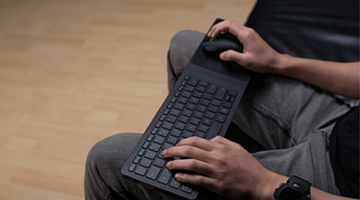 The ergonomic gaming keyboard was announced way back in 2015 at the CES but has only just been launched obviously with better design improvements. Here is a quick look at the the tech specs of the lapboard.
Tech Specs of the Razer Turret
Lapboard
Anti-ghosting capability for up to 10 simultaneous key presses
Chiclet styled keycaps
Dedicated Android buttons
Battery life of up to 4 months depending on its usage
Battery type: Li-Po (1500 mAh)
Mouse
3500 DPI sensor
40 hours battery life for continuous use depending on its usage
Battery type: Li-Po (1000 mAh)
You can learn more about the Razer Turret on the official website or pick it up on Amazon for $159.99.