Are you a gaming enthusiast in search of the perfect gaming monitor? Samsung has unveiled its latest innovation, the Samsung Odyssey OLED G9 that might interest you.
This curved gaming monitor has taken the gaming world by storm with its impressive features and stunning visual display. Check out all the details of the Samsung Odyssey OLED G9, from its price to its design, display, and performance.
The Samsung Odyssey OLED G9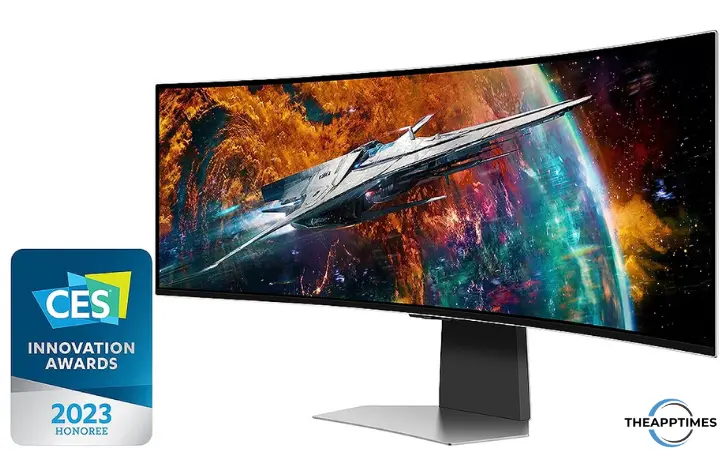 The Samsung Odyssey OLED G9 is being hailed as the world's first 49-inch OLED gaming monitor. With its ultrawide 32:9 aspect ratio and vibrant OLED display, this gaming monitor is sure to captivate gamers with its exceptional visual quality.
The Odyssey OLED G9 boasts a 240Hz refresh rate and a lightning-fast response time of 0.03ms. This is perfect to ensure a smooth and lag-free gaming experience.
Price of Samsung Odyssey OLED G9
The Odyssey OLED G9 launched on June 26th 2023 with a price tag of $2,199.99. This makes the monitor a high-end investment for serious gamers. However, considering its cutting-edge features and exceptional performance, the price is justified for those seeking the ultimate gaming experience.
Design – Form meets Function
The design of the Samsung Odyssey OLED G9 is nothing short of eye-catching. The expansive 49-inch curved display and 1,800R curvature is sure to immerse you in the world of gaming.
The monitor's Silver Metal chassis gives it a futuristic and sleek appearance. The RGB lighting surrounding the monitor mount adds a touch of gaming flair.
Additionally, the monitor's thin profile of just 4.5 millimeters ensures a clean and minimalist look, perfect for any gaming setup.
Display – A Visual Extravaganza
The Samsung Odyssey OLED G9's display is its crowning glory. The 49-inch QD-OLED panel delivers stunning detail and vibrant colors, thanks to its Neo Quantum Processor Pro.
With a resolution of 5,120 x 1,440 and a 32:9 aspect ratio, gamers can enjoy a wider field of view, providing a more immersive gaming experience.
The display's 1,800R curvature wraps around your vision, pulling you into the game and enhancing your situational awareness.
The VESA DisplayHDR True Black 400 certification ensures deep blacks and bright whites, while AI upscaling optimizes picture quality for a truly breathtaking visual extravaganza.
Performance – Lightning-Fast and Lag-Free
When it comes to performance, the Samsung Odyssey OLED G9 doesn't disappoint. The 240Hz refresh rate ensures buttery-smooth gameplay, making every frame feel incredibly fluid. Combined with the low 0.03ms response time, input lag becomes virtually non-existent, giving gamers a competitive edge.
Whether you're playing fast-paced FPS games or engaging in intense battles, the Odyssey OLED G9's performance will keep you at the top of your game. Furthermore, the monitor's compatibility with high-end GPUs and CPUs ensures optimal performance for even the most demanding games.
Connectivity and Ports
The Samsung Odyssey OLED G9 offers a generous selection of ports and connectivity options. With one DisplayPort, two HDMI ports, a Micro HDMI port, and a USB hub, you have plenty of options for connecting your gaming accessories and peripherals.
The ports are conveniently located behind the monitor for easy access, and the stand features an opening to keep your cables organized and your desk clutter-free. The seamless connectivity of the Odyssey OLED G9 ensures that you can effortlessly connect your gaming setup and dive straight into the action.
What Top Reviewers are Saying about the Samsung Odyssey G9
The Samsung Odyssey OLED G9 Gaming Monitor has received positive reviews from top reviewers. Here are some of the things they have said:
Rtings: The Samsung Odyssey G9 is an overall good monitor with great gaming performance thanks to its low input lag, fast response time, and high refresh rate. Its large screen provides plenty of space to work comfortably, and it has a high pixel density to render text clearly. It can display a wide color gamut and gets bright enough to deliver a decent HDR experience. However, it has narrow viewing angles, which isn't ideal for sharing content or playing co-op games.
PC-Mag: The Odyssey OLED G9 a feast for the eyes and the ultrawide monitor to beat for immersive PC gaming.
USA Today: Gamers will easily fall in love with the Odyssey OLED G9. The review notes that the monitor has the color and contrast needed to deliver a sense of realism and depth.
The Verdict – A Gaming Monitor Like No Other
The Odyssey OLED G9 is a game-changer in the world of gaming monitors. Its exceptional features, including the ultrawide 49-inch OLED display, 240Hz refresh rate, and 0.03ms response time, make it a top choice for serious gamers.
The immersive design, stunning visual quality, and lightning-fast performance of the Odyssey OLED G9 elevate the gaming experience to new heights.
While the price may be steep, the investment is well worth it for those looking to take their gaming to the next level. If you're in search of the ultimate gaming monitor, the Samsung Odyssey OLED G9 is the answer.