Post contributed by Amanda Keight on behalf of PaperStarter.com, a free essay starter resource and an abundance of thesis statements such as the Grapes of Wrath Thesis Statements.
With the increase in popularity of the smart phone, the use of phone apps has become a significant part of most students' everyday routine. But, this does not necessarily mean that you will find all your time consumed by Angry Birds and Words with Friends. A number of apps can actually help you work more efficiently such as these five essential mobile apps for students.
Five Essential Mobile Apps for Students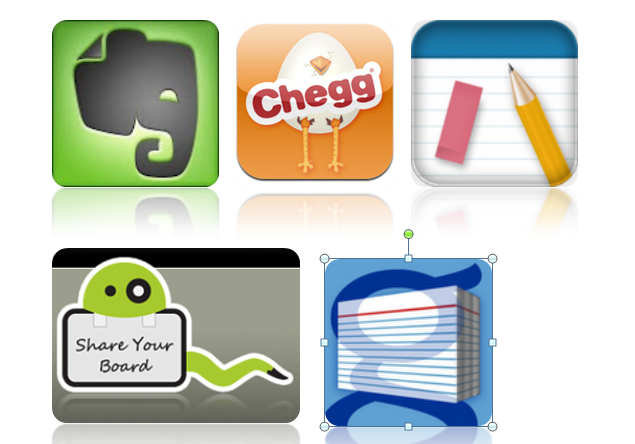 1. myHomework
The myHomework app can help you stay on top of the various demands on your time. It can save details of homework assignments, track upcoming tests and even schedule projects. It features an easy-to-use calendar display that accommodates both time and block-based calendar schedules. This is a free app with an optional add-on that can send you notifications about upcoming projects, tests and other due dates. You can access myHomework online at myhomeworkapp.com; if you wish, you can update your account using your computer and then sync it with their phone.
Download myHomework for Android
Download myHomework for iPhone
2. Evernote
Evernote is included in the New York Times Top 10 Must-Have Apps. It allows you to write notes, take pictures, record voice reminders and create to-do lists. All data entered in the app is completely searchable, which helps you stay organized and increases your productivity. The app lets you organize your notes by notebooks and tags so you never have trouble finding information again. It also allows you to sync your data across all computers and devices you use.
Download Evernote for Windows Phone
3. Share Your Board
The Share Your Board app lets you take a picture of your classroom whiteboard and convert it into a PDF. You can then add notes to the PDF and email it to classmates. Share Your Board will create a legible, high-quality image of the whiteboard right from your seat, no matter what the angle or lighting. This app makes studying for tests much easier since you will never again miss classroom notes because the professor scrolls through the slides too quickly. Share Your Board is currently only available for the Android but has plans to introduce an iPhone version soon.
Download Share Your Board for Android
4. Chegg
Chegg's app makes the book buying process fast, easy and convenient while also helping you save money. You can search for a book by its title, author or ISBN, or even by scanning its bar code with your phone's camera. The app then helps you instantly compare prices from most major retailers, as well as Chegg's own rental prices. You can rent or purchase these books and monitor their shipping status directly from your phone. Chegg is listed among The Daily Beast's "14 Best iPhone Apps for College Students."
5. gFlash+
Finally, the gFlash+ app helps you study more efficiently for tests by letting you create your own flash cards. If you wish, you can then share these flash cards with your friends. In addition to the cards you create yourself, you can download premade flash cards from the gWhiz catalog, which contains content on nearly any subject. The app also features five star performance scoring so you can improve your score each time you study the flash cards. The Pro version of this app also has the ability to randomly create multiple choice answers, providing an additional study tool.
Download and try these student apps and let us know which one worked well for you.
Follow us on Twitter or join our Facebook fan page to get the latest tutorials, updates and how-to articles on Microsoft, Google and Apple products.