Cut the Rope, a game which has won big awards for the best handheld game, most innovative game, best puzzle game, and was available on theappstore for quite awhile, has finally been made available to Android users.
Unfortunately, the game is yet to come to the Android market, so users who wish to play the game will have to download it the long way, which in my opinion is plain dumb! Or you could just wait for it to hit the Android market.
Cut the Rope begins with a mysterious package arriving at the doorstep. Inside the box is a rather ugly looking alien creature, Om Nom, a sugar candy loving alien, who needs to be constantly fed with candy.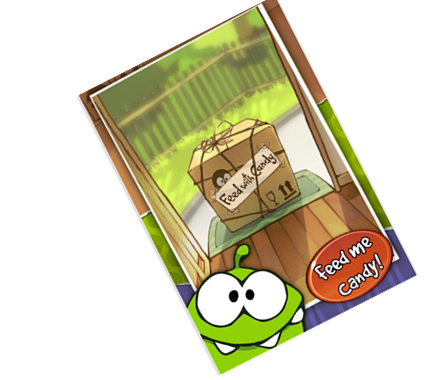 Unfortunately, the candy is tied to several ropes and you need to cut the ropes in such a way that the candy drops right into Om Nom's mouth. You also need to collect three golden stars in each stage. Some stars are easy to get while others are not as the stars don't hang around forever!
You have to dodge jagged spikes that smash your candy to bits, and look out for sneaky spiders hell bent on having Om Nom's treat all for themselves! There are tricks you can use to get the candy such as bubbles, air pumps, hidden ropes and more…The first box has 25 levels and then there are more interesting boxes with more complex levels to play.

How to Download Cut the Rope
1. Navigate to the GetJar website.
2. Follow the onscreen instructions to download the file. If you download the APK file to your computer, you need to copy the file to your Android device's memory card. Then use an application such as Apps Installer to find the APK file on your device and click Install to enjoy feeding candy to the little green monster.
While I tackle this tricky game, you can give it a go and let me know what you think of this award winning, innovative, puzzle game.
Download Cut the Rope for Android
Update: 07/02/2011
Cut the Rope is now available in the Android Market for for .99 cents ( ad-free version)
If you are interested in playing the game and its different versions on your web browser, whether its IE, Firefox or Chrome, head on over to http://www.cuttherope.ie/