The Galaxy Note 10 Plus is a powerful smartphone with a glass back and front and a shiny new gradient back that spells class. It is also an expensive phone, which means you simply must keep it secure with a trusty case. If you're on the lookout for a good case for your Galaxy S10 Plus, take a look at our roundup of the best cases for the Galaxy S10 Plus. You may just find that perfect case from your favorite brand to protect your new phone in style.
Stylish Cases for Your Galaxy 10+
Maxboost Galaxy 10 Plus Case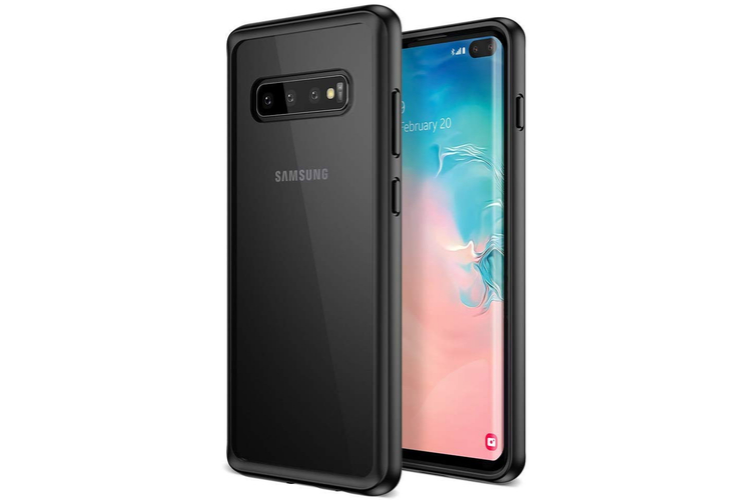 The Maxboost Galaxy 10 Plus case is a slim cover with an innovative GXD shock technology that allows the case to handle greater shock absorption and resistance. The TPU bumper frame ensures a good grip of your device. The back is transparent letting you how off the natural beauty of your expensive phone! This case is compatible with Samsung Galaxy S10 Plus's wireless charging and power sharing technology.
Shop this case at $7.99 at Amazon
Spigen Tough Armor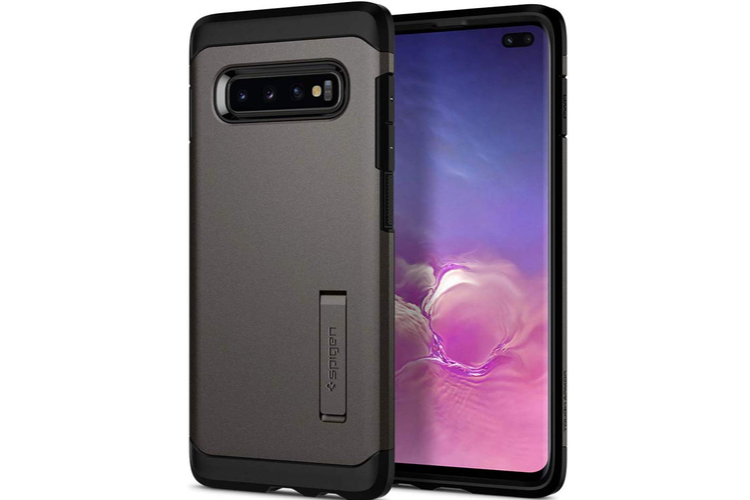 Military grade drop protection, wireless charging capability, a cool built-in stand for viewing videos comfortably and a slim sleek design also makes the Spigen Tough Armor a great choice for your Samsung Galaxy S10 Plus.
Shop this case at $16.99 at Amazon
Find more Spigen cases here
OtterBox Commuter Series Case for Galaxy S10+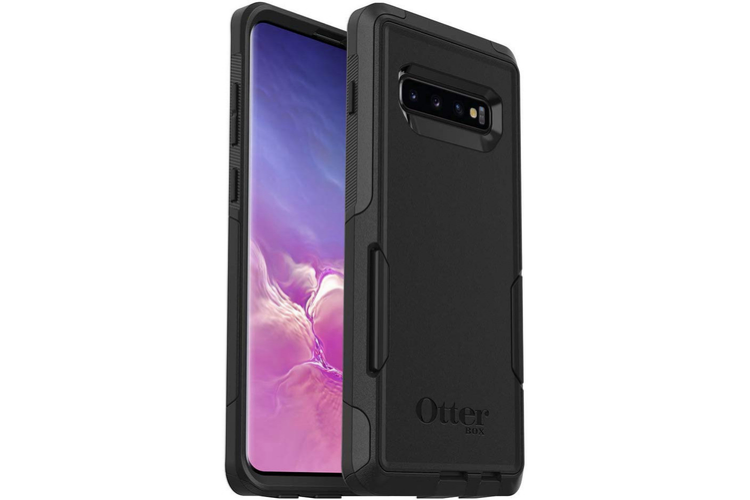 If you have butter fingers, you'll need a sturdy case like this one from OtterBox. It is slim and sleek, while managing to offer solid protection for your phone. It sports two tough layers – an internal slipcover and an exterior shell that keeps your device safe from drops, bumps, dust and life on the go. All ports are covered to block the entry of dust and debris.
Shop this case at $26 at Amazon
Find more Otterbox cases here
SUPCASE Unicorn Beetle Pro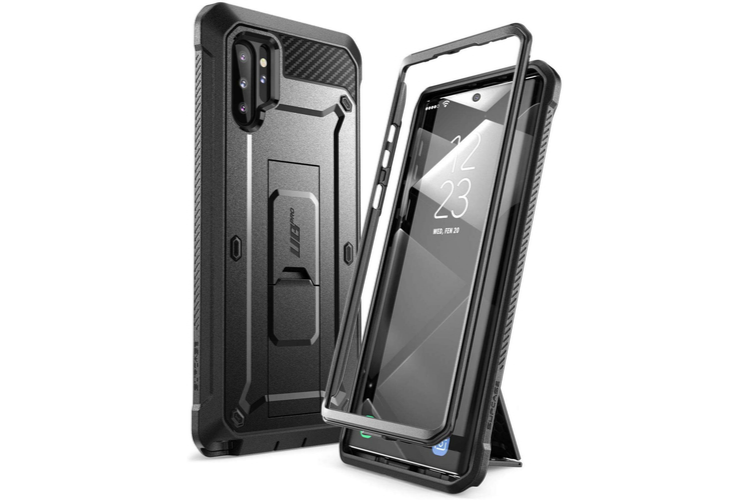 If you prefer a heavy duty case rather than a slim, sleek one, check out the Unicorn Beetle Pro Series case from SUPCASE. This case is winner of the annual CNET drop test awards for the thinnest, strongest, and most rugged case in the industry. It has survived drops from mountains, gunshots, and wipeouts at over 55 MPH. Whew!
The case comes with a kickstand to allow you to enjoy hands-free viewing in portrait or landscape mode. If you'd like to keep your phone close at hand, you can take advantage of the rotatable holster clip. The case is fully compatible with the original Samsung wireless charger.
Shop this case at $19.99 on Amazon
Find more SUPCASE covers here
Poetic Premium Hybrid Protective Clear Bumper Cover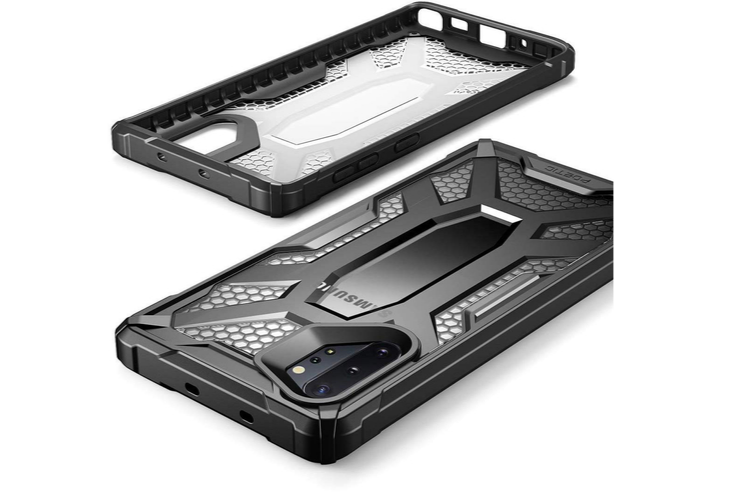 Another good choice of a rugged case is the one from Poetic. It offers military grade protection, extra raised lips and corners in the front frame to protect from drops and keep your screen scratch-free. The lovely honeycomb pattern at the back is crystal clear so you can show off your Galaxy's shiny new gradient.
Shop this case at $12.95 on Amazon
Find more Poetic cases here
i-Blason Cosmo Series Case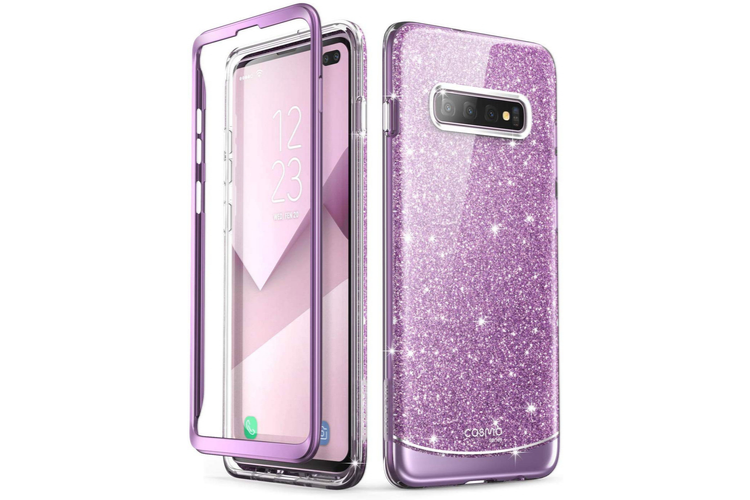 If you like a little bling in your case, check out this purple beauty from i-Blason. It sports a shock-absorbent TPU bumper and a scratch-resistant polycarbonate back plate that offers dual-layered protection. The case is also fully compatible with wireless chargers. And who can resist all that lovely purple glitter!
The case is all yours for $21.99 on Amazon.
Cutebe Case for Galaxy S10 Plus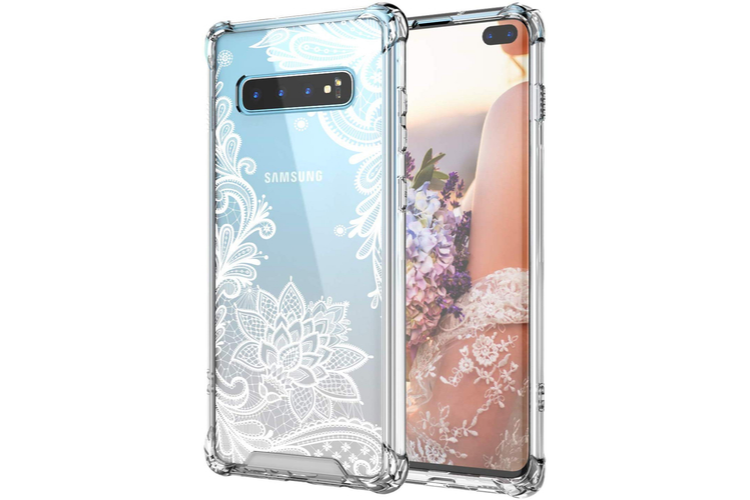 The Cutebe case for the Galaxy S10 Plus is a beautiful transparent case with an intricate design inside that lets you showcase the design while still allowing you to see the color of your smartphone.
The case has bumpers on all 4 corners to provide protection against drops and scratches. It is also compatible with wireless charging. Pick up this case for your girlfriend, daughter, mother or anyone who loves to accessorize their gadgets with a touch of femininity.
Shop this case for $10.99 on Amazon
Find more Cutebe cases here
Official Samsung Galaxy S10 Plus S-View Flip Case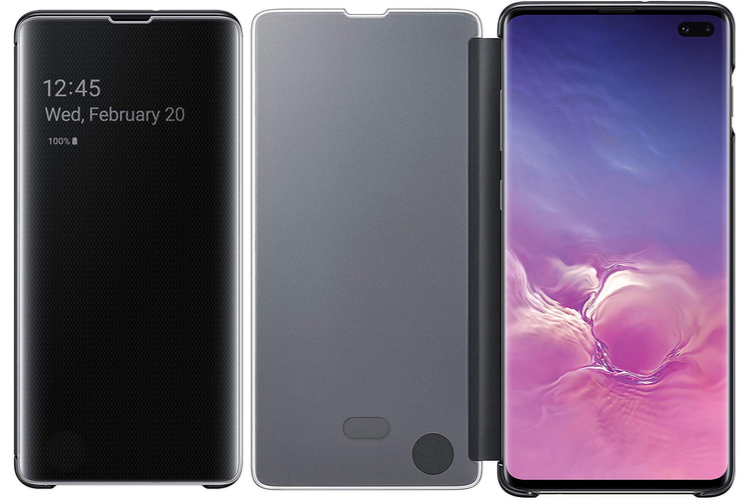 Samsung's official cases for the Galaxy S10 are certainly not cheap, but they are incredibly well made with a premium feel. This cool case lets you see and interact with your phone screen through the front of the case. That means you can respond to incoming phone calls, alarms and control music playback, even while the cover is closed.
You can tap and swipe on the case to read information like time, date, and battery level. A shell-type design shields your phone from all sides. The front flap cover protects the screen against scratches when it's in your bag or pocket.
Shop this case for $22.80 on Amazon
Find for more Samsung Cases here
Snakehive Genuine Leather Wallet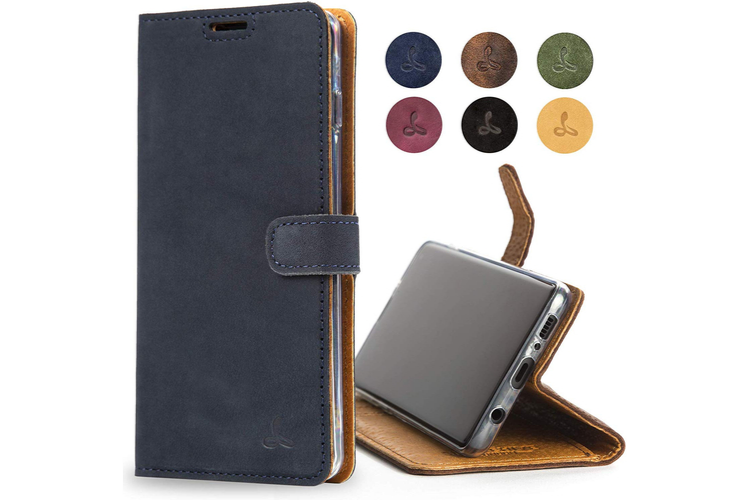 If you love leather cases, this one from Snakehive should keep you happy. Snakehive products are made from the finest soft matt velvet like European Nubuck leather, that ages well over time. Your leather case will end up having a beautiful unique patina finish with a good feel.
The inside of the case has soft smooth leather to protect the screen from scratches. A secure rubberised TPU holder keeps the phone securely in place. This is also a wallet with 3 credit card slots and a larger note slot on the inside of the wallet.
The cover allows easy access to all ports, including the charger and camera when the case is fully closed. You can also use the leather cover as a viewing stand to watch videos comfortably in landscape mode.
This gorgeous case is well worth its price of $36.99 on Amazon
Shop for more Snakehive cases here.
Conclusion
While we all love to show off our brand new smartphone in all its original glory, a good cover is a must. Whether you like your cover slim and light or prefer heavyweight protection or simply like to jazz it up, we hope you find something in our list that meets your budget and gives your phone the protection it deserves.
If you've got yourself a new Samung Galaxy S10 Plus case, do share your pick with us in the comments section.
Cheers, Adeline