Google Forms is a fantastic free online tool to create surveys and other online polls. What is not so great about them is the lack of visual appeal. Not so anymore, because Google recently brought in some new elements that allows you to add a more personal or professional touch to your documents. In this tutorial, we'll take a look at how you can create custom themes in Google Forms to turn it from a bland looking page to something more lively and smart.
How to Create Custom Themes in Google Forms
1. Create a new form by clicking here. (Sign in with your Google credentials if you haven't done so).
2. In the toolbar, click Change theme.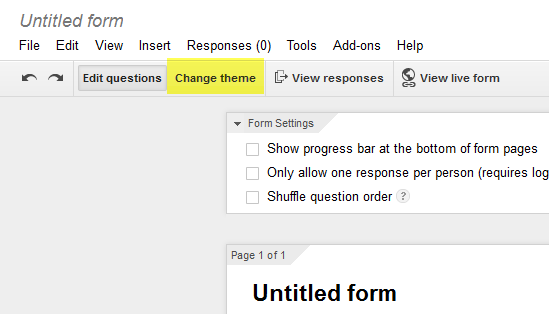 3. On the left pane, scroll down to select a theme that suits your form's subject matter. There are around 24 custom themes in Google Forms that are prebuilt into it at the moment on a variety of ideas such as academics, sports, entertainment as well as some abstract ideas.
4. Once you select a theme, you can further customize it by adding your own header images, background, fonts and colors. To do this on the left pane, click Customize in the selected theme.
5. In the next screen, you will see options to change the Header image, title, description, question, help text, options, form background, and page background.
Google gives you ready made image options if you want to choose a different header from the pre-built one. Just hit Header image and click Change image and you will be taken to the illustrations gallery where you have plenty of different images to choose from.
As far as the fonts go, you have options to choose different fonts and sizes for the title, description, questions, help text, and options.
The Google form background and border colors can be chosen from a color palette, while the page background can be altered by adding an image of your choice (this will be a tiled image unless you choose to disable it) or you can pick a color from the palette.
That's it!
You can check out our previous post if you want to know how to create a Google form and embed it on your website.
Now that you know how to create Google forms and create custom themes to go with it, go ahead and create some great looking Google surveys and invitations to impress your recipients!