Christmas is right around the corner, and that means it is time to start putting together a list of possible things you might want to consider buying for your loved ones. Books and its related accessories are always a good choice as there's always someone in the family who appreciates a good read. If you are thinking of picking up something along those lines, here is our selection of some of the best gifts for book lovers in your family.
Best Gifts for Book Lovers: For the Kids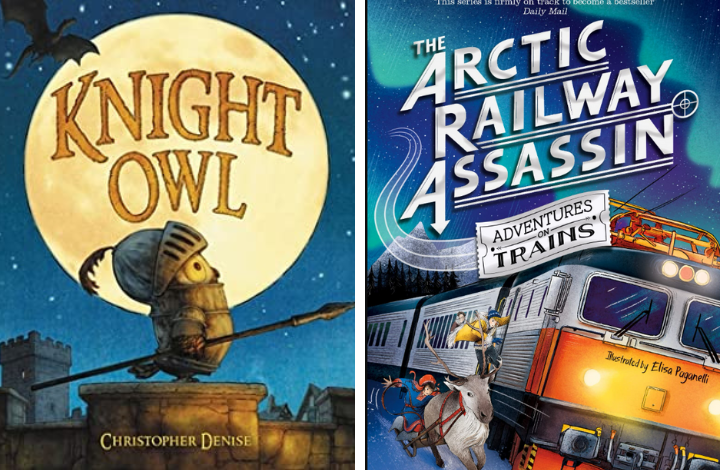 Knight Owl
Knight Owl, by Christopher Denise is an utterly charming picture book for kids aged 2-5 years. It follows the story of a young owl who aspires to become a knight. Although he achieves his dream, a dark danger awaits him as older, experienced knights in his kingdom are mysteriously disappearing. The book is filled with optimism and bravery and has a lesson for all that cleverness and friendship can rule over brawn.
Price: Around $15
Buy on: Amazon
Adventures on Trains Book Collection
Written by M. G. Leonard & Sam Sedgman, the Adventures on Trains Collection is a series of 6 books filled with exciting mysteries aboard trains. The books can be read standalone or in the order of publication. The latest books in this series is Sabotage on the Solar Express and the Arctic Railway Assassin, the latter being an adventure on night train to Narvik, where Harrison and his uncle travel to the Arctic Circle to see the northern lights for Christmas.
These books are ideal for kids aged 7 to 11 years.
You can pick up the entire collection for $69.99 on Amazon.
Or you can pick up The Arctic Railway Assassin for $13 here.
The Christmas Princess
The Christmas Princess is a heart-warming holiday classic tale with a beautiful message for all of us. This story is told by popular singer and songwriter Mariah Carey. The story revolves around little Mariah whose only wish is to have a peaceful and joyous holiday. Feeling lonely, she embarks on a wonderful wintry journey and discovers the healing power of her voice to spread the spirit of Christmas.
Price: $16 Buy on Amazon
Best Gifts for Book Lovers: For the Foodie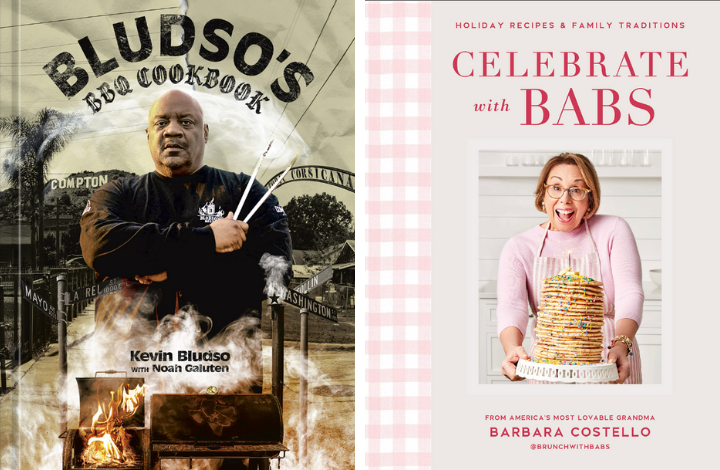 Bludso's BBQ Cookbook: A Family Affair in Smoke and Soul
If you have a foodie in the family, especially someone who loves to cook BBQs, Kevin Bludso's BBQ Cookbook would make for a nice gift.
In his book, Kevin teaches you everything you need to know about choosing your meat, seasoning, and cleaning your pit. You'll also learn about all the rubs and sauces you could need. The book features 75 delicious meat recipes plus some desserts such as Mom's Banana Pudding and Kevin's famous Hennessy on the Rocks. There are also plenty of mouth-watering photographs to accompany them. Above all, this is a book about Kevin's personal family story and how his passion for food led him right back home. All in all, a beautiful gift for your loved one.
Price: $20 Buy on: Amazon
Go-To Dinners: A Barefoot Contessa Cookbook
Cooking can be a stressful affair. In her book Go-To Dinners, America's favorite home cook Ina Garten shares a collection of comforting and delicious recipes that are easy to prepare and serve. There are plenty of freeze-ahead, make-ahead, prep-ahead, and assembled recipes that can make dinner a breeze. Ina also shares her favorite boards to serve with store-bought ingredients. Simply put, these recipes are designed to help you prepare crowd pleasing meals that will encourage you to invite your friends and family for frequent dinners, thereby reconnecting with loved ones and nourishing the soul.
Price: $22 Buy on: Amazon
Celebrate with Babs: Holiday Recipes & Family Traditions
Hosting the holidays for your friends and family can easily become a stressful affair. Barbara Costello, Americas's lovable grandma is sharing her party hacks, entertaining tips and 100 of her family-favorite recipes in her latest book Celebrate with Babs. Plus, she is also sharing the holiday traditions her family has grown to love, so that you can adopt it in your own family and turn your family gatherings into memorable moments.
Price: $21 Buy on: Amazon
Christmas with Southern Living 2022
Another cool book you can gift your loved ones comes from the editors at Southern Living. This book is filled with lovely holiday recipes and creative ideas for decorating, entertaining, and making handmade gifts. There are over 100 brand-new recipes from the folks at Southern kitchen, plus all their favorite cooking tips and make-ahead secrets that will take the stress off hosting and put the focus on family and friends.
A special gifts-from-the-kitchen section features recipes for treats that you can wrap and share. Finally, the book's 200-plus photographs show off dazzling holiday decorations and table settings and inspirational designs for holiday wreaths, trees, centerpieces, and mantel arrangements that you can try.
Price: $25 Buy on: Amazon
Best Gifts for Book Lovers: For Fantasy Lovers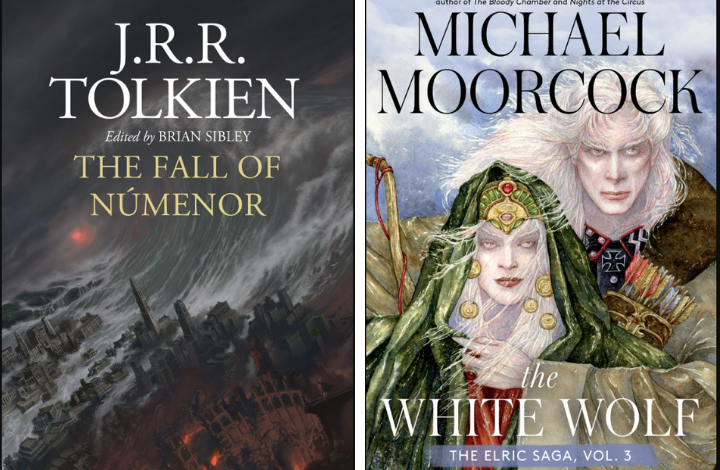 The Fall of Númenor: And Other Tales from the Second Age of Middle-earth
If there is a Lord of the Rings fan in the family, this new book will make for a cool gift. The Fall of Númenor is J.R.R Tolkien's fantasy work that depicts the foundation of Númenor, the forging of the Rings of Power, and the last alliance against Sauron that ended the Second Age.
Price: $35 Buy on Amazon
The White Wolf: The Elric Saga Part 3
The White Wolf is the final instalment of the Elric of Melnibone series by Michael Moorcock. This popular and well-loved fantasy epics of the 20th century revolves around Elric, the brooding emperor of the dying Kingdom of Melnibone who is also an accomplished sorcerer and summoner. He discovers and uses a magical sword to fight off his cousin turned enemy Yrkoon. The sword however needs to be fed by the souls of intelligent beings, which eventually brings great doom to everything he holds dear. Haunted by the many deaths he has caused, Elric sets out on a quest for redemption and renewed purpose.
You can buy the final instalment or all 3 books in the series.
The White Wolf: The Elric Saga Part 3 – Buy on Amazon ($30)
Stormbringer: The Elric Saga Part 2 – Buy on Amazon ($19)
Elric of Melniboné: The Elric Saga Part 1 – Buy on Amazon ($19)
Best Gifts for Book Lovers: For the Eternal Optimist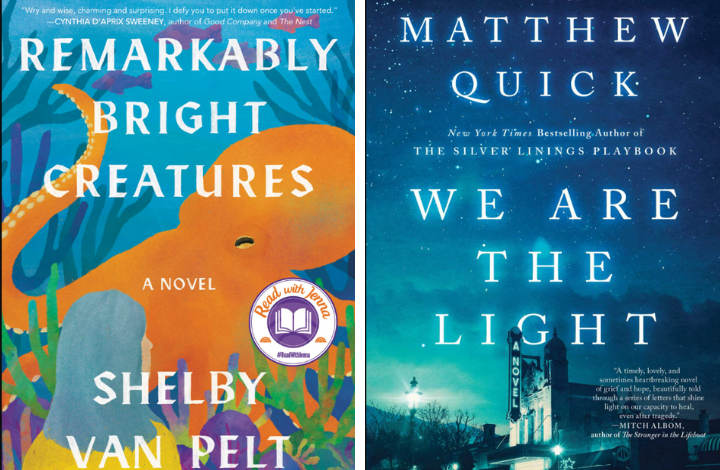 Remarkably Bright Creatures: A Novel
Shelby Van Pelt's "Remarkably Bright Creatures," is a sensitive but feel-good story about what it feels like to have love taken from you, only to find it again in the most unexpected places. The story is told from the perspective of a giant Pacific octopus called Marcellus McSquiddles. McSquiddles is an adorable character who can think and feel like humans. He also has other tricks up his sleeve like picking locks, escaping his tank to go on late-night snack runs and serving as the town's secret matchmaker.
The octopus befriends a widowed aquarium employee Tova and uses his skills to help solve the mystery of Tova's son Erik's disappearance thirty years ago. This heart warming and remarkably endearing tale has healing lessons to deal with love, loss, and family. A great read for our times.
Price: $18 Buy on Amazon
Mad Honey: A Novel
Mad Honey is a brilliant collaboration between two best-selling authors Jodi Picoult and Jennifer Boylan who weave a tale of parental love and sacrifice that makes us to explore the depths that love and acceptance require. The story revolves around two women looking for a fresh start in their lives. An unexpected murder reveals dark family secrets that can make us question our own faith in humanity. The book is riveting, heartbreaking, thought provoking and a completely satisfying read.
Price: $17 Buy on Amazon
We Are the Light: A Novel
New York Times bestselling author Matthew Quick has penned a book for our times with We Are the Light. This emotionally moving novel deals with grief and heartbreak and how love and compassion can heal us all. The title aptly points out that even in the dark, there can be light. This novel revolves around Lucas Goodgame who is deemed a hero in his hometown but he feels that he is anything but one. When a young fellow by the name of Eli, ostracized by the community camps in Lucas's backyard, an unlikely alliance is formed. The two embark on a journey to heal their neighbors and in turn themselves. The book is a great read for anyone who needs a bit of faith in humanity and compassion.
Price: $26 Buy on Amazon
Best Gifts for Book Lovers: For the Digital Reader
eReaders are also a great gifting option for anyone who loves to read books on the go. They allow users to save money and space as well as get access to thousands of digital books. Even better, users can take their book collection wherever they go. The most popular e-reader and digital bookstore is of course offered by Amazon.
Kindle Paperwhite Signature Edition
The Kindle Paperwhite Signature edition offers a little more than the Paperwhite edition. Extra features include wireless charging dock, auto-adjusting front light, an Amazon leather cover and 32 GB storage space. The display is a 300 ppi glare-free screen that reads like a real paper, even in bright sunlight. The screen has an adjustable warm light and auto-adjusting front light. This ensures a personalized reading experience, whether you are reading day or night. A single charge on the Signature edition will last up to 10 weeks.
Price: $240 Buy on: Amazon
Cheaper Edition Price: $139 Buy on: Amazon
Whatever gift you are picking up for your loved one this Christmas I hope it brings you and your family closer together with love, joy and happiness.
Happy Shopping and Merry Christmas to You and Your Family from all of us at TheAppTimes!