My friend had to prepare an assessment for her college project and was required to provide citations for the references she made from various publications she used in her work. She needed a bit of help in setting up the footnotes and while I helped her set up her footnotes, I realized that there may be others too who might need a bit of guidance on the subject. This tutorial is a quick guide on how to add footnotes in Word documents to give your document a professional look.
Word makes adding and managing footnotes a breeze. For one, it automatically numbers the footnotes or re-numbers them when you delete, add, or move the items. Here's how you get started with footnotes.
How to Add Footnotes in Word Documents
1. Place the cursor at the point where you want to add the footnote.
2. On the References tab, in the Footnotes group, click Insert Footnote.

3. Word automatically inserts a footnote number and a line separator at the bottom of the page. Enter the references in the footnote area. The number will be automatically in superscript.

When you navigate back to the point where you inserted the footnote and hover over the footnote number, the reference point will be highlighted a s a tooltip.

Now repeat the process for adding additional footnotes.
You can customize footnotes too. For instance, you can change the location of the footnote from the bottom of the page to below the text, the format of the footnote to alphabets instead of numbers, change the starting number of the footnote, alter the numbering format from continuous to restarting after each page or section and so on. You can find all these options and more on the Footnote & Endnote dialog box.
To Customize a Footnote:
On the References tab, in the Footnotes group, click the Dialog Box Launcher.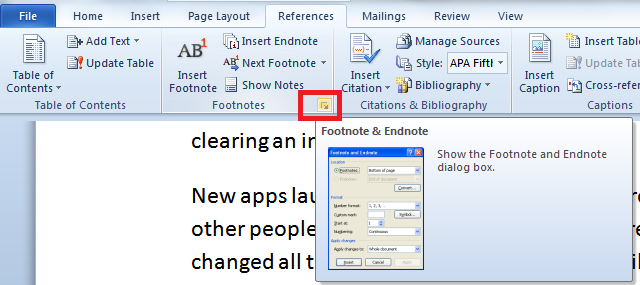 The Footnote & Endnote dialog box is displayed. Select the options you want and within a few minutes you will have a well documented copy of your project work.
Follow us on Twitter, Facebook or Google +to get the latest tutorials, updates and how-to articles on Microsoft, Google and Apple products.