Outlook.com, the replacement to popular web email client Hotmail, isn't everyone's favorite webmail client. However, Microsoft has given users one more reason to start using it more often. Chatting with Gmail contacts. In this tutorial, I show you how to connect your Gmail contacts with Outlook.com, so that you can quickly chat with Gmail contacts right from Outlook.com's messaging pane.
How to Chat with Gmail Contacts in Outlook.com
1. Login to your Outlook.com account with your Microsoft credentials.
2. At the top right corner of the screen, you'll notice a little smiley icon. Click the icon to open the Messaging pane.
3. In the Messaging pane, click Google Contacts.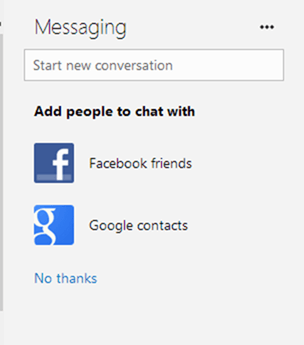 4. In the Chat with your Google contacts pop up window that opens up, click Connect to connect your Google contacts with your Outlook.com account.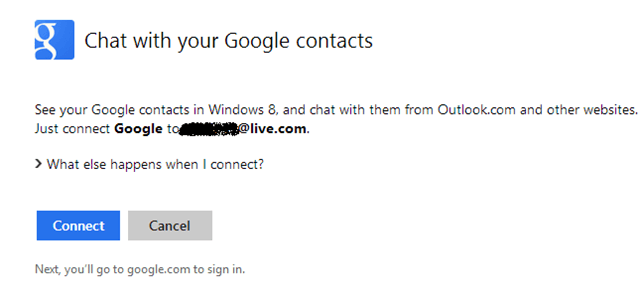 5. In the Request for permission window, click Allow access.
6. To complete the process click Done.
Give a few minutes for the contact details to sync.
When you are ready to start chatting, head back to the smiley icon and open up the messaging pane.
Click inside the Start a new conversation text box, and select the person with whom you want to converse. If your contact is available on more than one network, such as both Google and Facebook, you can choose to chat on any one of them, provided the contact is online ( indicated by a green line).
That's it. You are now ready and able to chat with your Google contacts right from within Outlook.com.
Have you connected your Gmail contacts with Outlook.com yet?