If you own an Android device, chances are, you are already familiar with and are using OK Google to browse the internet and find stuff you need. What you may not be aware of is the fact that Google keep a record of your voice search history so that it can improve its language recognition and help serve you with better search results next time.
But if you are a highly private person and are concerned about your privacy, you can delete OK Google voice search history. Here are the quick steps to get this done on your Android and PC.
How to Delete OK Google Voice Search History
Note: Before you delete OK Google voice search history, you can listen to all of your voice activity and get a text transcript as well.
1. Go to Google's Voice & Audio Activity page on your web browser or Android browser.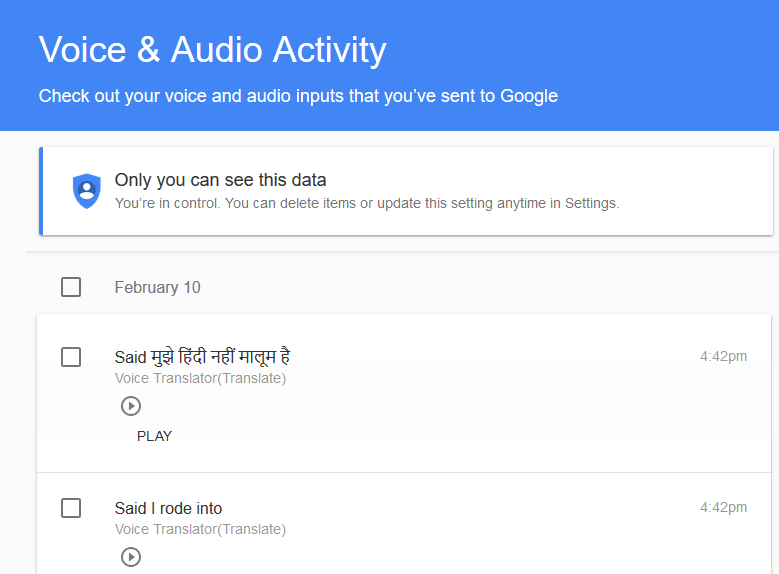 2. You can see all your transcripts by date and time with a Play button that lets you listen to your recordings. The recordings will include commands to do something such as open apps or check on the weather but there may also be conversations that include chat messages, voice dictations and email correspondence. Although searching for past data may come in handy sometimes, its also a little weird to replay back something you said a long time ago.
3. Anyway, if you want to delete all your voice recordings in one go, go to the menu button, that's the vertical 3 dots on the top left of the screen and click on it.
4. Select Delete options.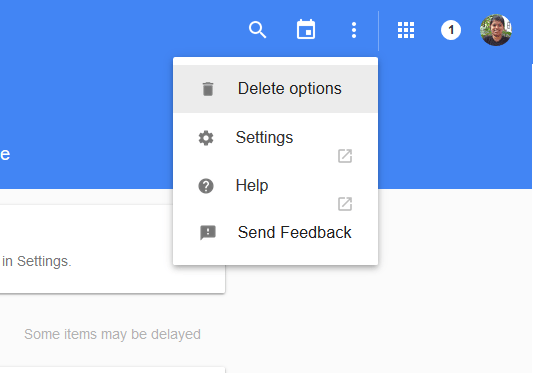 5. In the Delete Voice & Audio Activity for dialog box, select Advanced.
6. Click the new dropdown menu that appears below the Advanced option and select All Time.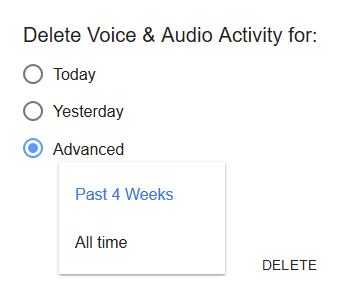 7. Click Delete.
8. You will then need to confirm that you want the voice search deleted. Click DELETE.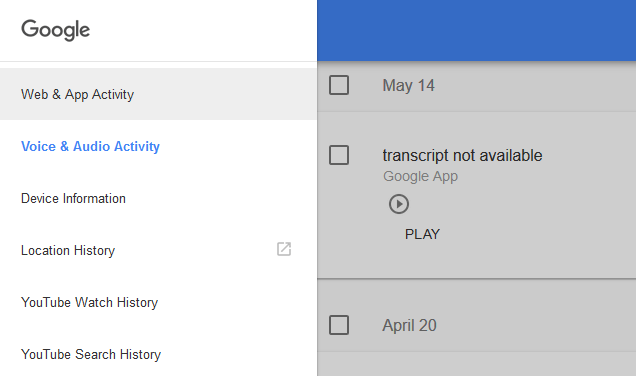 This process will only delete the current voice activity search results. The next time you use OK Google, Google will start recording your activity again. So if you want to make sure that the data is not retained, you need to regularly visit the website and delete the recordings.
Note: You can also delete All of Your Google History including location, YouTube search and what you watched on YouTube while you're deleting  your OK Google voice search history. Just hit the menu bar icon at the top right-hand of the screen, select a category and delete everything as explained in the steps above.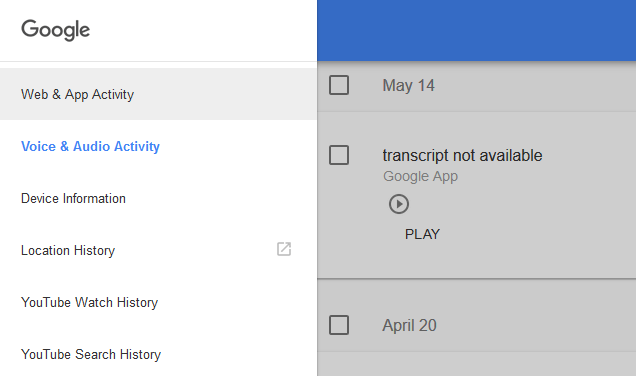 Although Google says that you are the only one who has access to your history, your data may get exposed if you are hacked. So it never hurts to have two factor authentication set up for your Google account.