If you're currently looking for a new job, you're more than likely interviewing from home. Doing a virtual job interview has a lot of potential benefits.
If you live in a rural area, you can now take advantage of the very same chances as city residents while saving money, and you won't be late because there aren't any traffic jams. You can also take notes without making yourself known.
There are also some drawbacks at the same time. Virtual interviews can just go horrifically wrong when they're combined with technical issues like forgetting that you're unmuted or having a cat filter forced to stick on your face.
Here are some of the best practices we found to help you land a job offer after your next virtual job interview.
Tips to Make a Good Impression In a Virtual Job Interview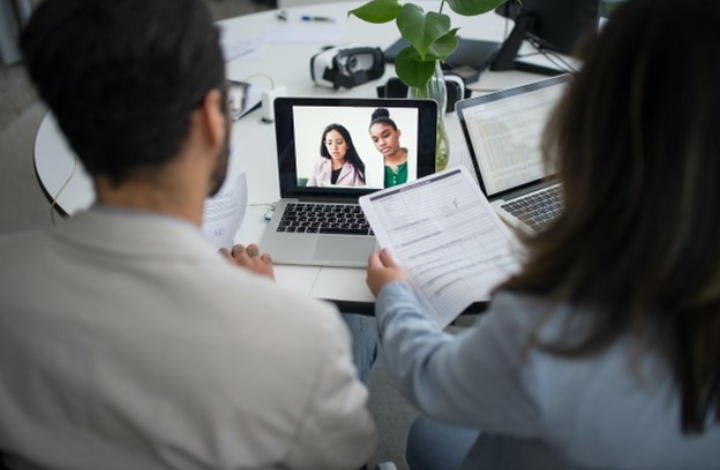 Create An Environment That Works For You
Yes, you can wear a suit on top and PJs on the bottom for your interview. However, you must maintain control over how your fictitious persona appears on the screen when you sit in front of a video conference camera usb. There will be virtually no room for you to express yourself and your feelings in the conversation. If you want a lasting impression, you'll need to use your surroundings.
Make Sure Your Lighting Is Working Properly
A good impression is important for both figurative and literal reasons. Be visible from the start of the conversation, so that the other person can see you clearly.
For example, if your source of light is behind you and the recruiter can't see you, they'll be distracted by your silhouette and not what you just had to say. Position your desk light or implement some best led strip light ideas on your desk so that it shines directly on your face.
Try to use cool instead of warm light in your images. Around 95 percent of the recruiters we spoke to preferred the modern, clean, and brighter look of cool light.
Possess A Neatly-Kept Background
This is not a call for a complete room reorganization on your part. It's all about finding an uncomplicated location that is free from distractions (like a blank wall or one that has a few pictures hanging on it). A cluttered background will detract from the recruiter's interest in you.
Even if you don't want to stand before a cluttered bookshelf, you can use a simple virtual backdrop instead. It was found that implicit bias was less likely to enter the judgment call process when candidates were presented with a clean backdrop. Among top recruiters we talked to, 97% chose virtual office settings over beaches, mountains, or outer space as their preferred virtual background.
Take A Speed Test
Communication is hampered when there is slow or nonexistent internet. Ask your family or roommates to log out of the internet while you're in your interview to make sure it's running as fast as possible. If you don't have faith in your WiFi, use a local area network (LAN) cable to connect.
Google "internet speed test" to see how fast your connection is. About 88% of recruiters told us that their biggest pet peeve in an interview is an internet lag, as this causes a pause in communication and makes the candidate feel rushed.
Don't Panic
It's normal to ask your recruiter for a break if you're feeling frazzled or anxious at any point in the conversation. The ability to maintain your composure in the face of adversity will be highly valued by employers. During 72% of the interviews, this was a key deciding factor.
Put Your Hands to Good Use!
Winning applicants used wide hand gestures to convey big and exciting points while bringing their hands closer together when discussing personal thoughts. What you're saying and how you're perceived can be affected by your body language. You can connect with your interviewer by maintaining an open posture and keeping your arms open. People are more likely to believe what you have to say if they have a personal connection with you.
Don't Focus on Your Reflection, But on the Camera
Because "eyes play a key role in human social encounters," we found that making eye contact with your recruiter is the first step in building trust. We discovered that 79% of those who applied for the position did not get it.
Experts recommend positioning yourself so that you aren't too far away from the camera when photographing yourself (we suggest no more than two feet). You've probably heard this before, but when you speak, make absolutely sure your head and shoulders control the screen and look directly into the camera.
Pose Concerns and Elicit Information
When interviewing from a distance, you'll have a lot more questions than usual about the workplace and the company's values. For example, if you are giving an interview for a reputable medical device contract manufacturing firm, you might want to ask about the safety and protection protocols in house, how big and diverse the team is, etc.
Ask about anything you're curious about. You don't have to worry about looking like a complete fool. Your curiosity will be well received by the hiring manager.
Conclusion
Virtual hiring is here to stay. Despite the numerous advantages, you must do your part to master this relatively new procedure. While pants are optional, delivering on time and on a budget is not.