Microsoft is all set to roll out the over-the-air (OTA) update for Windows 10 Mobile for a select number of older Windows Phone devices. The company's goal with the Windows 10 Mobile upgrade is to offer only the best user experience which explains why this upgrade is limited to certain phones. If you own a Windows Phone 8.1, check out if your phone qualifies for the update and check out how to upgrade Windows Phone 8.1 to Windows 10 Mobile.
How to Upgrade Windows Phone 8.1 to Windows 10 Mobile
Currently Microsoft is rolling out Windows 10 Mobile to 18 phones that are listed below. Check out if your phone qualifies.
Phones That Qualify for Windows 10 Mobile Update
Although only a small number of Windows Phones is currently supported, Microsoft will most likely update this list in the coming weeks and months,which you can check here.
Lumia 1520
Lumia 930
Lumia 640
Lumia 640XL
Lumia 730
Lumia 735
Lumia 830
Lumia 532
Lumia 535
Lumia 540
Lumia 635 1GB
Lumia 636 1GB
Lumia 638 1GB
Lumia 430
Lumia 435
BLU Win HD w510u
BLU Win HD LTE x150q
MCJ Madosma Q501
Download and use the Upgrade Advisor App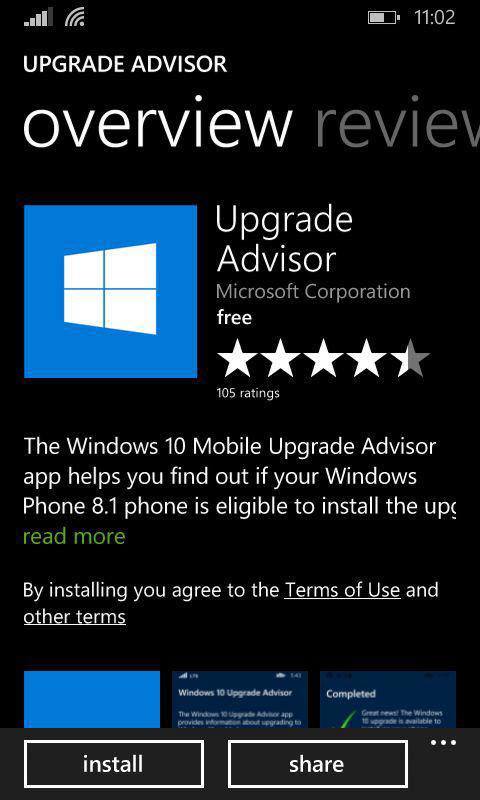 1. If you have a qualifying phone, download and install Microsoft's Upgrade Advisor app from the Windows Store.
Download Upgrade Advisor from the Windows Store
2. Launch the app and tap Next to find out if the upgrade is available on your phone.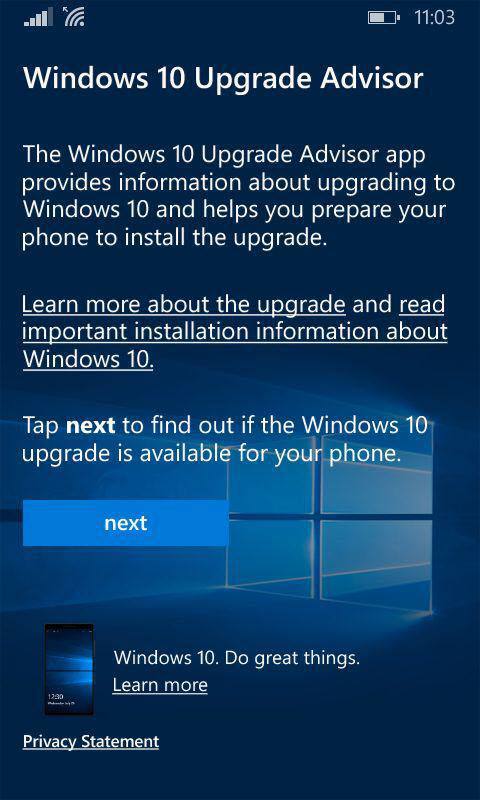 3. If you are eligible for the upgrade, you need to go to the Settings section of your phone, then go to Phone Update and check for the update once again. If the upgrade is ready, you will be able to start downloading it.
You will initially have to update the device to build 10586.107 and when that download is installed, you need to do another update for the final Windows 10 Mobile build 10586.164
Things to Do to Get Windows Phone 8.1 Ready for the Upgrade
If the Windows 10 Mobile update is available for your Windows Phone 8.1 device, Microsoft recommends that you keep in mind the following points before you get started.
Keep your phone plugged into a charger to make sure it doesn't run out of battery during the upgrade.
Connect your phone to a Wi?Fi network as the update size is big and requires a Wi?Fi connection for download and installation.
It is also advisable to back up your settings, apps, photos, and text messages to the cloud before installing the update. Go to the Settings-> Backup, and then follow the instructions to do a backup.
Free up enough storage space to download and install the update. If you can use the Upgrade Advisor app it will recommend files, such as videos or photos, that you can move to OneDrive or an SD card, if you have one installed. You can also connect your phone to a PC and move your files there. After the upgrade, you can move files back to your phone if there's enough space.
Windows 10 Mobile comes with plenty of great features such as a new Start screen, an improved Cortana, better Live Tiles, more app support, Windows Hello, and Continuum. Some of these features like Continuum require certain hardware so they won't be available on all devices running Windows 10 Mobile.
If you have done the upgrade, we'd love to hear about your upgrade experience and if you are loving Windows 10 Mobile.