The handheld gaming market has been gaining momentum, with various tech-focused developers and manufacturers introducing their own devices. Joining the competition is Lenovo with its latest offering, the Lenovo Legion Go. This Windows-based gaming handheld promises impressive specifications and features that set it apart from its competitors. In this article, we check out the design, features, specifications, price, and accessories of the Lenovo Legion Go.
Top Features of Lenovo Legion Go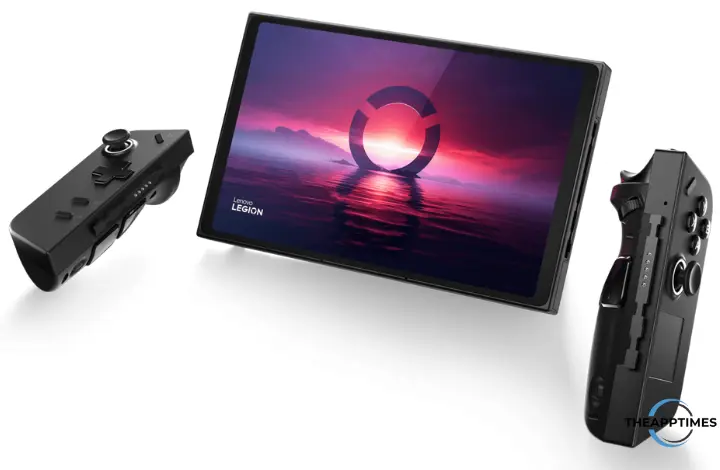 Design
The Lenovo Legion Go boasts a sleek and modern design, reminiscent of other popular handheld gaming devices. However, it sets itself apart with its large 8.8-inch LCD display, offering a stunning visual experience.
With a resolution of 2,560 x 1,600 and a 144Hz refresh rate, the Legion Go surpasses its competitors, such as the Steam Deck and Asus ROG Ally, in terms of screen size and quality. Gaming enthusiasts will appreciate the immersive gameplay this device provides.
Controllers
One of the standout features of the Legion Go is its detachable controllers, reminiscent of the Nintendo Switch's Joy-Cons. These controllers offer a comfortable and versatile gaming experience. Users can prop the display on a table with the built-in full-body kickstand and use the separated controllers wirelessly. This feature provides a solution for gamers who experience wrist strain when using other handheld devices like the Steam Deck.
Optical Eye
For FPS enthusiasts, the right controller of the Legion Go features an optical "eye" that functions as a laser mouse. With the included magnetic base, you can use the controller as a pointer to get precise and mouse-like precision. This feature, known as FPS Mode, enhances the gameplay experience for first-person shooter games.
Legion Space Software
The Legion Go's controllers are fully customizable, allowing users to assign functions to each button using the Legion Space software. This software serves as a hub for all gaming-related settings, including key mapping, RGB lighting controls, and performance optimization. Users can also customize settings on a per-game basis, providing them with precise control over gameplay performance and power consumption.
Specifications
The Lenovo Legion Go has powerful hardware to deliver a high-performance gaming experience. It features an AMD Ryzen Z1 or Z1 Extreme processor, similar to the processors found in the ASUS ROG Ally. This ensures smooth and lag-free gameplay, even for demanding games.
To complement the processor, the Legion Go comes with 16GB of LPDDR5X RAM, providing ample memory for multitasking and running resource-intensive games. Storage options include 256GB, 512GB, or 1TB PCIe 4.0 storage, allowing users to store their favorite games and media.
Connectivity options are abundant on the Legion Go. It supports 5G/LTE, Wi-Fi 6E, Bluetooth 5.2, and features two USB-C ports for easy connectivity with peripherals and accessories.
The device is powered by Windows 11 Home, the latest operating system from Microsoft. This opens up a world of possibilities, allowing users to access a wide range of games and applications from the Microsoft Store.
Battery Life and Performance Optimization
The Legion Go has a 49.2Wh battery, offering a decent amount of power for extended gaming sessions. It may be smaller than the batteries found in gaming laptops. But, it provides a longer runtime compared to its competitors, such as the Steam Deck and ROG Ally. Lenovo claims that the device can charge up to 70% in just 30 minutes using a 65W charger, ensuring minimal downtime between gaming sessions.
To optimize performance and power consumption, the Legion Go offers different operating modes through the Legion Space software. Users can choose between Custom Mode, which provides maximum performance with a TGP of 25W, and Quiet Mode, which reduces TGP and fan noise to around 25dB. These options allow users to strike a balance between performance and noise levels, depending on their preferences and gaming environment.
Price and Availability
The Lenovo Legion Go is set to be released in October 2023, with a starting price of $699. While Lenovo has not provided specific details about the available configurations, it is expected that the base model will feature the AMD Ryzen Z1 processor. Higher-end configurations with the Z1 Extreme processor will likely come at a higher price point.
To complement the Legion Go, Lenovo is also launching two accessories: the Legion Glasses and the Legion E510 headphones. The Legion Glasses are AR specs with Micro OLED screens and built-in speakers, offering an immersive viewing experience. Priced at $329, they provide an additional layer of convenience for Legion Go users. The Legion E510 headphones, priced at $49.99, offer 7.1 surround sound and are designed to match the aesthetics of the Legion Go.
Conclusion
The Lenovo Legion Go is a powerhouse of a gaming handheld, offering impressive specifications, innovative features, and a sleek design.
While the starting price of $699 may seem steep, the Legion Go's capabilities and accessories justify the investment for gaming enthusiasts looking for a high-quality handheld gaming device. With its release scheduled for October 2023, it's an exciting addition to the ever-growing handheld gaming market.
Whether you're a casual gamer or a hardcore enthusiast, the Lenovo Legion Go is definitely worth considering for its impressive performance, immersive gameplay, and versatility. Get ready to game on-the-go like never before with the Lenovo Legion Go.