The Logitech MX Anywhere 3S is an advanced compact mouse designed for professionals who need a reliable and versatile tool to master their workflow, no matter where they are. This wireless mouse boasts 8K DPI any-surface tracking, quiet click technology, and customizable features to optimize your workflow. With its sleek, low-profile design and unmatched performance, the Logitech MX Anywhere 3S is the perfect Bluetooth mouse for on-the-go productivity. Check out all its top features to see if this is what you need to work on the go with ease.
Features of Logitech MX Anywhere 3S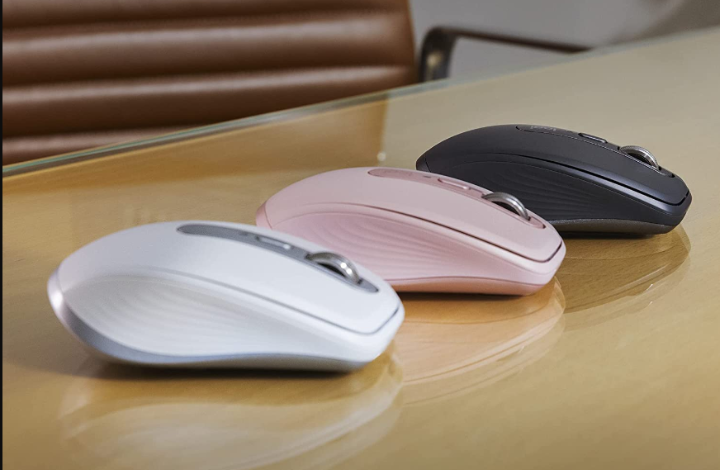 Next-Level Precision and Responsiveness
The MX Anywhere 3S is equipped with an 8K DPI sensor that offers exceptional tracking on virtually any surface, allowing you to work seamlessly at the office, at home, or even in a cafe. This high-precision tracking ensures that the cursor moves smoothly and accurately, enabling you to focus on your work without any disruptions.
Quiet Clicks for Deeper Flow
One of the standout features of the Logitech MX Anywhere 3S is its quiet click technology. This innovative feature reduces click noise compared to its predecessor, the MX Anywhere 3, allowing you to stay focused and maintain your flow while working on projects. The quiet click buttons offer a soft, satisfying feel without compromising on performance, precision, or reliability.
Work Comfortably From Anywhere
The compact and lightweight design of the MX Anywhere 3S makes it the ideal companion for professionals who are constantly on the move. The contoured shape of the mouse fits the natural curve of your hand, providing hours of comfortable use on any surface.
Silicone Side Grips for Enhanced Comfort
In addition, to enhance the comfort of the MX Anywhere 3S, Logitech has incorporated silicone side grips into the design. These soft, grippy surfaces improve the overall feel of the mouse and provide additional control for precise cursor movements.
Customize and Optimize Your Workflow with Logi Options+
This Bluetooth mouse is compatible with the Logi Options+ app, which enables you to take full control of your workflow. This powerful software allows you to work across devices and operating systems using the Flow feature, set tracking speed, customize individual buttons, and use app-specific customizations to optimize every aspect of your workflow.
MagSpeed Wheel: Effortless Scrolling
For effortless scrolling, the mouse features a MagSpeed wheel that automatically shifts from line-by-line scrolling to free-spinning when you scroll faster. This allows for smooth and precise navigation through documents and web pages.
Mode Shift Button: Customizable Scrolling Modes
The Mode Shift button on the MX Anywhere 3S enables you to manually toggle between Ratchet and Free-Spin modes, providing you with complete control over your scrolling experience.
Side Buttons for Easy Navigation and Functionality
For easy access, the MX Anywhere 3S features forward and back side buttons. These are strategically placed for easy access, allowing you to navigate through web pages or documents with ease.
Redefining Wireless Stability
The Logitech MX Anywhere 3S offers verified wireless stability, ensuring faster reconnect and recovery times. This means, your wireless mouse will always be ready for work when you are. However, it is important to note that the MX Anywhere 3S will not pair with other Logitech USB receivers.
Environmentally Friendly
Logitech not only focuses on creating high-quality products but also on their environmental impact. The MX Anywhere 3S is designed with responsible packaging and is certified carbon neutral.
The paper packaging of the MX Anywhere 3S comes from FSC-certified forests and other controlled sources, supporting responsible management of the world's forests.
The mouse is also certified carbon neutral. This means that the carbon impact of the product and its packaging has been reduced to zero.
Pros and Cons of the Logitech MX Anywhere 3S
| | |
| --- | --- |
| Pros | Cons |
| Fast scrolling: The Magspeed scroll wheel allows you to scroll 1,000 lines per second, providing a smooth scrolling experience. | Button sensitivity: Some users have reported that the left and right mouse buttons are easy to click, which may lead to accidental clicks. |
| Versatile connectivity: The mouse supports both USB-C and Bluetooth connectivity options, making it compatible with various devices. | Potential double-click issues: A few users have experienced double-clicking problems after using the mouse for a while, which can be disruptive. |
| Programmable buttons: You can customize the mouse buttons to suit your needs, enhancing productivity and workflow efficiency. | Price: The Logitech MX Anywhere 3S is relatively more expensive compared to other wireless mouse options on the market. |
| Compact and portable: It has a compact design, making it easy to carry and suitable for use in different workspaces. | |
| Customization options: The Logi Options+ app allows you to personalize settings, such as tracking speed, and provides ready-made app-specific customizations. | |
Keep in mind that these pros and cons are based on user feedback and individual experiences. It's always a good idea to read multiple reviews and consider your specific requirements before making a purchase decision.
Conclusion
In all, the Logitech MX Anywhere 3S is a compact wireless mouse that is perfect for professionals who work on the go. Its advanced features make it the ideal Bluetooth mouse for optimizing your workflow and increasing productivity. With a design that prioritizes comfort and sustainability, the MX Anywhere 3S is a smart choice for those who demand the best from their tools.
See the Logitech MX Anywhere 3S on Amazon: Price: $80
Check it out and tell us what you think!