When it comes to iPad Pro accessories, the right case can make all the difference in terms of protection, functionality, and aesthetics. One such case that has garnered attention and acclaim is the MagEZ Folio 2 by PITAKA. This magnetic iPad case not only protects your device but also offers convenient viewing angles and other impressive features. We explore the MagEZ Folio 2 in detail, discussing its design, compatibility, features, and more.
Overview of the MagEZ Folio 2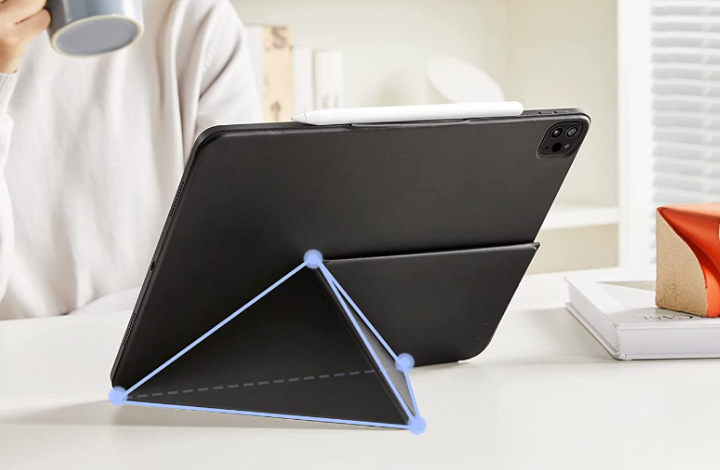 The MagEZ Folio 2 is a sleek and stylish folio case designed specifically for the iPad Pro. This magnetic iPad case provides a secure and convenient way to protect your device while offering multiple viewing angles, making it an ideal iPad Pro accessory for both work and leisure.
Design
The MagEZ Folio 2 boasts a minimalist design, combining elegance with functionality. It features a slim, lightweight profile, making it easy to carry around without adding unnecessary bulk to your iPad Pro.
The magnetic iPad case is crafted from premium materials, including genuine leather on the outside and a soft microfiber lining on the inside. This combination ensures both durability and a luxurious feel.
Magnetic Attachment
One of the standout features of this case is its magnetic attachment. This allows for easy installation and removal of the iPad Pro. It is also convenient for users who want to switch between a folio case and other iPad Pro accessories like the Magic Keyboard. The strong magnets ensure a secure fit, so you don't have to worry about your device accidentally slipping out of the case.
Convenient Viewing Angles
One of the key selling points of the MagEZ Folio 2 is its ability to provide multiple viewing angles. This makes it an ideal choice for users who frequently use their iPad Pro for watching videos, browsing the web, or working on documents.
Landscape Mode
The case's magnetic attachment allows users to easily adjust their iPad Pro to a landscape orientation. This is perfect for watching videos, browsing the web, or using productivity apps that require a wider screen.
Typing Mode
For those who often use their iPad Pro for typing, the Folio 2 offers a comfortable typing angle. By adjusting the magnetic attachment, you can position their device at the optimal angle for typing, making it easier to work on documents, emails, or other text-based tasks.
Protection and Durability
In addition to its stylish design and convenient viewing angles, the Folio 2 offers excellent protection for your iPad Pro.
External Leather Protection
The genuine leather exterior of the iPad Pro case provides a durable and elegant layer of protection. It guards against scratches, dents, and other potential damage, keeping your device in pristine condition.
Internal Microfiber Lining
The soft microfiber lining on the inside of the case adds an extra layer of protection for your iPad Pro. This prevents scratches and other damage to your device's screen, keeping it clean and free of debris.
Compatibility of MagEZ Folio 2 with iPad Models and Accessories
This case is compatible with a variety of iPad models, as well as other PITAKA products and Apple accessories. It is available in two sizes: one for the 11-inch iPad Pro and another for the 12.9-inch iPad Pro.
The 11-inch MagEZ Folio 2 also works with the iPad Air 4/5, with or without a MagEZ Case 2/Pro. However, the iPad Air 4/5 has a different camera than the iPad Pro 11″, so the cutout on the MagEZ Folio 2 will leave some areas exposed around the camera.
With Apple Pencil
The MagEZ Folio 2 is fully compatible with the Apple Pencil. It allows users to attach and charge the stylus as they normally would. The case also features a hidden magnetic pencil strap that secures the Apple Pencil in place, preventing it from falling out while on the go.
With MagEZ Case 2/Pro
For added protection and versatility, the MagEZ Folio 2 can be used in conjunction with the MagEZ Case 2/Pro. This magnetic iPad case provides additional protection for your device, while the MagEZ Folio 2 offers convenient viewing angles and a folio-style cover.
Cleaning and Maintenance of the MagEZ Folio 2
To keep your iPad Pro case looking and functioning at its best, it's important to clean and maintain the case properly.
Cleaning the External Leather
If the leather exterior becomes dirty or stained, remove the case from your iPad Pro and gently wipe it with a soft, light-colored cloth. You can dampen the cloth with water before wiping.
To maintain the leather's appearance, you can occasionally apply a maintenance wax suitable for white or black products. However, avoid using gasoline or other harsh chemicals, as they can damage the leather.
Cleaning the Internal Microfiber
To clean the microfiber lining, use a dry cloth to wipe away any dust, hair, or debris. Be cautious when cleaning the microfiber, as contact with dyed materials can leave permanent marks.
Conclusion
The MagEZ Folio 2 is a versatile and stylish magnetic iPad case that offers excellent protection, convenient viewing angles. It is compatibile with various iPad models and accessories. Its sleek design and premium materials make it a top choice among iPad Pro accessories.
Whether you're looking for a protective case for everyday use or a functional accessory for work and entertainment, the MagEZ Folio 2 by PITAKA is an excellent option.
Check it out on Amazon. Price: $60