Mercury Weather is a new weather app developed by Triple Glazed Studios. It aims to provide a simple and elegant solution for Apple device users. With the increasing unreliability of Apple's native Weather app, Mercury Weather steps in to fill the gap with its minimalist design and easy-to-use interface. In this article, we check out the features and functionality of Mercury Weather, how it works, and why it might be a viable alternative to Apple's native offering.
Introducing Mercury Weather
Mercury Weather was developed by the same team behind Orbit, a popular app for managing freelance work and generating invoices. With their expertise in creating user-friendly and visually appealing apps, Triple Glazed Studios has created a weather app that provides useful information at a glance.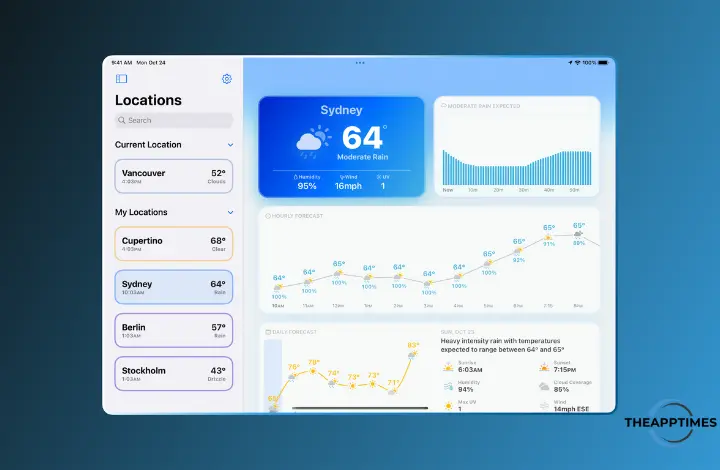 Unlike other weather apps that rely on graphic representations of the forecast, Mercury Weather takes a minimalist approach. The app utilizes simple icons and gradient colors to convey weather conditions. On the iPhone, users can view the current temperature, humidity, wind speed, UV index, hourly forecast, and daily forecast without the need to scroll.
For those who prefer a more in-depth view, Mercury Weather also provides additional information. For example, you can access the sunrise and sunset times, maximum UV levels, and cloud coverage. On Mac and iPad devices, all this information is displayed on a single screen, making it easy to access and digest. You can also check the weather forecast for multiple cities and pin your favorite locations for quick access.
Widgets and Apple Watch Integration
Mercury Weather comes with a variety of widgets that can be added to the Home and Lock Screen. These widgets allow you to view the current temperature, hourly forecast, and more without the need to open the app. The app is also compatible with Apple Watch. This makes it more convenient to check the weather forecast from your current location.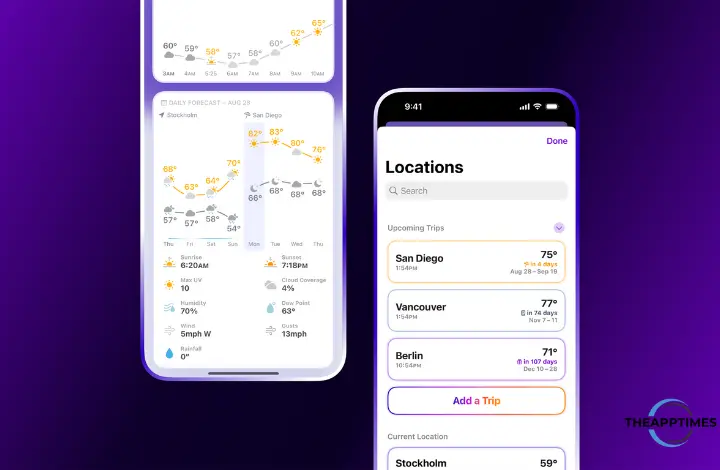 Customizable Data Source
One of the standout features of this weather app is that you can choose between Apple Weather and OpenWeather as the data source. This gives you more control over the accuracy and reliability of the weather information you receive. Additionally, there is a "Dynamic" option that automatically selects the best service for each location, ensuring accurate and up-to-date forecasts.
Try Mercury Weather Today
Mercury Weather offers a free download on the App Store, allowing users to experience its simplicity and elegance firsthand. However, certain features, such as adding multiple locations, requires a subscription starting at $1.99 per month. If you prefer a more permanent solution, lifetime licenses are also available for individuals and families.
Positive User Experiences
Since its release, Mercury Weather has garnered positive feedback from users who have made the switch from Apple's native Weather app. Many appreciate the app's clean design, easy-to-read interface, and the ability to quickly access essential weather information.
Mercury Weather does not have advanced features like precipitation maps and moon phases. Still, it presents a compelling option for users seeking a fresh and user-friendly weather app.
Beta Testing and Updates
Triple Glazed Studios is continuously working to improve Mercury Weather based on user feedback and technological advancements. The team recently opened up beta testing spots to gather more input on the app's new Trip Forecast feature. This feature aims to provide weather forecasts for users planning trips, making it easier to plan and prepare for various weather conditions.
Updates for the app are released periodically, addressing bugs and adding new features. The team is dedicated to ensuring a smooth user experience and actively engages with the user community to gather insights and suggestions for improvement.
Conclusion
Mercury Weather offers a simple and elegant alternative to Apple's native Weather app. With its minimalist design, easy-to-use interface, and customizable data sources, it provides essential weather information at a glance. Whether you're a frequent traveler or just want an aesthetically pleasing weather app, this app is worth considering. Download it today from the App Store and experience weather forecasting in a whole new way.
Download link: App Store