Microsoft's Windows 10 event in Manhattan on Wednesday was packed with lots of great announcements particularly for creative artists and designers using Microsoft's products. Apart from an upgraded Surface Book and a Creators Update of Windows 10 (coming in Spring 2017), there was the all new Surface Studio which probably blew away everyone's mind. Let's take a look at what the Surface Studio is all about!
All About the Surface Studio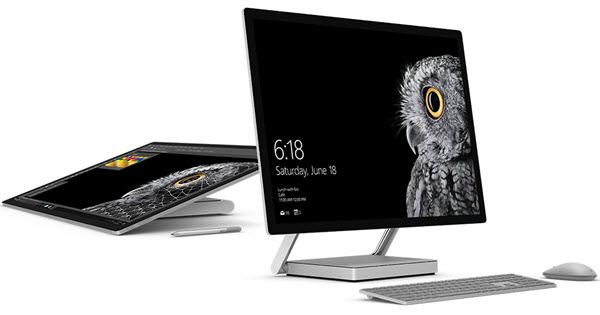 The Surface Studio is an innovative hybrid device with a 28" Ultra HD screen that can be used like a drawing board or placed in an upright position to work on. It features the world's thinnest LCD screen yet, with the PixelSense™ Display, offering a resolution higher than 4K (63% pixels more). Its 10-bit color depth makes everything on its 28 inch screen stand out even from a distance.
In the Studio mode, the Zero Gravity Hinge lets you move the display smoothly from an upright position to a slant to appear like a canvas. In this mode, you can use the display like a drawing board to write or draw on.
The Surface Studio is also a very powerful device, ideal for running professional-grade software like Adobe Premiere Pro or Autodesk. That's not all! Gamers with Xbox Wireless Controllers can also connect to the Surface Studio to play all their favorite video games comfortably.
The Surface Pen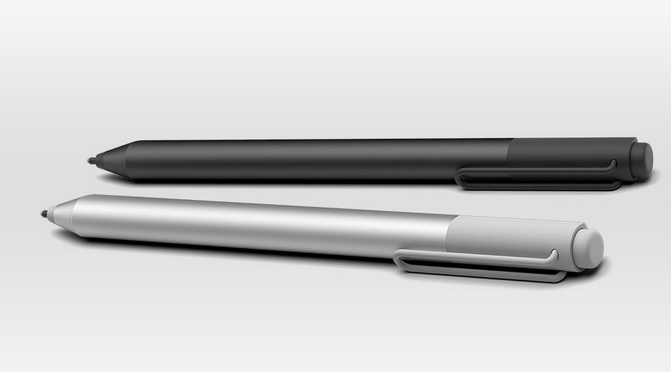 Also included in the box is the Surface Pen ($59.99), which works on the Surface Pro 4 and Surface Book. It offers 1024 levels of pressure sensitivity so you can write, markup, or sketch naturally on the display. It can even convert your handwriting to text via OneNote, snap a picture of something you are working on the screen, connect to Cortana to view and set reminders and highlight stuff in PDFs and Kindle eBooks. The Pen has a 12 month battery life.
The Surface Dial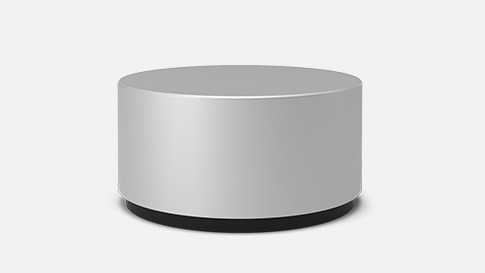 Microsoft also introduced another new peripheral device, the Surface Dial ($99.99) specifically designed for video and audio editors and graphical artists to navigate the display easily. The dial can be placed on the table or directly on the screen to interact with the Surface Studio. Pressing and holing the dial will open up a radial menu of apps needed for your work. For instance, the dial lets you adjust the volume of your Groove music, tilt your Windows maps to a 3D view, access the drawing tools and so on. Its also lets you scroll, zoom in, and navigate around the Studio interface easily.
The Surface Studio Tech Specs
Display : 28" PixelSense™ Display featuring 192 dpi resolution, 10 point multi-touch, and 3:2 aspect ratio
Storage : Rapid Hybrid Drive 1TB or 2TB options
Processor : 6th Gen Intel® Core™ i5 or i7
Memory : 8GB, 16GB, or 32GB RAM
Dimensions : 637.35 mm x 438.90 mm x 12.5 mm; Weight: 21 lbs max (9.56 kg max)
Connectivity : 4 x USB 3.0 (one high power port); full-size SD™ card reader; Mini DisplayPort; 3.5 mm headset jack.
Graphics : Starting with i5 Intel 8GB: NVIDIA® GeForce® GTX 965M 2GB GDDR5 memory
Camera : Windows Hello sign-in camera 5.0 MP with 1080p HD video (front)
Audio & video: Dual microphones, Stereo 2.1 speakers with Dolby® Audio™ Premium 3.5 mm headphone jack
Wireless : Wi-Fi: 802.11ac Wi-Fi wireless networking, IEEE 802.11 a/b/g/n compatible
Bluetooth: Bluetooth 4.0, Xbox Wireless built-in
Price and Pre-Order Options
The 1TB/8GB RAM variant of Surface Studio comes at a starting price of $2999 and is available for pre order right away on the Microsoft Store. The release date is set for 12/15/2016.