OnePlus is one of those companies that makes Android phones you can't wait to own. On April 14th, the company livestreamed its launch event, unveiling its 2020 lineup of the flagship OnePlus 8 and OnePlus 8 Pro. These two devices come in colors you've never seen before (like the Interstellar Glow) that are eye catching and look fantastic. Plus, you get a really good display, strong battery life, good camera performance and great software. So here's all you need to know about the OnePlus 8 and 8 Pro.
OnePlus 8 Pro – Features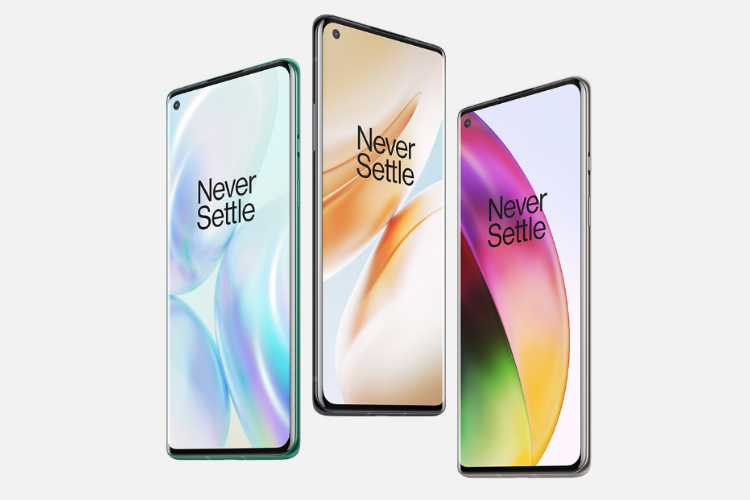 Display
We'll start off with the display of the OnePlus 8 Pro, which boasts an impressive 6.78″ edge-to-edge QHD+ screen with a 120 Hz refresh rate. The phone boasts the innovative MEMC technology that ensures seamless and smooth flow of content on your screen.
Thanks to an incredible 1300 nits capability, you can see the onscreen content even under direct sunlight. An improved adaptive display detects and adjusts color temperature, so you get natural tones and consistent hues that keep your eyes comfortable when viewing the screen for long hours.
Great Choice of Colors
OnePlus keeps up with its tradition of offering a fantastic choice of colors this time as well. Along with the trusty standard rendition of Onyx Black, you can take your pick from two fancy options, the Ultramarine Blue and Glacial Green.
Dust and Water Resistant
You can keep your OnePlus 8 Pro looking great at all times and under any conditions, thanks to the IP68 dust and water resistance rating. That means this phone will continue to work unharmed even if it is accidentally dropped into water up to 1 meter for up to 30 minutes.
Camera
The OnePlus 8 Pro boasts a powerful 48MP primary camera, 48MP ultra-wide camera, 3X telephoto camera, and a color filter sensor, making the 8 Pro one of the first phones with four rear cameras.
The 48MP ultra-wide camera offers a dramatic 120° field of view letting you take group photos or capture cityscapes with ease. There's even a mode Smart Pet Capture that can identify pets and auto-adjust the camera settings for the perfect pet snap.
Not only does the 8 Pro let you shoot impressive photos, you can also shoot videos like a pro. You can capture great quality videos in harsh lighting conditions, capture more detail in backlit scenes and enjoy a hybrid video stabilization system while capturing footage on the move.
Performance
The OnePlus 8 Pro is equipped with the much more powerful Qualcomm Snapdragon 865 processor, which is 25% more powerful than previous iterations. A state-of-the-art LPDDR5 RAM drastically improves operating speed by 30% while consuming 20% less power.
Charging
The OnePlus 8 Pro boasts a 4,510 mAh battery that lets you do a lot. But the best part is when it comes to recharging your device, you can do a really quick charge wired or wirelessly. The Warp Charge 30 Wireless feature lets you charge wirelessly from 1% to 50% in just half an hour. Plus, you can share your charge with Reverse Wireless Charging. If you want to plug in, that works too! In just 23 minutes you can power your Pro 8 with up to 50% power.
The OnePlus 8 Pro is the flagship device for OnePlus in 2020. The company also has launched alongside the flagship device, the regular OnePlus 8, which looks the likely successor to the OnePlus 7T.
OnePlus 8 – Features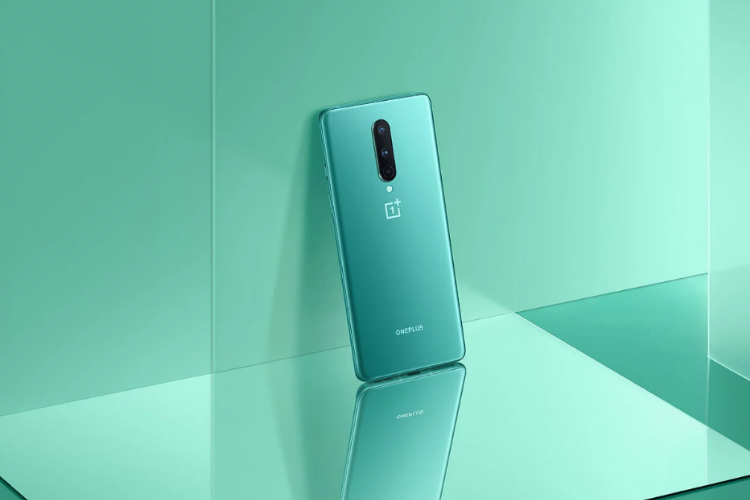 Design
Design-wise, the OnePlus 8 looks a lot like the 8 Pro. But it is a smaller phone, featuring a 6.55-inch display. The display comes with a Full HD+ resolution of 2400 x 1080, with a 90 Hz refresh rate. This means that your viewing experience will be fast, seamless and smooth, though not as brilliant as what the Pro 8 offers.
Great Choice of Colors
As for colors for the OnePlus 8, you can buy the standard Onyx Black or the Glacial Green. Even better is the Interstellar Glow, which is exclusive to the OnePlus 8. It shimmers and shines in a wide range of colors depending on how the light falls on it.
Camera
The OnePlus 8 is equipped with triple rear cameras (48MP primary, 16MP ultra-wide, and a macro camera). You can shoot stunning photos with the primary camera and take pictures of your pets with the smart Smart Pet Capture mode. The ultra-wide angle camera lets you capture group photos or wide landscape images at 116° angles.
Battery
The One 8 packs a 4300 mAh battery, which provides ample charge for a full day's use. You don't have wireless charging with the One 8, but with the company's proprietary Warp Charge 30T, you can go from 1% to 50% in just 22 minutes of charging your device.
5G Connectivity
The next big thing in tech is 5G and OnePlus is ready for it – offering 5G connectivity for both the OnePlus 8 and OnePlus 8 Pro. The Smart 5G feature lets you automatically switch between 5G and non 5G networks to prolong battery life and maintain your connection. Plus, you can download movies and share photos in seconds.
Software
On the software side of things, both OnePlus devices run on the excellent OxygenOS software, which has tons of intuitive features.
The company has also teamed up with Google to offer users a three-month trial of Google One, Live Caption and Stadia support.
Tech Specs: OnePlus Pro 8 and OnePlus 8
Features
8 Pro
8
Operating system
Android 10
OxygenOS 10
Android 10
OxygenOS 10
Display
6.55-inch 90Hz AMOLED
2400×1080 (20:9)
6.7-inch 120Hz AMOLED
3168×1440 (19:8:9)
Chipset
Snapdragon 865
Snapdragon 865
RAM
8GB/12GB
8GB/12GB
Storage
128GB/256GB
128GB/256GB
Rear camera (1)
48MP, 0.8um
f/1.75, OIS
4K at 60fps
48MP, 1.12um
f/1.78, OIS
4K at 60fps
Rear camera (2)
2MP, 1.75um
f/2.4, macro lens
8MP, 1.0um
f/2.4, OIS, telephoto
3x hybrid zoom
Rear camera (3)
16MP, 1.0um
f/2.2, ultra-wide lens
116° FoV
48MP f/2.2, wide-angle, 119° FoV
Rear camera (4)
–
5MP Color Filter
Front camera
16MP, f/2.4
1080p video, fixed focus
16MP, f/2.4
1080p video, fixed focus
Connectivity
5G Sub-6, SA and NSA
Wi-Fi 6 2×2 MIMO, Bluetooth 5.0
AptX HD, NFC, A-GPS
5G Sub-6, SA and NSA
Wi-Fi 6 2×2 MIMO, Bluetooth 5.1
NFC< AptX HD, A-GPS
Audio
USB-C
Stereo speakers
USB-C
Stereo speakers
Battery
4300mAh
4510mAh
Charging
USB-C 3.1
Warp Charge 30T (5V/6A)
USB-C 3.1
Warp Charge 30T (5V/6A)
Warp Charge 30 Wireless (20V/1.5A)
Water resistance
IP68 (some models)
IP68
Security
In-display fingerprint (optical)
In-display fingerprint (optical)
Dimensions
160.2 x 72.9 x 8.0mm
180g
165.3 x 74.3 x 8.5mm
199g
Colors
Onyx Black, Glacial Green, Ultramarine Blue
Onyx Black, Glacial Green, Ultramarine Blue
Final Thoughts
Despite being pricey, the OnePlus 8 Pro offers great value for money. The tech specs are awesome, you get support for 5G connectivity, the display is great, battery life is strong, the software is flawless and there are no complaints about the camera performance.
If you are going for the One Plus 8, you'll have to live without wireless charging. You also don't get a IP68 rating on the unlocked model, but carrier versions on T-Mobile and Verizon, will have IP68 ratings.
Either way, if you're picking up a OnePlus 8 phone, you are going to have a great time using it.
Pricing of One Plus 8 Pro and One Plus
The OnePlus 8 starts at $699 for the 8GB/128GB variant, while the 12GB/256GB model is priced $799.
The OnePlus 8 Pro is priced $899 and $999, respectively.
Sales will start on April 29 on the official OnePlus website. Check it out of you want a smartphone that never settles for the ordinary.
Note: When you purchase something on our website after clicking links in our articles, we may earn a small commission. Read our affiliate link policy for more details.