Do you use the WordPress editor to write your blog content? I, for one, use Open Live Writer while there are probably many others who prefer apps like Google Docs or Word to get the job done. If you use Google Docs to write and collaborate on your content, chances are, you're having a really tough time importing that content into WordPress with all the formatting intact. Wordable is a brilliant tool that saves you hours of publishing time by making the content transfer process super-easy. In fact, its just a click away. Let's see how this tool works.
Getting Started with Wordable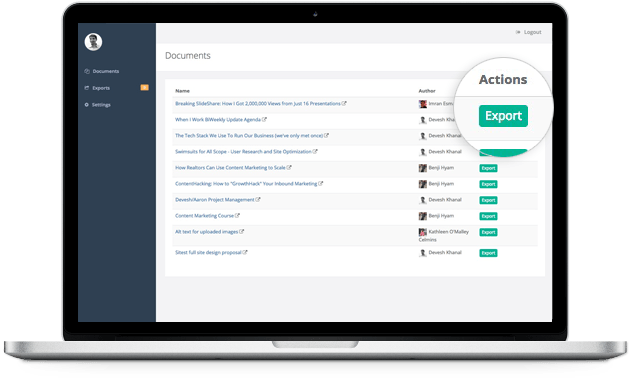 Using Wordable is easy.
1. Sign into Wordable using your Google account credentials.
2. Connect it to your WordPress Blog. You do that by downloading the Wordable plugin from the dashboard and uploading it to WordPress. Or by using your WordPress.com credentials if you have one.
2. If you have any existing documents on your Google Doc, it will get imported into the Wordable dashboard. Otherwise, you can start writing content in Google Docs. You can collaborate, add comments, edit and format it as you usually do. When the article is complete, it will show up instantaneously on your Wordable dashboard.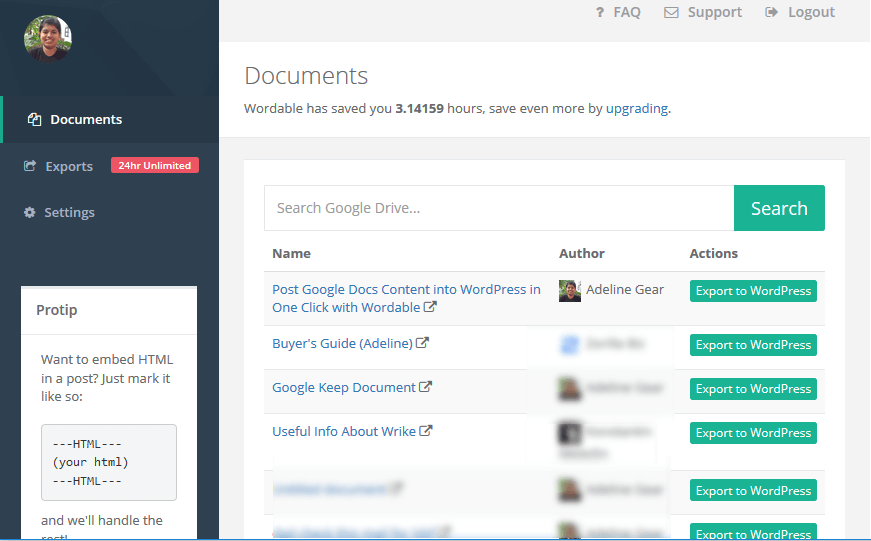 3. Just click the Export to WordPress button next to the article and open up your WordPress posts page. You will find your article saved as a draft with all formatting intact!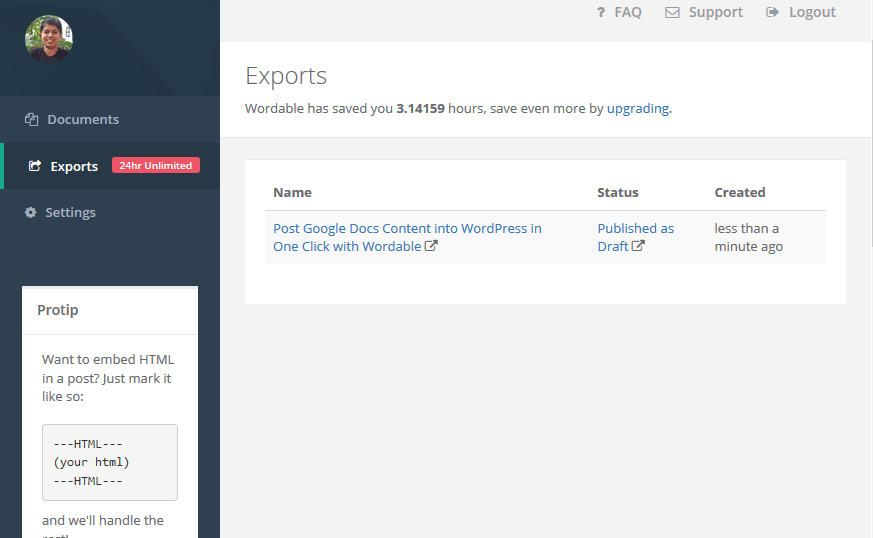 Its as simple as that!
Impressions
In my use of Wordable, I found the tool to be absolutely flawless. Connecting Google Docs and my WP blog was super easy. Moving content from Docs to the blog was even quicker. If you were to use one "Wow" tool in your workplace, this would be it!
Is Wordable Free to Use?
Well, considering the amount of work that probably went into making such as awesome tool, it would be unfair to expect a free product. However, you can use Wordable all you want for up to 24 hours for free. And you get 2 exports free forever. If you are a solo blogger with just a single WP blog, you can earn some free exports using some creative methods outlined in this page.
But the real value in the app lies in its Standard plan, which costs $19/month. Its the perfect solution for you if you:
Run a huge blog, with lots of editors and writers working for you.
Manage multiple blogs.
Receive a lot of guest posts.
Are a mommy blogger and would love to catch up on family time instead of formatting posts!
Wordable makes posting content from Google Docs to WordPress sites such as breeze, you'll be left with plenty of time to focus on more important tasks.
If you haven't tried the tool yet, give it a go. Its absolutely free to try (for 24 hours) and its well worth your money if you upgrade.
If you've used Wordable we'd love to hear about your experience. Do tell!