The Redmi 12 5G is the latest addition to the smartphone lineup by Redmi. Packed with impressive features and a budget-friendly price tag, this device aims to provide a seamless user experience. If you love the Redmi phones, check out the key specifications, design, camera capabilities, software, and pricing of the Redmi 12 5G.
Redmi 12 5G Display and Design
The Redmi 12 5G boasts a large 6.79-inch LCD display with a Full HD+ resolution of 2400 x 1080 pixels. The screen also supports a 90Hz refresh rate, ensuring smooth scrolling and fluid animations.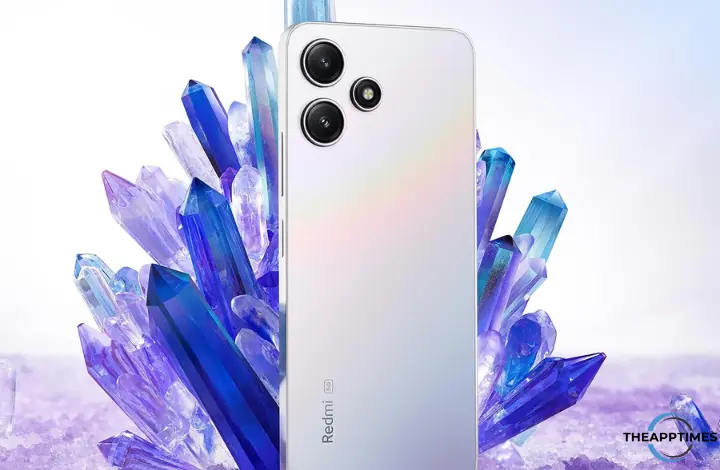 Whether you're watching videos, playing games, or simply browsing the web, the vibrant and detailed display of the Redmi 12 5G enhances your visual experience.
When it comes to design, the Redmi 12 5G offers a sleek and modern aesthetic. It is available in three attractive colors: Jade Black, Pastel Blue, and Moonstone Silver. The device features a slim and lightweight construction, making it comfortable to hold and carry.
Performance and Storage
Under the hood, the Redmi 12 5G is powered by the Qualcomm Snapdragon 4 Gen 2 mobile processor. This chipset ensures smooth multitasking and efficient performance. The device comes with multiple RAM and storage options to suit your needs.
You can choose between 4GB or 6GB of RAM and 128GB of storage, or opt for the higher-end variant with 8GB of RAM and 256GB of storage. Additionally, the Redmi 12 5G also supports expandable storage via a microSD card slot, allowing you to store even more photos, videos, and apps.
Battery and Charging
Equipped with a 5000mAh battery, the it offers impressive battery life that can easily last throughout the day. Whether you're streaming media, playing games, or browsing social media, you can rely on the device to keep up with your daily activities. The smartphone also supports 18W fast charging, ensuring that you spend less time waiting for your device to recharge and more time using it.
Camera Capabilities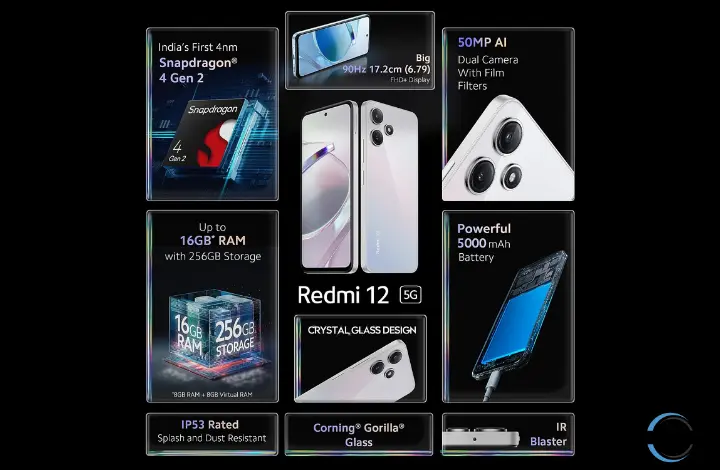 It comes with a versatile camera setup, allowing you to capture stunning photos and videos. On the front, there is an 8-megapixel camera that is perfect for taking selfies and engaging in video calls.
Flip the device over, and you'll find a 50-megapixel main camera accompanied by a 2-megapixel depth camera. With these powerful lenses, you can capture detailed and vibrant images with depth and clarity.
Whether you're documenting your adventures or capturing precious moments with loved ones, this phone will have you covered.
Software and User Interface
Running on Android 13 with MIUI 14, this smartphone provides a user-friendly and intuitive interface. MIUI 14 offers a wide range of customization options, allowing you to personalize your device according to your preferences.
It also comes with various features and optimizations that enhance the overall user experience, including improved system performance, enhanced privacy settings, and a refined notification system.
Pricing and Availability
The Redmi 12 5G offers exceptional value for money, with a starting price of INR 10,999 (approximately $133). This affordable price tag makes it accessible to a wide range of users who are looking for a feature-rich smartphone without breaking the bank.
Conclusion
The Redmi 12 5G is a powerful and affordable smartphone that caters to the needs of budget-conscious consumers. With its impressive display, performance, camera capabilities, and user-friendly interface, it offers a compelling package at an attractive price point. Whether you're a casual user or a tech enthusiast, this smartphone is definitely worth considering for its value for money proposition.