After mucking around with various theme designs since I launched my website more than two years ago, I have finally found a steady and strong armor in StudioPress. I've learned that one of the biggest factors that influence the success of any online business or blog is its theme, not just the front end features but also how well it works behind the scenes! StudioPress, the team behind the popular Genesis framework has steadily built its reputation over the last few years producing top notch child themes and perfecting their already existing framework with better security updates and functionality. And I have benefited immensely from all their hard work. Here's why.
How StudioPress Themes Helped Shape my Blog
Learning Curve is Negligible
One of the biggest advantages of using the Genesis framework + child themes is its instant usability factor. The learning curve with setting up StudioPress themes is practically zero. With over 42 child themes developed by the StudioPress team and 20 child themes from the StudioPress design community, you can always find one which matches your website requirements. If you are a newbie and not familiar with coding and customization you'll do well to start with StudioPress. Customizing child themes are quite simple, and you can always access the StudioPress forums for solutions to issues you might have. The Prose theme is a perfect example of this. The special design settings page of this theme makes customization dead simple.
The Prose Theme for Point and Click Customization
Solid Community Support
The StudioPress community forum has almost always had an answer for every imaginable question I've had regarding theme customization. Most times, I just search the forum to find a fix for my issue. The latest response times for most of my queries were next business day and that can be attributed to time zone issues. StudioPress doesn't offer email support, but I've never felt the need for it anyway. One major grouse with a lot of users is that support doesn't offer codes to fix issues. There's a thin line between asking for an existing code modification and a redesign. Don't expect the guys to provide you with codes for deep customization; that is a paid service. You could always Google your question or try services such as Fiverr for small custom coding jobs.
SEO Friendly
StudioPress themes also integrate powerful SEO optimization features built with guidance from  experts in the field including Joost de Valk and Greg Boser.
My Previous Theme – eleven40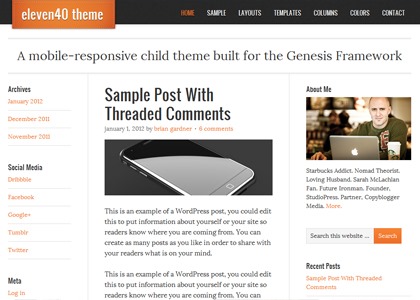 Sounds Pricey but not Quite
The Genesis Framework along with a child theme should be somewhere within the range of $80 to $100, and that might be an expensive proposition for new comers, but when I consider the many 20+ dollars and 40+ dollars I spent on various other themes before StudioPress, I regret the poor decision to reduce my costs. That decision has only reflected on how long it has taken me to get my blog to a decent standing in Google's books. However, since switching over to StudioPress, I haven't looked back. The returns for my investment has been more than good value for the money spent. A cool perk with StudioPress is they often throw special discounts and sales for returning customers and I've been lucky to pick up child themes for as little as $17 for other projects. So an overall worth investment in my books.
Time Saver
I have rarely had to tweak the eleven40 theme since I first started using it almost a year ago. I did customize it initially to get the right look and feel and I've never looked back since. This has saved me countless hours and given me the space to focus on other productive areas of my blog. Last week I  updated my theme to one of StudioPress' newest designs, the Metro theme, and I managed to do in just a few hours. It still features much of the previous theme's layout, but a color change, homepage improvement and widgetized option to float different types of content just made it an attractive proposition for me. I am pleased with the results, but what I appreciate even more is that I haven't lost much time and my revenue and traffic haven't dropped as a result, and that is a precious thing.
My latest theme : Metro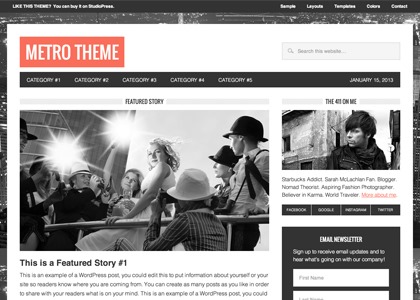 Not Elegant – Maybe; but Not Always a Requirement
StudioPress themes compare to no other in terms of functionality, but when it comes to graphical elements, there's always a complaint that the themes lack creativity and high resolution graphics. While that may be true to some extent, not all potential customers are looking for flashy graphics and zealously creative designs. StudioPress puts the focus where it matters most  – the content. Websites that offer better graphical material may fumble when it comes coding efficiency or functionality.
I believe that StudioPress themes offer the right blend of functionality, coding, graphical, and theme support elements that make it one of the best in the market today. That said, it is important to remember that before you decide on a theme, analyze your choices and pick one that integrates top-notch functionality with strong coding and designs that match your ideas of a good design for your website.
StudioPress has impressed over 86,000 website owners and numbers don't lie. If you've been contemplating a new design for your website, take a look at some of the simple, elegant and clean designs that StudioPress offers.
The Best Selling StudioPress Themes
Magazine Theme: A media-centric theme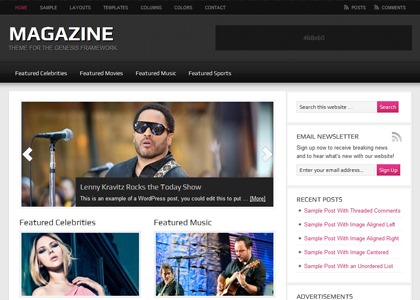 Lifestyle: For Stylish Online Publishing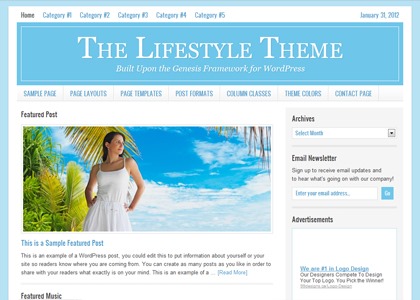 Agency: For professional agents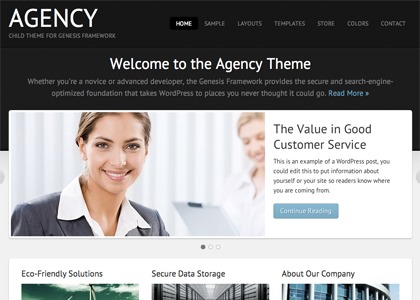 AgentPress: Meets all your Real Estate Needs
News: Delivers the hottest stories attractively
Executive: Showcasing your projects Attractively