The galaxy is filled with thousands of sparkling stars, each trying to outshine the other, but there is always one special star that outshines the rest. In Samsung's beautiful smartphone galaxy, the Samsung Galaxy S3 truly has the credentials to be the brightest star. In fact, it is touted to be just one better than the revolutionary HTC One X .
Launched yesterday, May 3rd 2012, in London amidst a lot of fanfare, the Samsung Galaxy S3 has managed to impress a lot of people. Going by its tech specs, there's something more than what today's smartphones are offering. Here's a quick look at some of the amazing features that you can expect to use when you hold this star in the palm of your hand.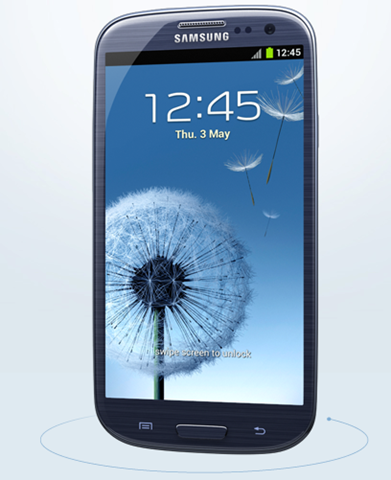 Samsung Galaxy S3 Smart Features
SmartStay: Apparently, the phone is so smart, it knows when you are awake and when you're not, and sleeps and wakes with you. The front camera notes your eye movements and knows when you are looking at it, so does not slip into sleep mode.
DirectCall: Why bother to press a number when you need to call someone you're messaging? You can save all those extra taps on your phone by just moving it over your ears. This smartphone will automatically make the call for you.
SmartAlert: It has a vibrating nudge that lets you know you've missed a call or a message.
SocialTag: If you are looking at your friends photos, the phone will track them and let you know of their social networking status.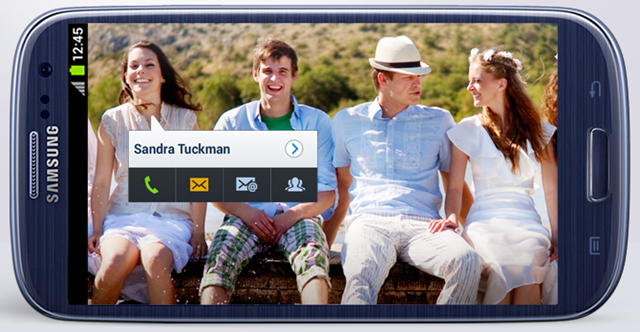 SVoice: The Siri of the S3, this feature responds when you tell it to wake up, or give a weather report, or even take a photo. It even replies back loud, which is great when your driving…apparently!
SBeam: You can transfer pictures, music, videos by placing two Galaxy S3s back-to-back.
AllShare Cast: It lets you beam your photos, videos or game you're playing on to a big screen and lets your phone act as a controller.
Buddy photo share: Taking a group photo? You can share them with your pals as the phone recognizes your friends faces and provides options to share instantly.

AllShare Play: Working on the go? You can share your documents and files from just about anywhere.
Pop-Up Play: You can watch a video as well as email or text someone, all at the same time.
Best Photo:  For those who can never hold a pose, this feature takes a series of 8 pictures in continuous succession automatically and picks the best of the lot, so you are always snapped looking your best.
Wireless Charging: For those of you sick of pulling and tugging with those wires to charge the device, there's a wireless kit to do the job.
That's just some of the cool features on the Samsung Galaxy S3. And, then there are some usual features as well.
Screen size: 4.8 inch HD Super AMOLED of hi-definition display with 720p resolution
Processor: 1.4 Ghz quad-core
Memory size: Up to 32gb (+64gb with card)
Operating system: Android Ice Cream Sandwich
Camera: 1.9-megapixel front-facing camera, 8-megapixel rear camera
Battery: 2100 mAh battery
Weight: 133 grams
Dimensions:  Height – 136mm, Width – 70mm, Depth – 8.5mm.
RAM: 1GB
Video: Full HD 1080p Recording and Playback
There's also an on-device encryption feature that will enable business users send secure email within their networks. The NFC chip is expected to make mobile payments a tap away as Samsung partners with Visa.
The smart camera features such as the ability to double tap the screen zoom in on a face, shooting in HD and taking simultaneously capturing still images are an indication of the efforts made to take the smartphone to the next level.
The Samsung Galaxy S3 has been inspired by nature and comes in marble white and pebble blue, so users who prefer black will have to sport a tiny frown. There also seems to be some disappointment by news that the phone will not feature a 12MP rear camera, but that's hardly a flaw.
New Samsung Galaxy S3 owners are also likely to get 50GB FREE storage from Dropbox for two years, one better tan what the HTC One X offers.
A 3G HSPA+ version of the phone is expected to be launched on May 29th 2012  and a 4G LTE version is expected later in the summer.  Europe is the first launch destination followed by Asia, Africa, and Latin America.
Customers in the US, will have to wait just a tad longer. Samsung has setup a special registration page to check on availability for different carriers. Just head over to this page, enter your details, and keep your fingers crossed.
Pricing is still a mystery, but rumors indicate that Samsung Galaxy S3 may be somewhere between $199 to $299 for a two year contract and somewhere around $700 for an unlocked device.
There's still some time before Samsung Galaxy S3 is launched, so look out for the commercials that will soon flood the internet and television screens until then.
Follow us on Twitter, Facebook or Google +to get the latest tutorials, updates and how-to articles on Microsoft, Google and Apple products.