Samsung's popular T-series portable SSD lineup is getting a new addition – the T7 Touch, a sleek external storage drive that promises to deliver lightning-fast speeds while also taking data protection to the next level. If you're looking to buy a portable Solid State Drive (SSD) in the near future, the Samsung T7 Touch should be one worth considering. Here are more details on the Samsung T7 Touch can do.
Samsung T7 Touch – Features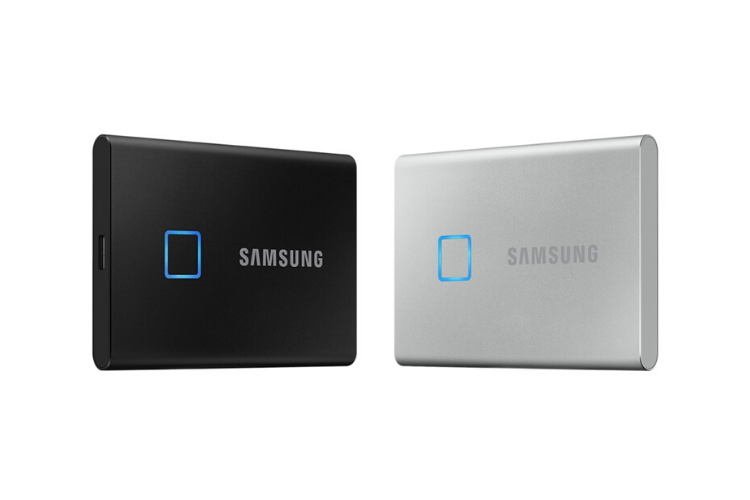 Storage Capacity
The Samsung T7 Touch is designed for anyone who needs to have a ton of data handy on them wherever they go. It could be work-related files, movie downloads, games or 4K/8K videos or pictures. Whatever the form of data, having them in a secure, compact drive is the need of the hour. The T7 Touch will be available in storage capacities of 500 GB, 1 TB, and 2 TB, allowing you to choose a capacity that best suits your needs.
Read Speeds
The T7 Touch offers a significant read speed of 1,050MB/s and a write speed of 1,000MB/s. This is almost twice as fast as its predecessor, the Samsung T5, and up to 9.5 times faster than external HDDs.
Security
The T7 Touch offers the standard password protection and AES 256-bit hardware encryption to keep your data secure. Apart from these features, the company is also bringing an added layer of security with the first built-in fingerprint scanner. 7 Touch can recognize up to four fingerprints, ideal in situations where you are sharing the drive with multiple people. The T7 Touch also comes with Motion LED, a feature that allows you to see whether the device is locked or unlocked at a single glance.
Compact
Despite sporting a solid metal (aluminum) casing, the new SSD weighs about 58 grams, with dimensions of 3.3 x 2.2 x 0.3 inches. This makes it a great lightweight option to take with you on the go.
Connectivity
The drive is compatible with Windows, Mac and Android operating systems. To ensure reliable connectivity wherever you may be using the storage device, it features a USB Type-C-to-C cable and a USB Type-C-to-A cable. The USB-C interface supports USB 3.2 Gen 2 for 10Gbps connectivity. It also offers backward compatibility for interfaces that don't support faster USB speeds.
Pricing and Availability
The T7 Touch comes with a 3-year limited warranty. It is expected to retail at $129.99 for the 500GB, $229.99 for the 1TB and $399.99 for the 2TB variants.
The T7 Touch will become available starting this month in over 30 countries worldwide.
T7 Touch – Tech Specs
Capacity: 2TB/1TB/500GB
Interface: USB 3.2 (Gen 2, 10Gbps) with backward compatibility
Dimensions : 85 x 57 x 8.0mm (3.3 x 2.2 x 0.3 inches)
Weight: 58 grams (2.0 oz)
Transfer Speed: Up to 1,050 MB/s
Encryption: AES 256-bit hardware data encryption
Security: Password Protection S/W; Fingerprint Recognition
Software: Samsung Portable SSD Software 1.05
Colors : Black & Silver
Connectivity: USB type-C-to-C, USB type-C-to-A
Warranty: 3 Year Limited Warranty
Final Thoughts
External storage drives are highly useful little gadgets when we need to take data with us on the go. Considering the size, speed, reliability and advanced fingerprint security, the Samsung T7 Touch makes for a good choice when investing in an SSD.
Do you use portable SSDs? What do you think about Samsung's latest entry? Let us know in the comments section.