If you are running a small business and occasionally need to handle documents that require signatures from people situated in distant locations, the easiest and simplest way to get things done is by using a software or service. RightSignature is an online web app service that lets you sign and send documents online effortlessly to recipients who can then append their digital signatures online.
Sign and Send Documents Online Effortlessly Using RightSignature
RightSignature: An Inside Look
RightSignature has a clean interface that displays two main tabs; the Dashboard and New Document.
The New Document tab allows you to upload your documents to the library, set up fields to place signatures, set the order of signatures if there are multiple signatories, add tags for future reference, and options to send the documents to the concerned parties.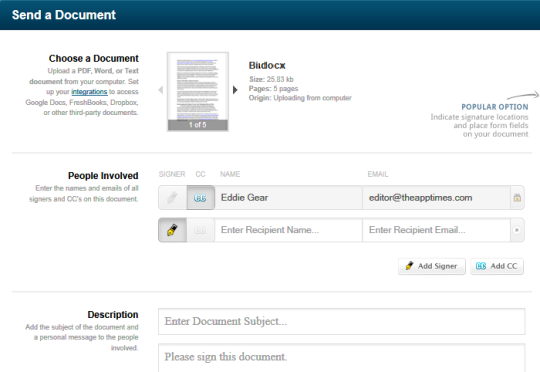 The Dashboard lists tasks that are completed, pending, or expired and the recent activities in the account. You can also filter documents using a time slider to locate documents by week, month, or day. The Search box lets you find documents by file name, clients, email addresses, subjects, or tags.
RightSignature provides several signing options including signing mouse scroll, type-to-sign, mobile sign (iPhone and BlackBerry,) and a faxable signature. RightSignature also sends automatic reminders on specific dates to the concerned parties who have failed to sign the documents and lets users manually send reminders from the dashboard.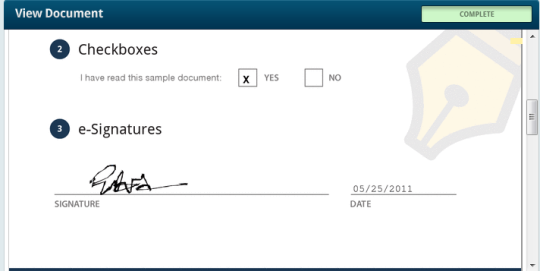 RightSignature is also supported on the iPhone.  Just download the app from the iTunes store and sign your documents on the go.
Download RightSignature for iPhone
RightSignature also offers additional features such as integration with Google Docs,  Dropbox, Freshbooks, BatchBook, and Highrise, API access to integrate RightSignature into the business' workflow, secure SSL data encryption and more.
Users can test drive RightSignature with the one month free trial which allows you to send up to 5 documents and then choose from a number of plans starting from $14/mo to $249/mo.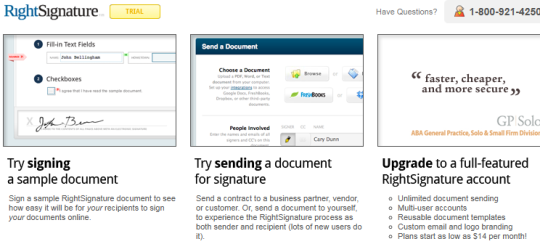 Overall, RightSignature lets you accomplish the task that you set out to do without the hassle of sending envelopes, scanning and emailing files. It gets the job done without delays, and since most businesses today are moving to the cloud, this is an ideal tool to accomplish document signing.
What do you think of this web app service?