Samsung is finally out with its new Galaxy S21, S21 Plus, S21 Ultra smartphones. And if you've ordered yourself one of these fantastic smartphones, chances are, you'll want to give it some solid protection that's designed to keep off the scratches, dust and print marks off the phone. Instead of setting for a $5 or $10 case, consider getting one of these Spigen Galaxy S21 cases. These cases are perfectly tailored to fit the new Samsung Galaxy S21 series and fit the phones like a second skin.
Spigen is a brand that needs no introduction. They are a household name when it comes to dependable smartphone accessories. In the case of the Galaxy S21 cases, you can trust they've done a brilliant job with their cases because they have specifically joined hands with Samsung through their partner program to deliver a precision-fit case for their S21 series.
Spigen is also working on a special screen protector that will be compatible with Samsung's Ultrasonic fingerprint sensor. This feature will allow you to get enhanced screen protection without sacrificing fingerprint-enabled security on the devices. Now let's take a closer look at the collection.
Spigen Galaxy S21 Cases
Spigen Tough Armor, Thin Fit, and Ultra Hybrid
Spigen Tough Armor, Thin Fit, and Ultra Hybrid are Spigen's most popular cases. They offer advanced protection with extra care given to protect the complex camera system setup on the S21.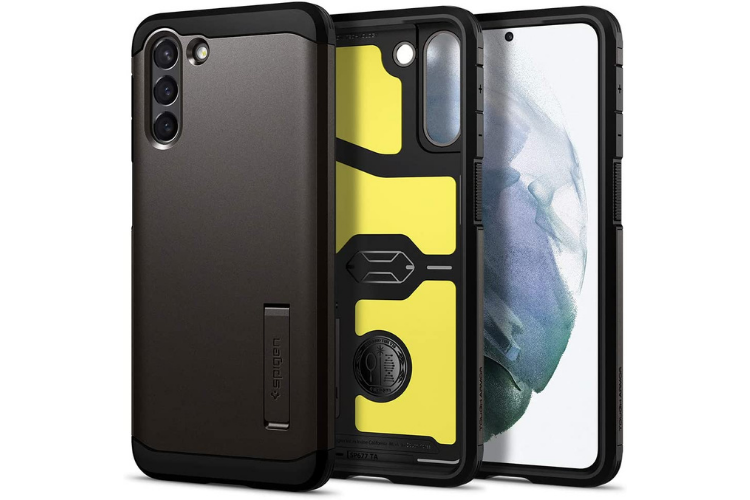 The Tough Armor sports a combination of TPU and polycarbonate material to offer dual protection from drops and scratches. It also sports a new foam technology that's designed to add an extra layer of shock resistance to the phone. The case has raised edges that offer the much -needed protection to the S21's edge-to-edge display and sophisticated camera setup.
This case is compatible with wireless charging and Spigen screen protectors. Plus, the built-in kickstand lets you watch movie and video content in greater comfort. Despite these loaded features, the Tough Armor manages to stay stylish and sleek.
Check out the Tough Armor case on Amazon
If its minimalism you're after, you can consider Spigen's Thin Fit case, which offers slim protection without any bulk. This case offers scratch resistance, keeps the top and bottom edges of the phone protected and sports tactile buttons for solid feedback and an easy press. The case works well with wireless and reverse charging.
Check out the Thin Fit case on Amazon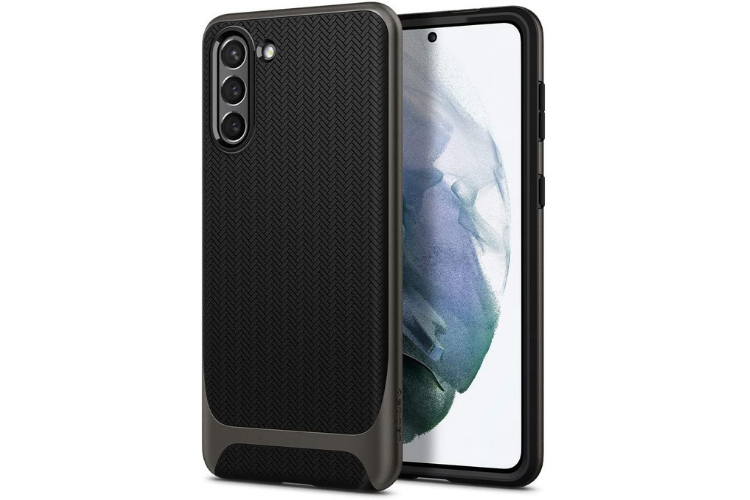 The Neo Hybrid case is a stylish looking case with a unique herringbone pattern that ensures extra grip on your phone. It sports a rigid frame that offers drop protection while raised edges keep your screen and camera protected. A new 3D sound tunnel feature ensures the case offers an enhanced sound experience. This case is also compatible with wireless and reverse charging.
Check out the Neo Hybrid case on Amazon
Final Thoughts
Whether you're looking for solid protection, a minimalist appeal, or something more rugged, you'll find a case after your heart with the Spigen S21 case collection.
Check out the complete collection on the official website or on Amazon and make your choice!