To-do apps are great until they become too feature rich and complicated to use. Taskade is a new productivity app that aims to let you stay organized without getting lost in a myriad of features. The app makes it dead easy to organize tasks using lists. Plus, collaborating with others in real time is just as simple. We take a closer look at the eye catching task management app whose strength lies in its simplicity.
What You Can Do with Taskade
Make a list for just about anything – Tasks, Outlines, Notes
Edit tasks easily
Customize the format and style of your lists
Use tags and folders to organize your thoughts
Collaborate in real time
Create and manage subtasks
Share your lists and to dos with others easily
Use on Android, iOS, Windows, Mac and browsers like Firefox and Chrome
Using Taskade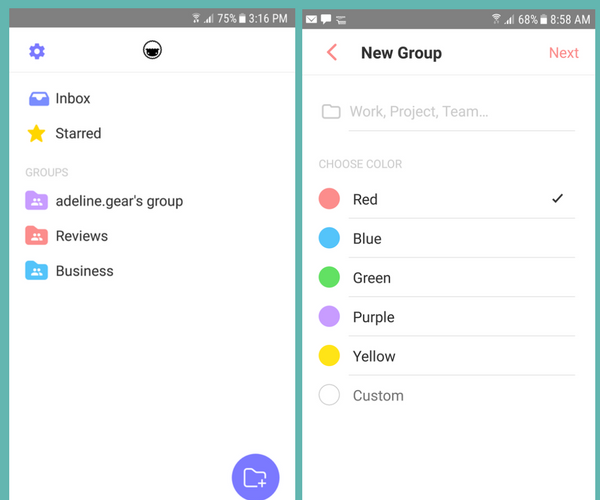 The UI
One of the first things you'll notice about Taskade is how clean and elegant it looks. The interface sports an Inbox, a Starred Folder and a single Group folder with your name appended to it. At the bottom of the screen is a purple icon that lets you create more folders if you like.
To start using Taskade you need to sign up with an email address or using your social account. The Settings icon at the top left of the screen only serves to sign you out.
Taskade also offers support for emoji. If you love using them to add a dash of personality to your work style, you'll appreciate the feature.
Working with Taskade
Taskade is all about getting your day organized in a way that best suits you. You can set up individual folders for Work and Home and organize your tasks within those folders. Or you can make use of the app's ready-to-use templates like the ones below to simplify the task.
Weekly Tasks
Have something to do every day of the week? Put them in the Weekly Tasks template.
Bullet Journal
Like to organize your work in a journal format? You can use this template to note important things to do, phone calls to make, email to send and places to go. If you are a super organized person, you can even schedule your whole day by the hour.
Brainstorming Template
Got some inspirational ideas to work on? You can work individually or team up with others to brainstorm your ideas and set action items to achieve your goals.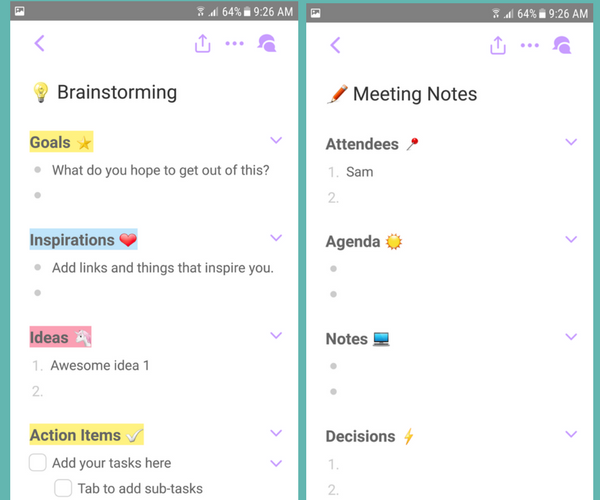 Homework Assignments Template
This template could come in handy if you work with kids. Maybe you want to work on some homework with the kids or just follow up with the kids' homework.
Project Roadmap Template
This well designed template makes it easy for you to work on projects. You can set the vision for your project and include links and notes on your research work. You can also fill in details of the people involved in the project and the resources needed for it. Finally, you can pool in your ideas and set up the tasks to assign to team members.
Meeting Notes Template
This is a fantastic template to manage minutes of your meetings. You can include names of the meeting attendees, the agenda of the meeting, and include notes and decisions taken at the meeting.
Template Actions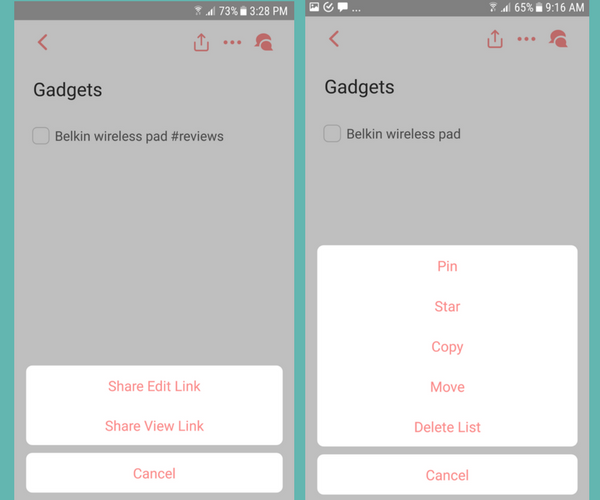 All of the templates in Taskade can be shared with others via links. The links can be in read only mode or Edit mode. If you want to initiate a discussion on a task, just hit the Chat button at the top of the screen to have a quick discussion. A horizontal, 3-dotted icon brings up options to pin a list to the top of the folder, star, copy, move or delete a selected task.
Managing Tasks in Taskade
So you've got your tasks and list items all prepared, but then you find that some tasks can be further broken down into smaller tasks and assigned to several other people. With Taskade, that's easy to do. Just hit the Indent button (above the keyboard) to turn a task into a sub task. And if you think it makes more sense to reorder your tasks, just drag the checkboxes around to get it in the order you prefer.
Within a task itself, you can bring attention to specific keywords by highlighting in bold, italics or underline. You can also use @mentions and #tags to assign tasks or mark it as important.
All of these features make it easy to manage tasks within Taskade.
Takeaway
With a clean, aesthetic UI, easy navigation and straightforward setup, this is a productivity app that is easy to love using. In the time spent with Taskade, I found it super easy to organize my numerous tasks into sensible categories and manage them. I also found it easy to work with other people on specific tasks.
I did not see a search option on Android, but I would love to see a feature that made it easy to find tasks or subtasks. An option for receiving reminders and notifications is also missing but surely that's on the company's radar. Integration with calendar apps may also be something people will want to see in Taskade.
My hope is that as the app grows, it will continue to retain its clean aesthetics while still keeping task management simple and straightforward. And hopefully it will not evolve into one of the many complicated apps we have in the marketplace today.
Also Read: 10 Best Task Management Apps for Google Chrome
Taskade is currently free with no ads or in-app purchases. A Pro Version is in the works with a lot of exciting features planned. For now, I recommend you check out the free app. It is a no-frills to-do app that should definitely make you a happily productive person. And who wouldn't want that!
Price: Free |Download: iOS | Android | Website: Link
If you have used the app, we'd love to hear your experience. So do let us know in the comments.
Until my next review,
Cheers,
Adeline