While Apple and Samsung have been hogging the headlines for what seems like forever, Chinese telecom giant Huawei has quietly been making inroads into the smartphone space. Market research firm IDC's recent Worldwide Quarterly Mobile Phone Tracker report reveals that Huawei has beaten Apple to become the second largest smartphone seller in the world. Huawei shipped 54.2 million units during the quarter compared to Apple's 41.3 million. The company has been able to consistently deliver phones with high end specs that are totally affordable. With so many Huawei phones available in the market, it can get pretty confusing when it comes to making that purchase decision. So we've put together the best Huawei Phones to buy in 2018 to help you make the right choice. Check it out!
The Best Huawei Phones to Buy in 2018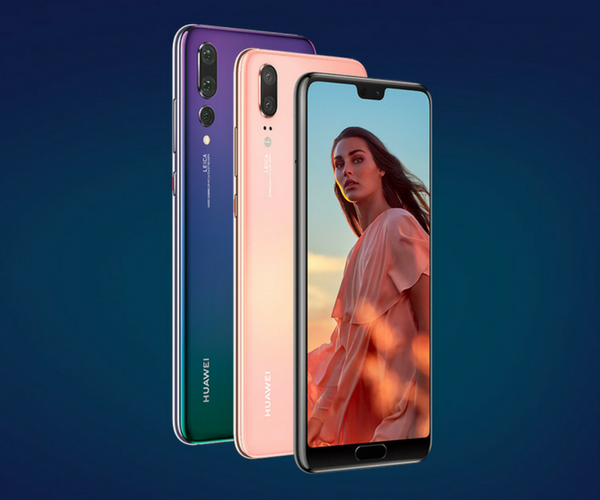 We start off the post with the best Huawei phones money can buy, the Huawei P20 and Huawei P20 Pro. If you are a photography buff, there's no looking past these two.
Huawei P20
The  Huawei P20 is one of two best Huawei phones in the market. Its hallmark feature – the all new Leica Dual Camera with leading-edge camera technology. The camera is capable of capturing clear, richly detailed expert quality photographs, even in low light.
It can record moving actions along with stunning photos bringing your photos to life. AI image stabilization lets you capture incredible blur-free, hand-held shots in low-light conditions. You can also make time slow down to 960 frames per second with the Super Slow Motion video mode.
The 24 MP front camera can capture the perfect selfies. 3D Portrait Lighting offers studio-quality lighting effects to turn your selfies into striking portraits. Simply put, this intelligent smartphone automatically lighting and other settings to capture photographs like a pro.
That apart, the phone runs on the impressive Kirin 970 chipset that houses a powerful 3400 mAh battery that can fast-charge. Dolby Atmos sound delivers an immersive audio experience and the HUAWEI FreeBuds wireless headphones with features like superior stereo sound, double-tap controls, and 10 hours playtime, makes for a perfect companion for HUAWEI P20.
What's to Love?
Beautifully designed
Excellent camera
Great performance
Competitive price
Fast charging
What's Not Great
No wireless charging
Minor software quirks
Not water/dust resistance
The P20 is available in stunning shades of Twilight, Black, Champagne Gold, Pink Gold and Midnight Blue at prices starting $599.
Huawei P20 Pro
It is the winner of the TIPA World Awards 2018 for the best photo smartphone. Stuff TV calls it the best phone in the world right now and Pocket-Lint calls it a phone camera king.
The Huawei P20 Pro that sports the revolutionary Leica Triple Camera. The 40 MP RGB camera delivers unparalleled sharpness, color accuracy, focus and contrast for every single shot you take. The industry-leading 1/1.7 inch type sensor can take beautiful, clear, bright images even at dusk.
The 5X Hybrid Zoom can capture the tiniest details at a distance with greatest accuracy. Just like the Pro, you can capture, moving photos, enjoy AI image stabilization, make Slow Motion videos, and capture images with professional level standards without any extra effort.
The P20 Pro has a stunning design you'll fall in love with. The Twilight and Pink Gold editions in particular have gradient tones that can subtly shift from green to purple (in the Twilight edition) giving it a unique look. The 6.1 inch OLED display delivers a superior color gamut while the Full HD+ 2240×1080 resolution and 18:7:9 aspect ratio is perfect for viewing Netflix content.
What's to Love?
Stunning design with superb color finish
Excellent battery life
Best in class camera
Impressive sound quality
Powerful performance
Competitive price
What's Not Great
No wireless charging
Minor software niggles
Face Unlock could be more secure
No headphone jack
The Huawei P20 and P20 Pro ooze sophistication and quality and is priced competitively at $799 making it one of the best flagships you can buy in 2018.


Huawei Mate 10 Pro
Impressively thin bezels on its 5.9-inch screen, a glass rear layered above fetching colors and a notch-less screen give the Huawei Mate 10 Pro a sleek futuristic look. You'll enjoy every bit of what the stunning OLD display can offer.
The dual lens camera have Leica-made lenses and work together with AI to automatically adjust the camera settings to deliver the best photos. The 8MP front facing camera with f/2.0 lens takes excellent selfies while videos are available in 4K@30fps or 1080p@60fps.
The Mate 10 is a powerful beast, running on one of the fastest processors in the world Kirin 970. Its 4000 mAh battery will last a very long time with a 20 minute fast charge giving you enough power to get through the whole day.
What's to Love?
Rich OLED display
Excellent battery life
Good camera
Powerful performance
What's Not Great
Not grippy
Glass rear can pick up scratches/ break
No wireless charging
No headphone jack
In all, there's plenty of reasons to love the Mate 10 Pro. Great display, great battery life, and great power all at a pretty decent price.
Honor 10
If you're looking for great specs on a budget price, you cannot look past the Honor 10, a sub brand of Huawei. The Honor 10 is also eye catching, with its Aurora glass case dazzling as it catches the light. It has a modest 2280×1080 resolution on the IPS LCD screen.
The Kirin 970 chipset delivers a faster and seamless smartphone experience. The dual-rear camera features a 20 MP monochrome camera 16 MP RGB camera and a F/1.8 aperture. The AI mode of course being the highlight of all Huawei phones, doing its automated settings adjustment so that you capture professional quality photos without doing a thing.
The 3750 mAh battery won't get you through the day if you do a lot of streaming but fast charging technology ensures you never have to wait long to get back on it.
What's to Love?
Good design with a flashy look
Fast charging capabilities
Good camera
Good performance
Great price
What's Not Great
EMUI software can be quirky
Sub-par fingerprint scanner
The Honor 10 has great specs for its price and you will struggle to find a phone as good as this one at the $500 price point.
Honor 7X
If you want a phone with great features but cannot afford to spend as much as $500, check out the Honor 7X. Released in November 2017, this smartphone has a good pair of cameras, an 18:9 aspect screen and a high end looks to go with it, all for under $200.
The barely there bezel on its curved 5.9-inch screen makes it pretty much all screen on the front. The LCD display delivers good sharp text, images and video and the colors are vibrant as well. The single speaker does its job but is well supplemented by the headphone jack.
The device has two cameras but only the 6 MP rear camera is a proper one. The second camera is used solely for depth perception. The camera on the 7X is nothing like the ones on the more expensive phones. It captures good shots in bright conditions but doesn't perform as well in low light.
4GB of RAM makes multitasking a smooth affair. The 3340mAh battery is good for about 10 hours of video playback. Fast charging is not an option on this device.
What's to Love?
All metal design is eye pleasing
18:9 aspect screen is great
Decent camera in good lighting conditions
Great price
What's Not Great
The Honor 7X stands out from the rest of the phones in this segment with its bigger, better screen and slightly better camera. At this price point, you're not likely to find many phones beating these features.
That's a selection of the best Huawei phones you can pick up in 2018. Huawei's offerings have brought a fresh lease of life to a market monopolized by the likes of Samsung and Apple. Their phones have solid specs at the low sub-$200 range all the way up to the flagship models. With the company now making headlines with their promising first quater sales in 2018, they are definitely the ones to watch out for in the future.
What do you think of Huawei's phones and would you consider buying one now? Let us know in the comments!