Top notch specs, fluid software, great camera, headphone jack and great pricing makes the OnePlus 6 one of the best phones to buy in 2018. If you just bought the device or plan to pick up one very soon, you'll need some cool accessories to enhance your user experience. We bring you a selection of some of the coolest accessories for OnePlus 6 that are worth spending your money on. Check it out and tell us what you think.
The Coolest Accessories for OnePlus 6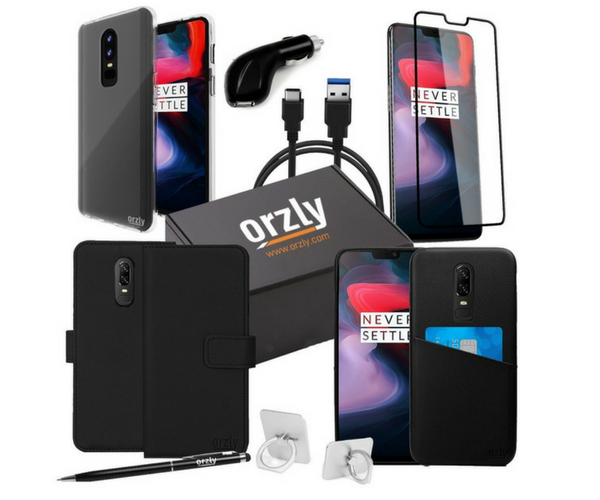 OnePlus Accessory Bundles
Poetic Revolution Rugged Case
Orzly Ultimate Pack
Encased One Plus 6 Charger
Spigen Rugged Armor
IQ Shield LiQuidSkin Screen Protector
Official OnePlus 6 Accessory Bundles
If you are a die-hard official accessories buyer, you're in good hands with the OnePlus 6. The company offers its own set of bundles that you can choose from depending on your budget. This is especially handy if you intend to buy multiple accessories for your phone.
The OnePlus 6 Prime Bundle comes with a bumper case (3 versions), tempered glass screen protector, Bullets (V2) earbuds, Fast Charge Power Adapter, and a Fast Charge Type-C cable. Price: $84.78 onwards.
The OnePlus 6 Ultimate Bundle includes a bumper case (3 versions), tempered glass screen protector, Bullets (V2) earbuds. Price: $62.86 onwards.
Next is the OnePlus 6 Total Protection Bundle. It includes a protective case (2 versions) and a tempered glass screen protector. Price: $37.90 onwards.
You can also pick up a number of accessories individually.
Poetic Revolution Rugged Case
Give your OnePlus 6 360 degree protection with the Poetic Revolution Rugged Case. It is a polycarbonate case with shock absorbing TPU for drop protection. The case sports dust flaps on open ports to prevent dust, dirt and lint from getting in. It comes with a free tempered glass screen protector. Price: $18.95
Orzly Ultimate Pack for OnePlus 6
The Orzly Ultimate Pack is an 8-accessory pack featuring almost every accessory you'll need for the OnePlus 6. It features 3 different cases for the OnePlus 6 (Wallet Stand Case, FlexiCase, and Lux Case). It also includes a tempered glass screen protector, a USB in-car charger adapter, a USB-C cable, a stylus pen, and a ring stand. This pack is a reasonably priced one too, at just $27.


Encased One Plus 6 Charger
Only looking for a quick charger for the One Plus 6? Check out this cradle shaped stand from Encased. It is Quick charge (Type-C) compatible and is fully adjustable for use with most cases and covers. The dock is also sync compatible, allowing the phone to sync with your PC while charging. A non slip base keeps the dock grounded to your desk while charging. At just over $19, the charger also comes with a 4ft micro USB charging cord.


Spigen Rugged Armor
If you want a minimalist, one-piece case to keep your One Plus 6 safe, check out the Spigen Rugged Armor. It is a flexible TPU case with a spider-web pattern for added grip. Raised lips protect the screen while Air Cushion Technology aids in shock absorption. The case is certified military grade drop tested and above all, sleek and lightweight. This good looking Spigen case will cost you just under $13.
IQ Shield LiQuidSkin
IQ Shield make some of the best screen protectors and the LiQuidSkin Full Coverage Screen Protector is an ideal fit for the OnePlus 6. This is a small kit that includes everything you need for a clean DIY installation. You get an installation tray, spray solution, a squeegee for getting rid of air bubbles and an installation guide. Once installed, it will seamlessly merge with the display and protect it from scratches. The kit also comes with a Lifetime Replacement Warranty. What more can you ask for just $8?


Your favorites?
These are our top accessories for OnePlus 6 smartphone. Do you have a favorite that's not in this list? Let us know in the comments!