Remember TOMS Shoes, a company that promised to give a new pair of shoes for a child in need whenever a  pair of shoes was purchased? The guys are back with a new line of product, Apple Watch Bands. TOMS for Apple Watch features two collections; The Utility Collection and the Artisan Collection. Both collections feature premium, long lasting fabric and genuine leather and stainless steel detailing. There's a bit of charity involved in this campaign as well. Here are more details about the Apple Watch Bands.
TOMS Apple Watch Bands: The Utility Collection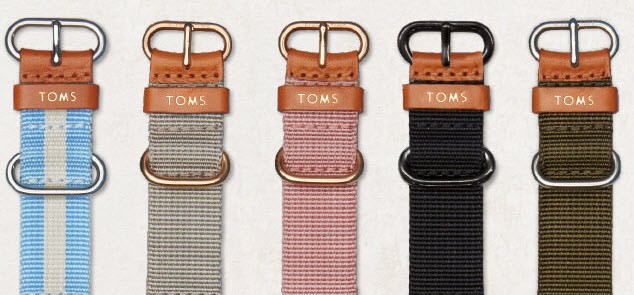 The Utility Collection features trendy Apple Watch Bands that are etched with GIVE TIME and have a gold emboss of the company name. The straps are made of genuine leather and the details are in stainless steel. There are 5 color bands available: dusty pink, black, olive, gray and light blue stripes.
The pink and gray options area available only for the 38mm watch. Olive and black colors are available for the 42 mm variant. The stylish light blue variant is currently available for the 42mm variant but will be landing soon for the smaller device. The Watch Bands in this collection are priced $49.
TOMS Apple Watch Bands: The Artisan Collection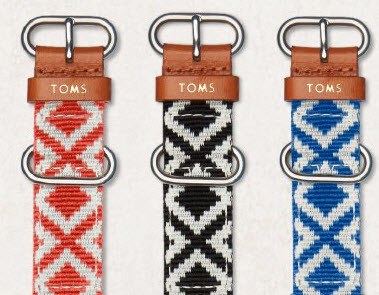 The Artisan Collection of Apple Watch Bands comes in woven fabric with a genuine leather backing. There are 3 color bands available; Red diamond, Black diamond and Blue diamond. The Red diamond is designed exclusively for the 42mm variant while the Blue diamond is just for the 38mm variant. The Black diamond is available for both watch sizes. These bands are more pricier at $75 a band.
TOMS Partner Program
Just like the Shoes division, TOMS is continuing its great charity program with the Apple Watch bands. TOMS is supporting Giving Partners SolarAid and Solar Sister in offering 1 year of free solar light for every watch band purchased. A solar light in one poor home can help children study an average of 1 extra hour every night. Purchasing a TOMS Appe Watch Band can light up someone's life somewhere in the world.
Visit the official website by clicking the link below to check out the TOMS Apple Watch Bands collection. You can also visit a nearby TOMS Store to pick up the cool bands.
This Sale Has Ended.