Today, you can embark on an exciting journey around the world without even leaving your home. Brave Brain, a captivating and fun trivia game developed by the innovative Czech game studio, Kikiriki Games is just what you need. With its expansive collection of brain-teasing questions and its inclusive design, Brave Brain offers a unique and entertaining experience for players of all backgrounds. Check out the features that make Brave Brain a must-have game for trivia enthusiasts and travel aficionados alike.
Features of Brave Brain
Brave Brain is a casual and user-friendly mobile game that allows players to test their knowledge while traveling to various destinations around the globe. It has a wide range of quiz questions spanning different categories. It offers an educational and engaging experience that will keep you entertained for hours. Whether you're a history buff, a sports enthusiast, or a music lover, there's something for everyone in this exciting trivia game.
Engage Your Brain with Challenging Quizzes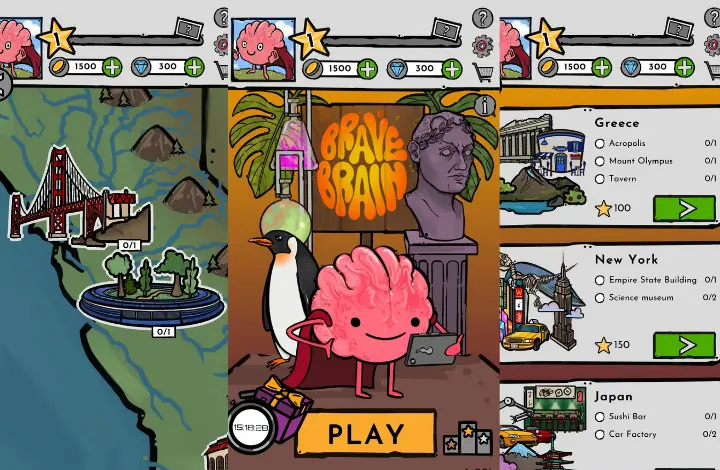 At the core of this game is a robust quiz system that challenges players to answer diverse questions. As you progress through the game, you'll unlock new destinations on a global map. Each option offers a unique set of quizzes related to the location. For example, if you choose to explore the United Kingdom, you'll see questions about the country's history, geography, music and sports scene.
The questions in this game are carefully crafted to provide an immersive and educational experience. From testing your knowledge of historical landmarks to challenging your understanding of various cultures, the quizzes are designed to broaden your horizons. It will deepen your appreciation for the world around you.
Inclusive Design for All Players
One of the standout features of Brave Brain is its commitment to inclusivity. Kikiriki Games have made it a priority to ensure that the game can be enjoyed by players of all abilities. While the game features visually stunning graphics, it is also designed to be accessible for blind and visually impaired players.
To achieve this, the developers have implemented a richly composed soundtrack that captures the essence of each location. By relying on audio cues and immersive music, blind players can fully engage in the game and experience the vibe of each destination. This thoughtful design approach sets this game apart from other trivia games. It showcases the dedication of Kikiriki Games to creating inclusive gaming experiences.
Leaderboards and Competitive Gameplay
If you're a competitive gamer, Brave Brain offers plenty of opportunities to showcase your trivia skills and climb the leaderboards. As you answer questions correctly and quickly, you'll earn points and strive to achieve the highest score possible. Each week, the top performers are recognized on the leaderboard. This adds an extra layer of excitement and motivation to the game.
The competitive aspect of this trivia game adds a thrilling element to the gameplay. It encourages players to challenge themselves and strive for excellence. You can aim to surpass your own high score or to claim the top spot on the leaderboard. Brave Brain gives you the opportunity to get a sense of achievement and enjoy friendly competition.
Future Plans for Brave Brain: More Content and Enhanced Accessibility
The journey with Brave Brain is far from over. The developers at Kikiriki Games have ambitious plans to expand the game's content and further improve its accessibility. In the coming updates, new countries will be added to the game. This will give even more opportunities to explore and learn about different parts of the world.
Additionally, there are plans to introduce seasonal quizzes. This will include themed challenges that align with various holidays and events throughout the year. This continuous stream of fresh and engaging content ensures that players can enjoy Brave Brain for years to come.
How to Play Brave Brain
Getting started with Brave Brain is a breeze. The game is available for free on both iOS and Android devices, making it easily accessible to a wide audience. Simply download the game from the App Store or Google Play Store and embark on your virtual journey around the world.
While the game is free to play, there are optional in-app purchases available for those who wish to enhance their gaming experience. These purchases include personal avatars and other bonuses that can further customize and personalize your gameplay.
Conclusion
Brave Brain is more than just a trivia game; it's a passport to adventure and knowledge. With its captivating quizzes, inclusive design, and competitive gameplay, Brave Brain offers a unique and engaging experience for players of all backgrounds.
You can be a seasoned trivia enthusiast or a casual gamer looking for a fun and educational pastime: Brave Brain is sure to captivate and entertain you. So, grab your phone, download Brave Brain, and get ready to embark on an unforgettable journey around the world from the comfort of your own home.
Download Links: iPhone or Android.