VoiceWake, the app that lets you wake, shutdown, restart, and hibernate your PC using Cortana now has a Windows 10 app. The app lets you remotely view real-time hardware statistics and current running processes.
VoiceWake needs a server application installed on your machine which you can download here. If you used VoiceWake on Windows Phone 8.1, you need to uninstall the old server app before installing this one!!!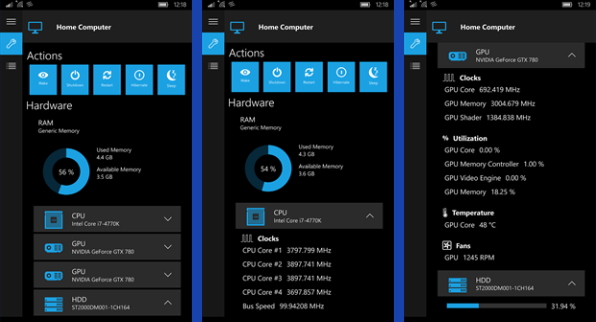 Top Features of VoiceWake
Easy setup using device discovery
Install VoiceWake server app
Install VoiceWake on multiple devices on your network and it will automatically detect each device.
Cortana Voice Integration:
Multiple voice commands allow you to Wake, Shutdown, Restart, Hibernate, Sleep, and get hardware status information.
View the FAQs page to see a list of working voice commands
Detailed hardware monitoring:
 Real time statistics
View RAM usage, CPU/GPU usage & temperatures, HDD space, and more!
Supports SLI configurations
View running processes:
Real time process list
Close running processes
Here's a cool demo of the app in action.

The app comes with a free 7 Day trial after which you need to buy the app for $1.99.
Check out VoiceWake for Windows 10