If you are one who works on projects for long distance clients and need to often send important signed documentation, then this is a post that might interest you. It may sometimes be a bit of a hassle when you need to get your forms, documentation or agreements manually signed, then scanned and faxed or emailed to the other end. Well, you might try using digital signatures, but if you've ever tried getting one, especially when you're in a great hurry, you will know how awfully annoying and frustrating it can be. Hellofax is a web app that lets you create digital signatures with ease and send signed docs effortlessly.
Features of Hellofax
1. Send faxes or email from your computer
2. Fill documents from your browser
3. Sign documents from your browser
4. Support for various doc types such as doc, docx, pdf, tif, tiff, ppsx, ppt, pptx, tif, tiff, jpg, jpeg, png, xls, xlsx, txt, and gif
5. Service on the cloud, so no need to download or install any software
6. Get your own fax number to receive faxes sent by others using Hellofax
Want to Try Hellofax?
Well, why waste a good opp when you get one! Hellofax lets you use the 20 free fax pages when you sign up for a free plan after which you need to pay $1.99/fax. You can also choose from a host of other plans or cancel anytime you want to.
How to Send Signed Docs Effortlessly Using Hellofax
To Send a Digitally Signed Document from your Computer:
1. Login to your Hellofax account.
2. Enter your fax # or email in the relevant text box.
3. Click the Add a Cover Page link.
4. Enter the required details on the cover page builder and click Save Cover Page.
5. Click Upload files andselect the file you need to upload.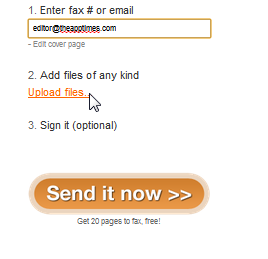 6. Click Edit and Sign.
7. Insert your signature by clicking the Add Signature button. You can add a signature in one of many ways.
Draw your signature using the mouse.
Upload an image of your signature.
Take a photo of your signature with your smartphone and email it to [email protected] with a subject line of 51ec71e6.
8. Click Next, select the option to save the sign and click Insert Signature.
9. Click Save I'm done and the Send it now to send the document.
All documents sent are saved in your Hellofax account.
Drawbacks of Hellofax
You can currently send documents only to U.S. fax numbers. Support for international numbers and multiple recipients is yet to be implemented.
So if you ever find the need to send a fax to a US number, try this app and share your experience with us. You could also spread the word to your blogger or entrepreneurial friends/colleagues and give us your feedback.