Looking for a good carrying case for your Apple Pencil? Check out the Willgoo Power Bank Carrying Case. It is a stylish all-in-one solution that not only sports protective storage compartments to keep the Pencil and its accessories, but also doubles up as a handy power charger.
Willgoo Apple Pencil Power Bank Carrying Case
The Willgoo Apple Pencil Power Bank Carrying Case is a white polished case with an elegant black cover. It is a slim minimalist case that can hold the Apple Pencil and its accessories safely. A magnetic cover allows the case to open and close quickly. It also ensures that the case remains closed when it is the bag or backpack.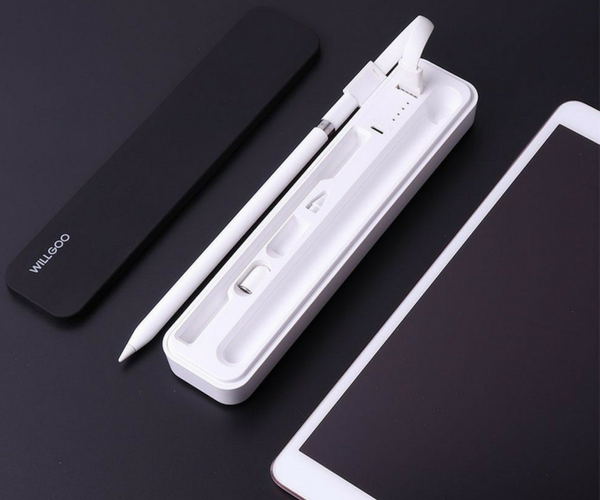 The Willgoo case also comes with a built-in 1700mAh Lithium battery that can charge the Apple Pencil up to 10 times. The carrying case takes about 3 hours to get fully recharged. The standby time for the case is about 50 days. LED lights let you know the status of the charging. The blue LED light indicates the case is charging. When all 4 lights turn blue, it indicates that the box is fully charged.
Quick Features Summary
Slim, minimalist design
1700mAh Portable power bank- charges your Apple pencil when it is out of power
Easy to put into your bag and carry it with you wherever you go
A magnetic cover keeps your Apple Pencil and accessories protected when you throw it into a purse or backpack.
Dimensions: Length: 7.95 inches; Width: 1.73 inches Height: 1 inches Weight: 4.7 oz
USB charging cable included in the box
Upgraded version comes with the Lightning port
Click here to buy it on Amazon for $21.99
What do you think of the WillGoo carrying case? Is this something that you'll consider buying for your Pencil?