If you are preparing a word document that requires inclusion of mathematical equations, Word 2010 has several helpful tools such as ready-made equations, mathematical structures, and mathematical symbols to help you in your task. These tools allow you to insert a mathematical equation, modify an existing equation, or create one from scratch. In this Word 2010 tutorial, you will learn how to insert equations in a Word document.
3 Interesting Ways to Insert Equations in a Word Document
There are three techniques that you can use to insert equations in a Word document.
1. Insert a Ready-Made Equation
2. Modify an Existing Equation
3. Create an Equation from Scratch.
In this post, you will learn how to insert a ready-made equation and modify it. In the follow-up to this post, you will learn how to create an equation from scratch.
How to Insert a Ready-made Equation in a Word Document
1. Place the insertion point in the location where you want to add the equation.
2. On the Insert tab, in the Symbols group, click the Equation drop-down arrow.

3. From the Equations gallery, select the equation you want to add to the document.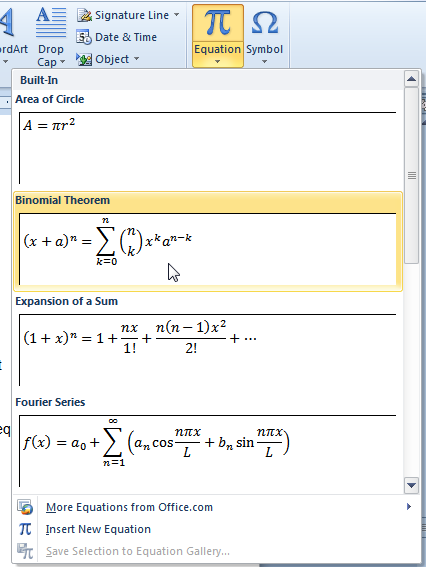 When you insert the equation in an empty paragraph, the equation is displayed in the Display mode, where the equation IS center-aligned and appears away from the rest of the document text.

If you insert the equation on the same line as the document text, it is displayed in the Inline mode, where you can continue to type text after the equation.

How to Modify an Existing Equation in a Word Document
1. Insert the equation from the Equations gallery.
2. Click in the equation placeholder and observe that the Equation Tools Design contextual tab is displayed.
3. Use the mathematical symbols and structures to modify the existing equation. You can use the RIGHT ARROW and the LEFT ARROW keys to move through the text.


4. When you have made the necessary changes, click outside the placeholder.
That's it. Creating and modifying complex mathematical equations is simple and quick in Word 2010.
If you like our posts, please feel free to follow us on Twitter. You could also subscribe to theapptimes feed via RSS to receive instant updates.