If you're big on online shopping, you're probably always looking for the best deals, fast shipping, and little or no delivery charges. One of the best online marketplaces where you can enjoy these benefits is on Amazon, as a Prime member. Additionally, Amazon Prime services offer exclusive access to a wide range of entertainment options. In this article, we give you 10 compelling reasons why you need to get an Amazon Prime membership today.
From lightning-fast delivery to exclusive access to Prime Video's extensive library of movies and TV shows, Amazon Prime has something for everyone. With the big shopping festival Amazon Prime Day 2023 coming up on July 15th and 16th, there's no better time to become a Prime member than right now.
Join the millions of satisfied members who enjoy free two-day shipping, unlimited photo storage, and early access to exclusive deals. Don't miss out on the opportunity to streamline your online shopping and entertainment experience. Discover the countless benefits of an Amazon Prime membership and take your online lifestyle to new heights.
10 Reasons to Get an Amazon Prime Membership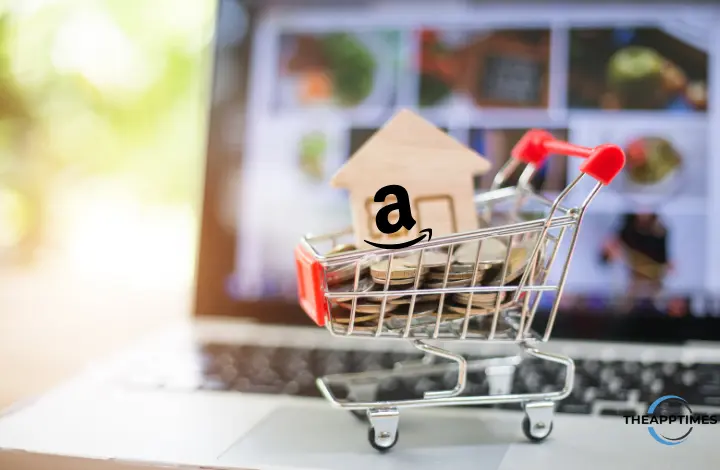 Items delivered fast and free
As an Amazon prime member, you get unlimited FREE One-Day and Two-Day delivery on eligible items, in over a hundred cities. You can save ?150 on orders with One-Day delivery. Plus, you get discounted Same-Day and Morning Delivery to pin-codes in select cities across India.
No minimum order value required
You can enjoy free delivery on all Prime-eligible orders below ?499. That's a saving of ?40 on delivery charges. Just look for the Prime badge when you shop.
Enjoy Prime Original series and more
Prime Video is the only place where you can watch Prime Original series like Breathe, Jack Ryan, Comicstaan, The Remix & many more. So if you want to unwind after a hard day's work, you can enjoy fantastic original TV shows without paying any extra cost.
Stream on-the-go or in the comfort of your living room
Amazon prime Video lets you choose from thousands of movies and TV shows to watch, anytime, anywhere. From the latest Bollywood blockbusters, Hollywood releases and hit TV series, there is something for everyone on Prime Video.
The cool thing with Prime Video is that you can watch your favorite programmes on your phone, tablet, Smart TV, FireTV stick, gaming console, or from the Web. You can also download movies and TV shows for offline viewing on your mobile device. Streaming can be done on up to 3 devices at once.
75 million songs, ad-free | Over 10 million podcast episodes
One of my favorite Prime day services is Amazon Music. I love the variety of playlists they have on offer – perfect to take with me on my work outs. You can enjoy music in multiple languages – English, Hindi, Tamil, Punjabi, Telugu, Bengali and more. There are tons of Stations specially curated by Amazon's music editors, across moods, artists, genres and activities.
You can even download and listen to your favorite music offline, saving data costs and connectivity issues. All the music is ad-free!!!If you like using Alexa, you can simply ask for your favorite songs, making your music search easier.
Good savings with the Amazon Pay ICICI Bank Credit Card
If you sign up for an Amazon Pay ICICI Bank Credit Card as a Prime member, you can earn unlimited, uncapped 5% reward points (1 reward point = Rs.1) on every shopping order on Amazon.in. Reward points are credited to your Amazon Pay balance.
Early Access to Exclusive Deals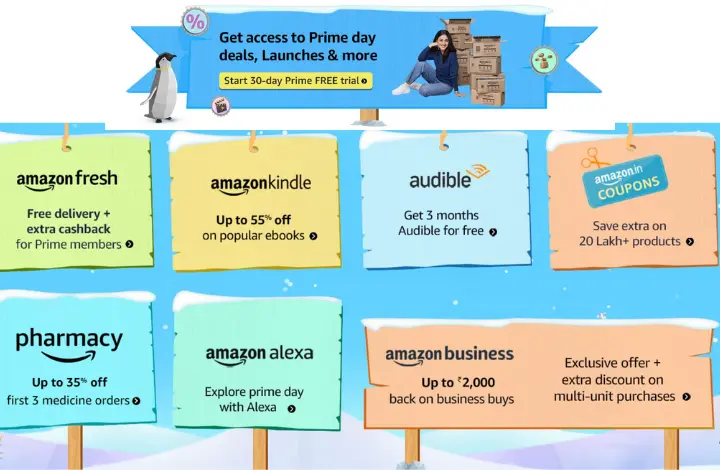 Amazon is always offering great deals on all products across various categories. As a Prime member, you get a early access to exclusive deals. Plus, you can enjoy a 30-minute early access to top Lightning Deals every day.
Amazon Coupon Benefits
Some products on Amazon give you additional savings by way of coupons. You can take advantage of these exclusive coupons across categories with your Prime membership.
Benefits in Amazon Prime Gaming
If you're a shopper who also loves gaming, you will enjoy the many benefits of Prime gaming. You get FREE in-game content like power-ups, skins, and more for your favorite titles. Plus, monthly games you can download and keep. All free and included with Prime.
Read hundreds of eBooks for free on Prime Reading
If you're an avid reader, you can enjoy Prime Reading on your Kindle E-reader. Or, install the free Kindle reading apps on mobile, tablet, PC or Mac and choose from hundreds of eligible eBooks, comics and more.
Cost of Amazon Prime Membership
I have been an Amazon Prime member from the day the program was launched. And I've found the membership fee is totally worth all the benefits it offers. If you're always shopping online, like me, I'm sure you'll enjoy the hassle-free shopping the program offers. There are many pricing plans you can choose from.
30 Day Free Trial, then Rs. 1400
Get a 30 day-free trial of Amazon prime to see if you like it. Post trial, you will be charged ?1,499/year automatically.
Pay Monthly
You will be charged ?299/month automatically. You can pay via UPI or select credit / debit cards.
3 months of Prime
You can take a 3-month plan for ?599. You can pay by all electronic methods.
Pay Annual
If you want to make an annual payment, the fee is ?1,499 and you can pay by all electronic methods.
Conclusion
As an Amazon Prime member, I can say that the benefits of membership are awesome. From great shopping deals to discounts on flights and hotel bookings, there's just so much you get for the price.
One event in particular that makes Amazon Prime membership special is the festivals that Amazon throws a few times a year. Amazon Prime Day, Great Indian Festival (nearing Diwali) are exciting times to look forward to.
Amazon sellers offer the best discounts during these times and its always worth shopping during the Amazon Festivals. If you are not keen on a yearly membership, you can always take the monthly option to see if you are benefitting from the membership.
Why not give Amazon Prime a try and enjoy all the good stuff it has to offer.
Join Prime Now! And get ready for Amazon Prime Day (July 15th & 16th) 2023.