If you've been thinking about transforming your home into a smart home, there's no better time than the present. That's because Amazon Prime Day is just around the corner. And, as a Prime member, you can get massive discounts on smart home accessories. For instance, the Echo smart speaker, powered by Alexa, offers a range of features and functionalities that will elevate your smart home experience. From controlling your smart devices with voice commands to enjoying your favorite tunes, Echo smart speakers have it all. In this article, we'll explore the top Echo smart speaker deals you won't want to miss during Prime Day. So, let's dive in and discover the perfect Echo speaker for your home!
Note: These deals are available only for Prime members. If you're not a Prime member, you can sign up here.
Echo Smart Speaker Deals for Prime Day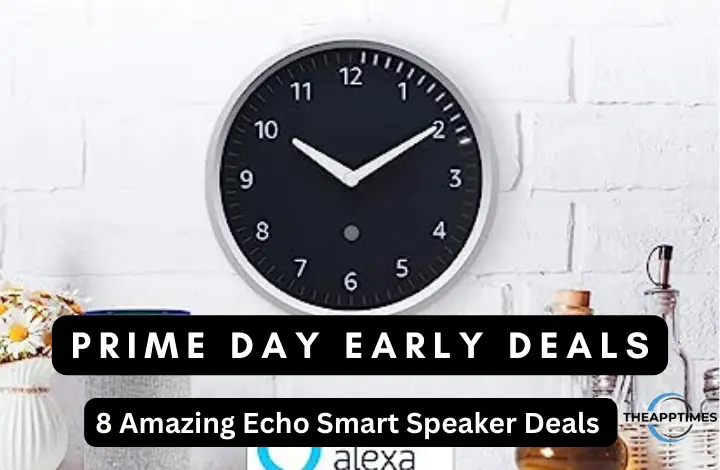 1. Echo Dot (5th Gen) with Clock: 50% Off
The Echo Dot (5th Gen) with Clock is a versatile smart speaker that offers a range of exciting features. Normally priced at $60, this device is currently available at an incredible 50% discount, making it a steal at just $30. With its built-in LED display, you can easily check the time and temperature with a simple voice command. The Echo Dot (5th Gen) also comes with a built-in temperature sensor, allowing you to automate your smart home devices based on the temperature. Whether you're a music lover or a smart home enthusiast, this Echo speaker is a must-have.
2. Echo Pop: Affordable and Compact
If you're looking for an affordable and compact smart speaker, the Echo Pop is the perfect choice. Priced at just $40, this device offers a budget-friendly option without compromising on functionality. While it may lack some of the advanced features of the Echo Dot (5th Gen), such as the clock display and temperature sensors, the Echo Pop still delivers impressive sound quality. With its slightly larger speaker driver, this speaker is ideal for music enthusiasts. At the discounted price of $18, or just $19 with a Sengled Smart Bulb, the Echo Pop is a worthy addition to any small home or room.
3. Echo Studio: Immerse Yourself in High-Quality Sound
For those seeking the ultimate audio experience, the Echo Studio is the way to go. Designed to deliver immersive sound, this speaker adapts to the room it's placed in, ensuring optimal audio quality. With a 20mm tweeter, three 2-inch mid-range speakers, and a 5.3-inch woofer, the Echo Studio offers exceptional clarity and detail. It's perfect for music playback and can even serve as a TV speaker. With support for various music streaming services, including Amazon Music, Apple Music, and Spotify, you'll have access to Ultra HD and spatial audio formats. During Prime Day, you can snag the Echo Studio for $155, along with a free Sengled Smart Bulb, saving $55 off the regular price.
4. Echo Show 8: The Perfect Smart Display
Looking for a smart speaker with a built-in display? The Echo Show 8 is your answer. With its 8-inch HD screen, this device offers a range of visual capabilities in addition to its voice control features. You can make video calls, watch movies, and even control compatible smart home devices with a simple touch. The Echo Show 8 is currently available at a discounted price of $60 from its usual list price of $130, so don't miss out on this opportunity to bring a versatile smart display into your home.
5. Echo Auto: Bring Alexa on the Road
Take Alexa with you wherever you go with the Echo Auto. This smart speaker is specifically designed for your car, allowing you to access all of Alexa's functionalities while on the road. From playing your favorite music to getting directions, the Echo Auto makes your driving experience smarter and more convenient. You can grab the Echo Auto at a discounted price of $35 as against its original price of $55 and enjoy a seamless integration of Alexa into your car.
6. Echo Dot Kids Edition: Fun and Educational
For families with young children, the Echo Dot Kids Edition is a fantastic option. This smart speaker is designed specifically for kids, offering a range of parental controls and kid-friendly content. With its fun and colorful design, the Echo Dot Kids Edition will capture your child's imagination while providing educational and entertaining experiences. You'll have to wait for Prime Day to grab this device at a discounted price and give your child a smart speaker that is both safe and engaging.
7. Echo Buds: Enjoy Premium Sound on the Go
If you're in need of high-quality earbuds, look no further than the Echo Buds. These wireless earbuds deliver immersive sound and come equipped with Bose Active Noise Reduction Technology. With hands-free access to Alexa, you can control your music, check the weather, and more, all without taking out your phone. You can get the Echo Buds at a discounted price of $65 from its usual price of $130 and elevate your audio experience on the go.
8. Echo Wall Clock: Enhance Your Time Management
Add a touch of functionality and style to your home with the Echo Wall Clock. This smart clock syncs with your Alexa devices, allowing you to set timers, alarms, and reminders with ease. With its sleek design and LED display, the Echo Wall Clock is both practical and aesthetically pleasing. During Prime Day, you can grab this smart clock at a great price and enhance your time management skills.
Conclusion
Prime Day is the perfect opportunity to transform your home into a smart home with incredible deals on Echo smart speakers. Whether you're looking for a compact speaker, a smart display, or even wireless earbuds, there's an Echo device that will meet your needs. Don't miss out on these fantastic deals and take advantage of the power of Alexa to make your life easier and more connected. So, mark your calendars for 11th & 12th July and get ready to grab the best Echo smart speaker deals during Prime Day!
Readers like you help support TheAppTimes. When you make a purchase using links on our site, we may earn an affiliate commission.