Editing your audio files doesn't have to be an expensive affair. Free, open sourced audio software Audacity is probably one of the best free tools for audio editing you can currently make use of. There are plenty of great reasons to take advantage of this software. Here are 5 good reasons to use Audacity for your audio editing needs.
5 Good Reasons to Use Audio Editing tool Audacity
Recording Live Audio
Audacity is great for recording live audio either through a microphone or a mixer. It can also capture streaming audio. A toolbar on the Audacity window lets you easily manage multiple recording and playback devices.
There are meters to monitor volume levels before, during and after recording. There are also options to create multi-track recordings over existing tracks (dubbing) and with appropriate hardware support, you can even record multiple channels in one go.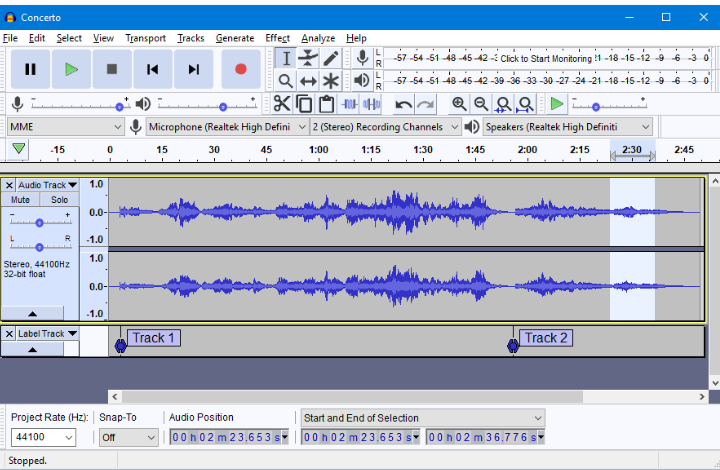 Real-time Effects
In Audacity version 3.2, you could quickly apply and remove effects in real time to your audio. Unlike regular effects, where you had to render every change to see if it sounded good or not, the 3.2 version made it easy to apply the effects in real time and decide if you want to keep it or not.
With the latest 3.3 version of the software, Audacity has gone one step above. There are new effects that can now be applied including Bass & Treble, Distortion, Phaser, Reverb, and Wahwah. A new effect called Shelf Filter is just what you need to compliment High-pass, Low-pass, and Notch.
Support for Plug-ins
Audacity also supports a number of plug-ins including effect plugins LADSPA, LV2, Nyquist, VST and Audio Unit. You can also your own plug-in and use it on this audio editing software. You can also find a number of community plugins at plugins.audacityteam.org.
Easy Export and Import of Files
Importing and exporting audio files in Audacity is a breeze. This software lets you import audio files and combine them with existing files to create new recordings. Once that's done you can export the new file in a number of file formats. You can even export multiple files in one go.
The software supports WAV, AIFF, MP3, AU, FLAC, Ogg Vorbis, GSM 6.10, 32-bit and 64-bit float WAV, RF64, and U/A-Law, MP2, MP3, Opus, AC3, M4A/M4R (AAC), WMA among others. You can even create WAV or AIFF files for burning audio CDs.
Great Tool for Beginners
Audacity may not have a pretty face, but it has plenty of rich features that make it an ideal tool for beginners to get started with their podcasting or audio editing projects. Audacity is completely free, works on Windows, Mac and Linux systems among others.
If you are on a shoestring budget and need a professional tool for your audio editing needs, check out Audacity.
Know a better audio editing software? Tell us about it in the comments!
Visit Audacity to learn more about it.