Well you see I handle so many tasks a day that I wish there were more than 24 hours in a day, just so that I could complete a few more tasks. I guess there might be some of you out there who feel the same. The problem with multi-tasking is that you need to stay organized and keep constant reminders of what you need to do and when to do it. Many a times this becomes difficult and tiresome. This is where NudgeMail, which allows you to send reminders to yourself comes in. Here are 7 reasons to try Nudgemail and how you can benefit from it as I have.
7 Reasons to Try NudgeMail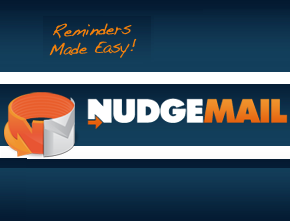 1. Quick Way to Set Personal and Business Reminders
Be it personal or office reminders, NudgeMail lets you send yourself a reminder by just typing the keywords in the subject. Reminders cannot be made easier. For instance, if you want to remind yourself that you need to pick up your son's birthday present on the way home tonight, just send a mail to [email protected] with the subject "Tonight pick up gift"
2. Send Recurring Reminders
You can even send a single email to NudgeMail to send you recurring reminders. For instance, if you want to send a daily reminder to yourself just send it to [email protected] . By default, the standard nudge time is set to 6.30 a.m. You can set another time by mentioning the new time in the subject line and emailing it to [email protected].You can even send, weekly, hourly, monthly, yearly, or every (Weekday) reminders.
3. No Need to Worry About International Formats
With different countries using different date formats, it might be confusing as to whether you can use a mm/dd/yyyy format or dd/mm/yyyy format or if you can use hyphens and slashes in your reminders. Well, you can brush all such worries under the carpet. If you are a user from outside the U.S, simply email [email protected] to set the international mode and get going.
4. No Software Required
The NudgeMail service does not require you to set up an account or download any software. If you are familiar with the simple NudgeMail commands you don't even have to visit the website.
5. Works on a Number of Devices
NudgeMail works on Gmail, Outlook, Yahoo! Mail, Android device, Blackberry, iPhone, iPad, and more. You can stay updated on your reminders even when on the go.
6. Get Snooze Mails
You can even set reminders for short periods of time, for example, to send yourself a reminder in 1 hour, just email [email protected]. This is the default snooze time but you can always change it by mentioning the snooze time you want in the subject line and emailing [email protected] .
7. Get History and Status Updates
You can even get details of the NudgeMails you sent over a period of time, and the list of NudgeMails that are still pending by emailing [email protected] and [email protected] respectively.
This is just a list of my favorite features in NudgeMail. This service is in private beta and is free to use for now. So give it a try and share your favorite NudgeMail tips and ideas with us.