Online poker fans should check out all the fun and games at your fingertips on the 888Poker app!
Mobile gaming is certainly on the rise. In fact you could say it's on the march. Today players can walk the dog or plod off to the shops as they dive in for a poker session or some exciting roulette spins on their mobile devices!
Gamers no longer have to trek to some godforsaken town center, at an equally ungodly hour, just to hitch up at a table and join in the action. Mobile gaming has revolutionized this entertainment sector and at the vanguard is the 888Poker mobile app. Read on for a full review of this top-notch tech.
About 888Poker App
888Poker is one of the biggest and most trusted online gaming sites in the world. It has been in the business since 1996 and launched its 88Poker app in 2012, making it one of the first in the market. Since then it has been continually updated and improved to further enhance its offering to seasoned poker pros and new gamers alike. This has been highlighted when it was named the 'Best Digital Operator' at G2E 2016, in what was described by many as the most competitive field ever.
888Poker Special Promotions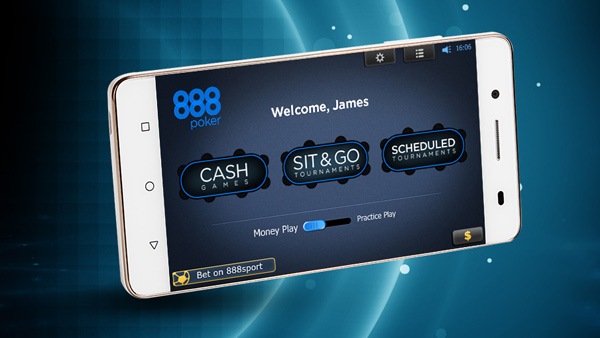 The app can be downloaded on iOS and Android smartphones and tablets. Tap the icon that will automatically appear on your screen and you'll jump straight into the 888Poker room. Its layout, terminology and navigation is so user friendly that whether you're 21 or 81 you'll soon get to grips with it.
The design and graphics are slick and simple but still very sophisticated. New account holders are given the chance to double their initial deposit, up to $1,000, which is a cracking promotion for newbies. You could also get $30 free just for signing up, depending on the country you're in. You also get the chance to avail of 888Poker's other fantastic seasonal offers.
888Poker Games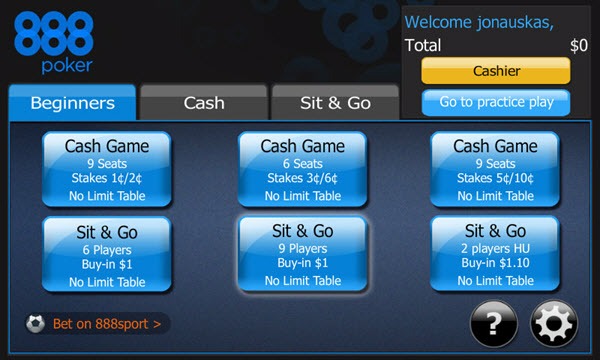 There are a stack of games to choose from, including Texas Hold 'Em, 7 Card Stud, Omaha High and Omaha Hi-Lo. Texas Hold 'Em allows you to enjoy great cash games, lots of scheduled tournaments and even Sit & Gos. If you do get slightly confused with the games, just turn to the handy Help section for guidance.
Hook up with the 888Poker app community to play Multi Table Tournaments (MTTs) plus a great pick of free tournaments as well. Cash games can start at $0.01 but there are big bucks to be won once you find your feet and get on a winning role. Of course when you get into some serious gaming it's worth brushing up on your bluffing strategy. Bluffing is considered an art form in itself.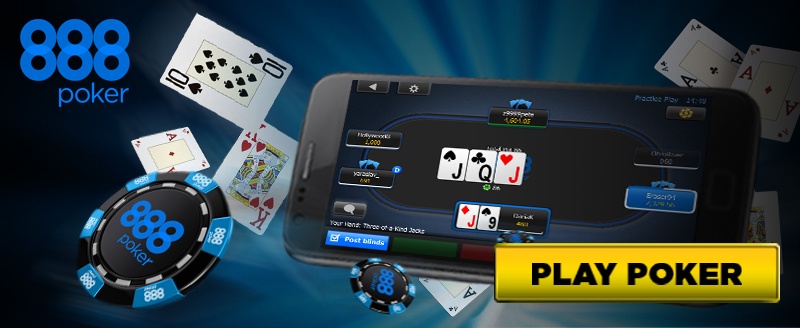 The 888Poker app's SNAP game always keeps users coming back for more. Particularly those looking for a quick play while they're on the go. If your hand folds, it will only take a split second to get a new deal. That gives you more opportunities than ever to make some quick cash. If however, you don't mind playing the long game. There is also the 888 exclusive BLAST game. This one gives you the opportunity to win up to 10,000x your stake depending on your buy in.
Don't forget to take advantage of webcam tables too! Here you'll go face-to-face with other online gamers via the Pokercam tables.
Not All Poker!
888Poker is not all about poker, though. Gamers can take advantage of all sorts of cool casino games through the app. Lovers of blackjack, slots and roulette have get the chance to try their hand at these classic games in between visits to the poker table. There's also the chance to make the most of your 888Poker balance to make a few sports bets. It really is a one-stop gaming and betting app.
Drawbacks? Well the 888Poker app may not make instant payments on large withdrawals. However, many users see this as a great security feature. The company may also make regular, and random, ID checks as part of its comprehensive security systems.
In all, the 888Poker app does the business in delivering a fun, functional and thrilling gaming service right at your fingertips. Load it up on your device and give it a go the next time you're walking the dog.
Visit the Official Website to Download the App