Sports are a big part and parcel of our life. If we're not playing a game, we're definitely talking about one. And if you're super crazy about a specific game or a specific team, I'll bet you have related sports apps to catch up on all the events and happenings. Now, one other thing you can do is add your favorite sports team schedule to Google Calendar. That way you never miss an important game ever! If you like the idea of getting a birds eye view of your sports team schedule in your Google Calendar, just follow these steps to get started.
How to Add Your Favorite Sports Team Schedule to Google Calendar
1. Open up your web browser and go to Google Calendar.
2. Sign in with your Google credentials if you haven't done so yet.
3. In the left pane, in the Other calendars section, click the drop-down arrow and select Browse Interesting Calendars.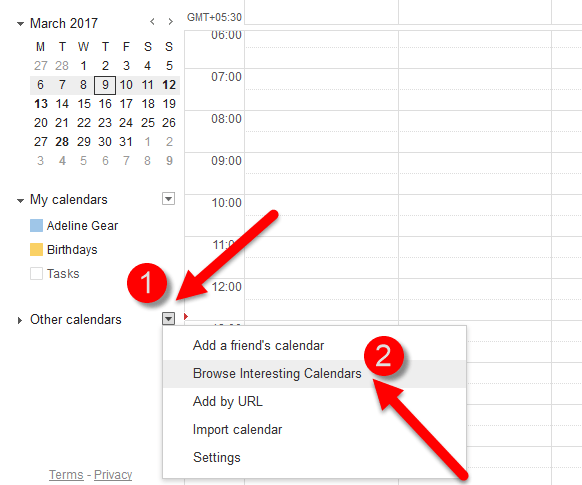 4. You'll see a list of holiday calendars you can preview and subscribe to. That's because the default Calendar view is Holidays. Select the Sports tab.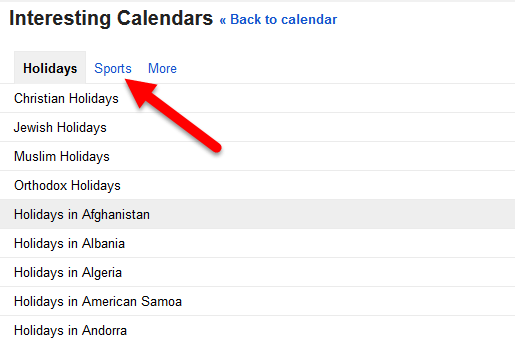 5. In the Sports tab, you'll see a list of the most popular leagues including American Football, Baseball, Basketball, Cricket, Football, Hockey and Rugby. I'm going with my favorite sport, Football. Click Football.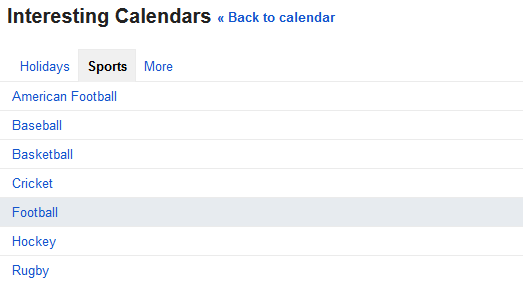 6.  You'll see another list of all the leagues that are happening across the world. I love the English Premier League so I'm going to select this one. You can browse through the various leagues and select one that interests you.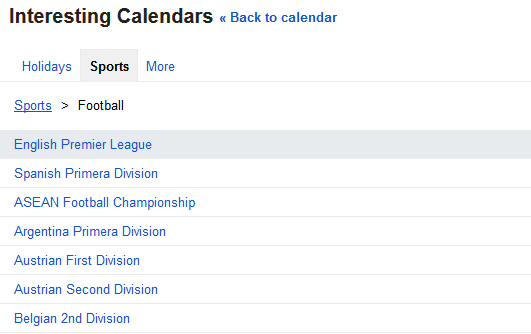 7. On the nest screen, you can see all the teams participating in the league. To the right of the team name you have the preview and subscribe buttons. You can preview the team calendar if you like or just hit the Subscribe button to add the team schedule to your calendar. You can add as many teams as you like.
Any time you want to unsubscribe from the calendar, you can do so, in the same location.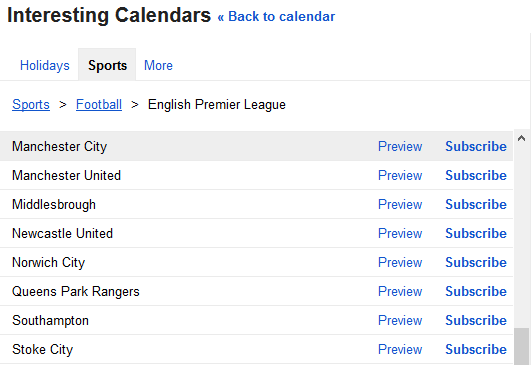 Once you've subscribed to your favorite team's schedule, click Back to calendar at the top of the page to return back to the Calendar view.
In the Other Calendar's section, you can further customize the team calendars by associating it with a color.
That's it! Next time you favorite team is playing a match, you'll know it, thanks to this super easy integration with Google Calendar. Remember, that all your team schedule subscriptions will sync across your mobile devices so you can access them anywhere.